Opening day of Barum Rally will go down in rich and eventful history of Czech event. Competition on Saturday leg of round eight of FIA European Rally Championship was full of astonishing twists and dramas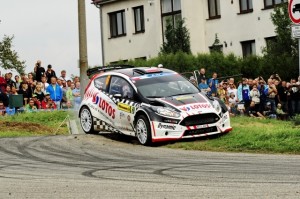 LOTOS Rally Team crew did a very good job today. Decisions taken by Kajetan Kajetanowicz over the course of long day were risky but produced expected results. Reigning Polish Rally Champion in his first Barum Rally outing gained experience with every kilometre of all eight special stages run on Saturday and immediately introduced necessary changes. The effect was phenomenal: fourth place for rookie at the end of extremely difficult leg. Three crews in front of Kajetanowicz and Baran – Czech competitors Pech/Uhel and Kostka/Houst as well as German crew Wiegand/Christian – have experience from previous editions of Barum Rally.
Kajetan Kajetanowicz  We are happy. Fight with the best drivers is incredible – and this year the line-up is exceptionally strong – and the show is very exciting for the spectators. There are plenty of them. It is a great fiesta for Czech rally fans but I can't believe how many Polish people came here. Their support is fantastic and we feel obliged to perform well 😉 We are doing our job and trying to stay focused and their presence helps us a lot. Thank you for travelling so far to support us. We had a difficult but fantastic day. I learnt a lot and I know that I can still do more and improve myself. We changed many things in the car today, we even changed the gearbox and it led to positive results. Before the rally we could only dream about getting into top five and now it is reality – although there is still half of the rally to go. Hopefully tomorrow we will give our fans more excitement.
---
Starts of Kajetan Kajetanowicz and Jarek Baran are supported by strategic partner of LOTOS Rally Team – LOTOS Group – as well as CUBE.ITG and Driving Experience. More info about Kajetan Kajetanowicz and the team available at:www.lotosrallyteam.pl, www.kajto.pl, www.facebook.com/EmocjeDoPelna www.facebook.com/KajetanKajetanowicz. and www.twitter.com/Kajto_pl