Seven out of nine today's stages finished in top three confirm consistent and quick pace of Kajetanowicz and Baran in Rally Estonia;
LOTOS Rally Team crew in the hunt for top positions in round 6 of the FIA ERC – after 10 stages Kajto and Jarek hold podium position in overall classification;
After hard battle the Polish duo end Leg 1 of the rally in third place, scoring first 5 points in Estonian FIA ERC counter;
Still 82.3 kilometres of fierce fight to go – six stages on Sunday remain until the end of Rally Estonia.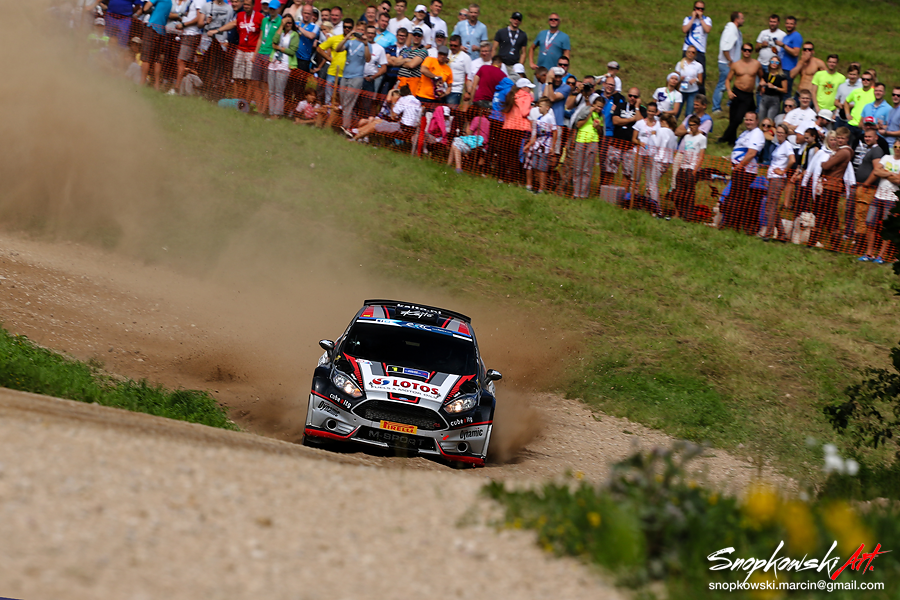 During the opening day of competition on extremely fast gravel stages in Estonia the LOTOS Rally Team crew maintained quick and consistent pace, setting top times. Thanks to their performance, reigning European Rally Champions climbed to the podium position in overall standings of the rally. After nine stages run today, with over 129 kilometres of hard battle not only with their rivals but also with technical gremlins, Kajetan Kajetanowicz and Jarek Baran ended Saturday's leg of Rally Estonia in third position. It means that Kajto and Jarek are in the hunt for top positions in this event and they already scored five points in Estonia – for third place in the classification of Leg 1 of the rally.
Saturday's morning stages took place mostly on damp surface, wet in some places. When it stopped raining before noon and the sun started to shine over Otepaa, the gravel roads began to dry up. The grip improved but deep ruts left by rally cars made fast driving really difficult. Kajetan and Jarek instantly and successfully adapted to these changeable conditions and proved it with seven top three stage times and with moving up to third place in overall standings. When the power steering failed before SS8, on two final tests Kajetanowicz had a lot of work to do – both literally and metaphorically – behind the steering wheel of his rally car. His efforts paid off – the LOTOS Rally Team driver adapted well also to this difficult situation and held on to his top three place in Estonian FIA ERC counter.
The best European rally crews conclude the fight for victory in Rally Estonia tomorrow. There are still six special stages to go, totalling over 82 competitive kilometres. The first of them – almost 20-kms Ristimae test – starts at 9:15 CET. The competition in round 6 of the FIA ERC ends with the second run of Saverna test (7.85 kilometres, start at 13:27 CET). The rally finish takes place at 16:00 CET in Tartu.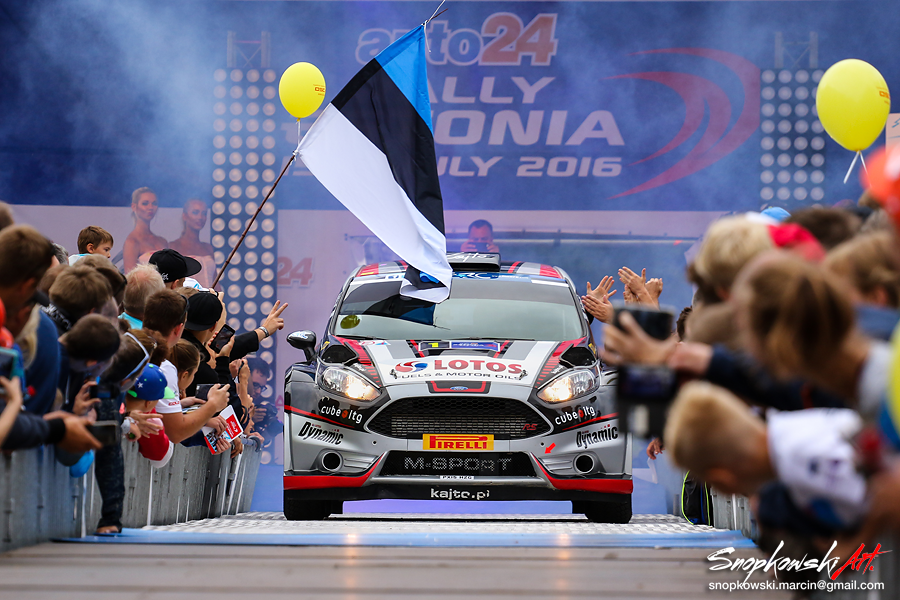 Kajetan Kajetanowicz  Very tough day behind us, it is difficult to count all things which happened. Basically from the penultimate stage until the end of the leg our job was to defend the third place, as our last problem today was a power steering failure on the final two stages. It is good for your muscles, for your body, but not so much when it comes to driving precision and stage times. This is rally and such things just happen. However, I think that the whole team will be motivated tomorrow and we will enjoy our driving again. Today there were moments when everything was all right and we could drive fast, using our car well. You have to be content with what we have – we reached a podium place on Leg 1, we scored important points. Considering all things which happened to us, this is a really good result. This is why I am trying to focus on positives. Now I want to clear my head, so that tomorrow I can fight successfully right from the word go.
Rally Estonia standings after SS10:
1. Lukyanuk/Arnautov (Russia, Ford Fiesta R5) 1:05:01.1 s
2. Sirmacis/Kulss (Latvia, Skoda Fabia R5) +20.1 s
3. Kajetanowicz/Baran (Poland, Ford Fiesta R5) +1:29.9 s
4. Aus/Koskinen (Estonia, Mitsubishi Lancer Evo IX) +1:34.8 s
5. Jeets/Toom (Estonia, Skoda Fabia R5) +2:43.2 s
6. Kołtun/Pleskot (Poland, Ford Fiesta R5) +3:07.8 s
7. Habaj/Woś (Poland, Ford Fiesta R5) +6:48.7 s
8. Niinemae/Valter (Estonia, Peugeot 208 R2) +6:52.9 s
9. Griazin/Fedorow (Latvia, Peugeot 208 R2) +7:03.5 s
10. Ingram/Edmondson (Great Britain, Opel Adam R2) +7:25.7 s
Starts of Kajetan Kajetanowicz and Jarek Baran are supported by strategic partner of LOTOS Rally Team – LOTOS Group – as well as CUBE.ITG and Driving Experience. More info about Kajetan Kajetanowicz and the team available at: www.lotosrallyteam.pl, www.kajto.pl, www.facebook.com/EmocjeDoPelna, www.facebook.com/KajetanKajetanowicz and www.twitter.com/Kajto_pl