Polish Rally Championship series, launched this year by Świdnicki Rally, was started with a win of Kajetan Kajetanowicz and Jarek Baran. Current national champions and leaders in the general classification have already confirmed that they maintain a great shape from last season. The closest opportunity to take the next step will be Wisla Rally (24-26 May 2013), returning to the series after more than 10-year hiatus. The challenge and at the same time a cause for joy for the LOTOS Rally Team crew, apart from an extremely high difficulty level of routes, it is also their location –the heart of the Silesian Beskid Mountains, where he Kajetan Kajetanowicz was born and lives.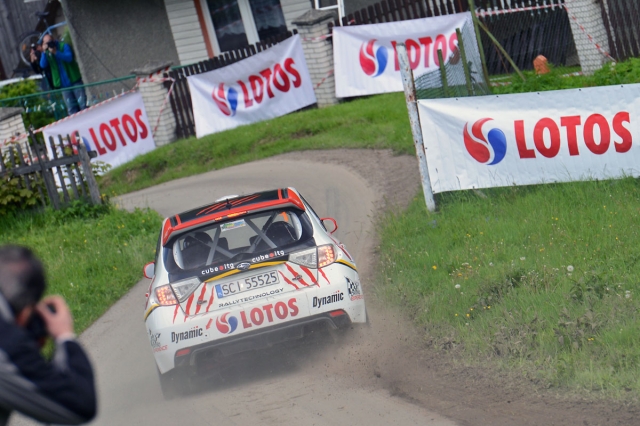 Kajto – Wisla is for you a particular rally. How does the atmosphere of a home round infect you?
Kajetan Kajetanowicz: – Participation in this event was my dream. Vistula is the first rally that I saw in my life. It's the rally that my dad took me to when I was a little boy and then everything started. Though this may sound unbelievable –  I've never had the opportunity to start in it. Now my next dream comes true!!! At the routes many friends will be present and on one hand I expect that them being there will add me wings. But on the other, it's obvious that appearance at home is a serious matter.

Rally returns after 10 years to the Polish Rally Championships calendar. How do you think the fans will receive this event?
Kajetan Kajetanowicz – I expect crowds. I don't say that without reason – when meeting fans on many occasions I see what excitement arouse rallies in this area. There are many people who remember the previous editions of Vistula Rally. However, during the last decade a lot of new fans came who for the first time will host a round of Polish Rally Championships on their "backyard". I also think that the additional attraction for the spectators – except of course the players regularly competing in our series – may be the performance of Bryan Bouffier, currently driving in the European Championships and recent winner of the Corsica Rally.
I keep my fingers crossed for Vistula Rally to enter the calendar of the Polish Championships for good. I believe that everyone – fans in the first place – will join forces and show that Beskid Śląski is a place where rallies fit like a glove.
Jarek, what do you think will be the most challenging in Wisla Rally?
Jarek Baran – Wisla Rally returns to the calendar of Polish Championships after 10 years, which personally makes me very happy. It was one of my favorite events. In the 90's Wisla, traditionally held in the fall, was one of the toughest rallies in the whole cycle. For many young players it will be a new and also extremely challenging round. It's famous for its narrow, technical and very arrhythmic special stages.