The third round of LOTOS Polish Rally Championships – Karkonoski Rally with beautiful Karkonosze Mountains surroundings – held on the first weekend of July is a real feast for rally fans and residents of Jelenia Góra.
Triple Polish Champions Kajetan Kajetanowicz and Jarek Baran – last year's winners of this round and the leaders of the national championships – will be the first ones to appear on the winding mountain routes of Giant Mountains in Szklarska Poręba and in the vicinity of Lubomierz and Mirsk.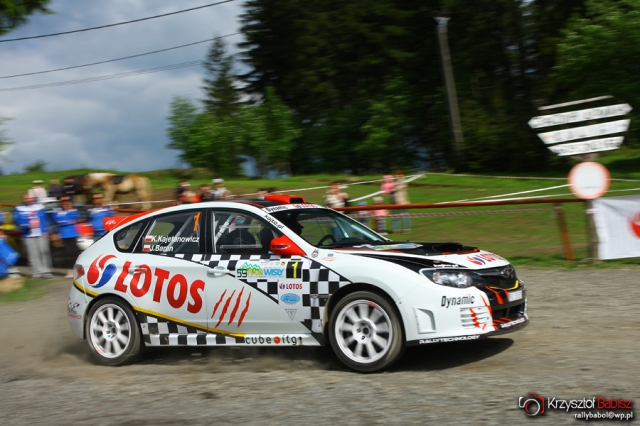 Many crews emphasize that it's the most difficult rally of the season. Does the LOTOS Rally Team driver agree with this statement?
Kajetan Kajetanowicz – I like challenges, and this rally without a doubt qualifies for this category. I'm looking forward to the start. For me always the hardest, but at the same time the most interesting, are the rallies ahead of us, because hundreds of matter can surprise us. Sometimes I like to let my imagination loose, so when I think of what we can expect in Karkonoski Rally I can already feel the adrenaline rush. I have such sensations before each start.
Statistics show that from the beginning of 2012 you were the fastest in 73 of 99 special stages, so you won more than 70% of the tarmac stages. What's more, from several months you didn't yield the victory in a tarmac rally. Do you plan to increase the score?
Kajetan Kajetanowicz: – I don't really pay attention to these calculations. Of course, it's nice to hear something like that and in fact numbers stimulate imagination. However, you can't win rallies and championships by statistics. I think it will be enjoyable to analyze those "digits", but when I retire. My intention is not to break records, it happens independently on the way to my goal of becoming a better driver, and obviously another championship. You may think I'm a little twisted, as meeting challenges, ability to compete and to derive pleasure from driving constantly gives me so much joy.

Jarek, you could tell us in a few words, where will you compete at this year's Karkonoski Rally?
Jarek Baran – Karkonoski Rally is an absolute classic, and its legs are one of the toughest tarmac tests in the Championships. Variable pace, sections of varying traction and road width, extraordinary number of different matters "lying" by the route –the notes have to be perfect. The first day of the rally are two traditional stages: Karpniki in an identical configuration to the previous year and a heavily modified and "inverted" Karpacz. The loop completes very fast and very slippery Dziwiszów. At the end of the day we will meet in Jelenia Góra at Zabobrze stage, which this year will be a  parallel race. The second day stands for another three stages. The one in Szklarska Poręba known from last year section has been slightly reduced. After that, a new stage Gajówka and absolute hit in this part of the rally – Lubomierz. Kajetan found this stage as his favorite super stage in Poland. That means great excitement for me. I hope that for our fans as well.