The fifth round of the Polish Rally Championship – Rally Kauno Ruduo – was won by the current Polish Champion Kajetanowicz – his fifth victory in a row this season. Kajto and his co-driver Jarek Baran won most of the special stages, and once again proved that the art of driving is independent of weather conditions or surface. After four victories in paved rallies, came time for a win of a gravel. It was not an easy task though – the last stage was marked by a power steering failure. Nevertheless, the dominance in the earlier stages allowed LOTOS Rally Team crew to celebrate victory in Lithuania and receive impressive trophies.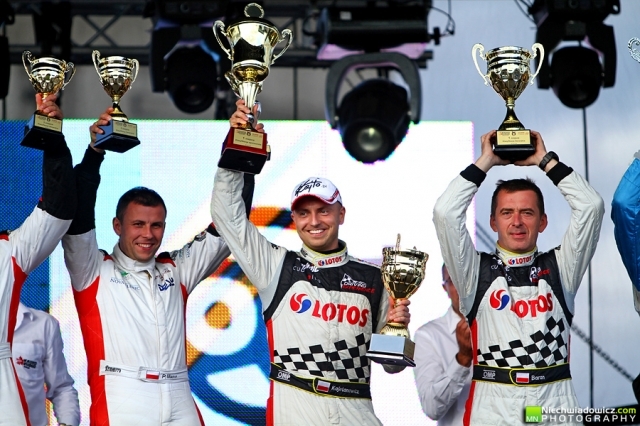 Kajetan Kajetanowicz On the last stage the steering wheel of our car turned into a workout machine. Something like that happened to me for the first time. I did not expect that it would be so difficult and exhausting. We bounced to the left and right. It was the strength of my hands and will that kept the car on the track, though two times we had an unexpected trip out of the way. I risked as I wanted to keep the lead in the rally, yet the power steering was utterly unpredictable. We drove in such a way more than 40 kilometers on gravel, high-speed routes. I was completely worn out, but it was worth it! We saved the lead and won the fifth rally in a row. I feel incredibly satisfied and I am just happy. It brings us nearer our goal –another Polish Champion title.

Jarek Baran Lithuania has really beautiful special stages, fast and technical, bearing some resemblance to Finland. Great jumps, wide paths driven at full throttle and narrow forest roads… also at full throttle. Variable pace impedes dictating, but gives a lot of fun with what I do.
Starts of Kajetan Kajetanowicz and Jarek Baran in 2013 season are supported by strategic partner of LOTOS Rally Team – LOTOS Group and LOTOS Fuel – producer of LOTOS Dynamic Fuels – as well as Driving Experience and CUBE.ITG.