Having their debut in Ford Fiesta R5 Kajetan Kajetanowicz and Jarek Baran sealed their incredible pace with victory during the last special stage-Mragowo. After this fantastic day full of emotions and struggling with very difficult conditions during the rally, Lotos Rally Team crew takes the second position in the Polish round of European Rally Championship and becomes the fastest Polish crew in the 70th Rally Poland.
What's more – 12 points gained on Saturday for the Polish Rally Championship classification is enough for Kajetan and Jarek to celebrate the fourth in a row Polish Champions title. It can only be compared to Marian Bublewicz's record. But according to Kajetan there will still be time to celebrate the success.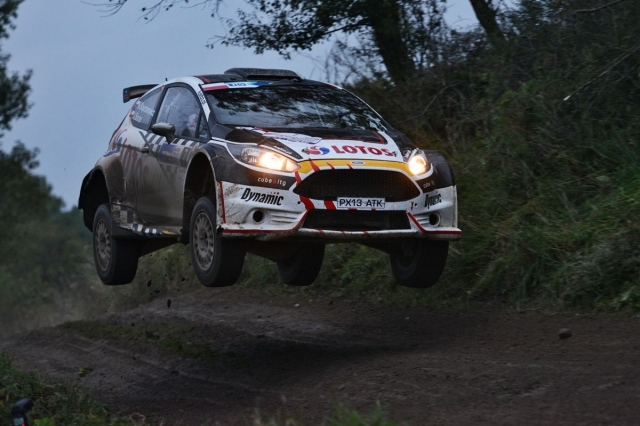 Kajetan Kajetanowicz  It couldn't be better, we are Polish Champions but we're going to celebrate it after the rally. Now I want to feel the pleasure of driving the car and competing with such great drivers. It's a pity that Robert Kubica had an adventure and our fierce struggle ended in such a way, but I hope that tomorrow he will drive and we will be able to celebrate it together with thousands of fans who came here to see Rally Poland and support us during every single stage. We feel so excited during  special stages which are incredibly slippery. We feel as if we were iceskating. I'm really happy after this day. What can I say- I must get enough sleep to be able to drive really fast tomorrow'.