Kajetan Kajetanowicz and Jarek Baran took an impressive victory in Rallye Waldviertel in northern part of Austria, becoming the first Polish crew to win this event. On their debut in this rally, LOTOS Rally Team crew went quickest on most of the stages, setting the pace right from the beginning. They finished the final round of European Rally Cup and Austrian Rally Championship with winning margin of over two and a half minute over second placed Jaromir Tarabus.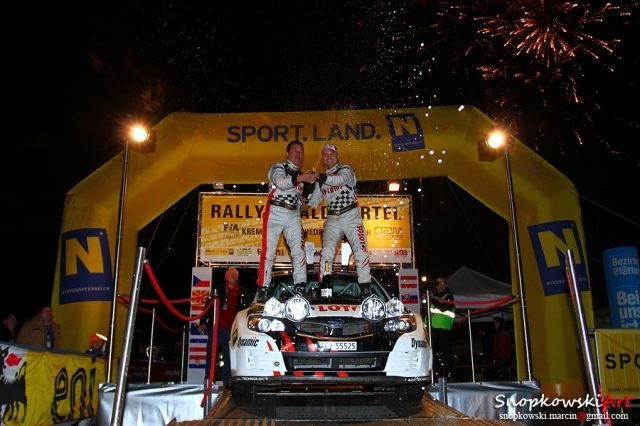 This is seventh win of the season for Kajetan and Jarek, after grabbing victories in every start in Polish Rally Championship, fantastic triumph in Rally Poland and seizing their fourth consecutive national championship title.
Kajetan Kajetanowicz This weekend was great for us. It was not easy to fight on these difficult stages with strong local opposition and some foreign drivers. It is always nice to see many Polish flags waving on the stages and meet our fans. We drove a good, very clean rally, almost without any problems. I think it was a perfect start for the whole LOTOS Rally Team. The route was completely new to us: very narrow, in some parts extremely quick – very impressive! It was a great opportunity to learn and gain new experience. I know it is difficult to speak about learning after winning the rally on foreign ground but I also know how much I want to improve myself to become even quicker.

Jarek Baran This rally may look easy, but it is really challenging. The length is similar to our rallies in Poland, but the gravel is different. It is rocky, which reminds me of the previous version of Rajd Karkonoski, one of the rounds of Polish Championship. Here in Austria the atmosphere is free and easy. I like the idea of repeating sections of the stages – it is fantastic for the fans, who can stay in one spot and see the cars twice. Two recce passages on new stages is a precious lesson for us. It was our goal to gain as much experience as possible in a high-level event. We chose Rallye Waldviertel and I think it was a good decision.