Kajetan Kajetanowicz and Jarek Baran had phenomenal start in the first round of the ERC – they won three out of five stages. On the last stage of the second section due to blocked   throttle pedal  LOTOS Rally Team went off the road, at the moment when they were on the second place in overall in Janner Rallye.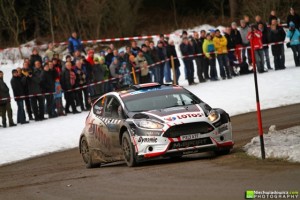 Kajetan Kajetanowicz  I was pleased on every kilometer in this car and I enriched my experience on this hard stages. It is fantastic that I can work on the development of this car. The rivarly during todays stages gave me a lot of motivation and fun. Emotions were enormous again.  In this sport sometimes happens that small failure eliminates us from competition. I would like to thank my team for all of their involvement. They are professionalists and work hard to avoid such situations. In my thoughts I am on the next round and once again I will give my best.

Maciek Woda – M-Sport Poland General Manager  After the car returned to the service area we found an issue which contributed towards the accident. Kajetan and Jarek drove a fantastic rally from the start. They won three stages today showing their potential in such difficult and changeable conditions.I'm very sorry for what's happened and believe the next rallies will be much better for us.
---
Kajetan Kajetanowicz and Jarek Baran are supported by their strategic partner LOTOS Rally Team – Grupa LOTOS, as well as CUBE.ITG and Driving Experience. Detailed information about the team can be found at www.lotosrallyteam.pl andwww.kajto.pl, as well as Facebook pages www.facebook.com/EmocjeDoPelna and www.facebook.com/KajetanKajetanowicz.