Kajetan Kajetanowicz and Jarek Baran showed great speed in the second round of European Rally Championship event – Rally Liepāja. They proved they can drive their own pace and be place well in the standings. Not only the surface was a challenge and new to them, but the team is also learning still new to them Ford Fiesta R5 which they were using for the third time in their career.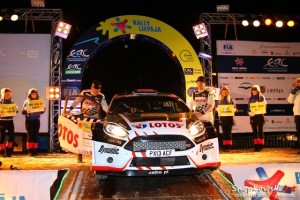 It was just 4th start for Kajetanowicz in the ERC event besides Poland, but the times they have achieved on the special stages did not leave uncertainty that they will be very fast and keeping up with the top drivers. Constantly changing surface and grip were challenging for the Pole driver, but after 140 of competitive stage kilometers they finished leg one of the rally in 4th overall.
Kajetan and Jarek started off leg two in the early morning on Sunday, by beating the rally leader Lappi on the first stage of the day. LOTOS Rally Team kept the high pace on the next six stages with slippery condition, loosing studs in their tires by going thru dirt sections, but the Polish Champions defended the 4th overall position in the event. This position in the rally was a great success for Kajetanowicz who wanted to gain more experience in new conditions for him as well as spend more time on the special stages in his new car. The result also opens the point count for Kajetanowicz and Baran in 2014 European Rally Championship.
Kajetan Kajetanowicz  The experience we gained at this rally will definitely help in the upcoming events. We drove on the tire with long studs which was new for me. We made plenty of good decisions and it allowed us to stay close with the ERC runner-up Craig Breen. We took a good lesson here and looking forward to the next challenge.

Jarek Baran  It is unbelievable how much you can learn in two days in rally. If we just had this knowledge a week ahead, maybe the result could be even better. We are very satisfied with what we were able to achieve with the competition we had and these very new conditions to us.
---
Kajetan Kajetanowicz and Jarek Baran are supported by their strategic partner LOTOS Rally Team – Grupa LOTOS, as well as CUBE.ITG and Driving Experience. Detailed information about the team can be found at www.lotosrallyteam.pl andwww.kajto.pl, as well as Facebook pages www.facebook.com/EmocjeDoPelna and www.facebook.com/KajetanKajetanowicz.