Acropolis Rally used to be one of the most difficult events in World Rally Championship but this year it is a part of FIA European Rally Championship calendar. In 60th edition of this classic rally, which takes place on the last weekend of March and is based on Peloponnese peninsula, LOTOS Rally Team crew Kajetan Kajetanowicz and Jarek Baran will fight with top European rally drivers.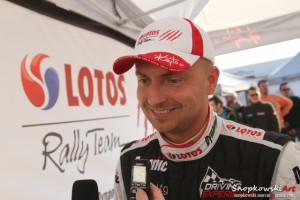 Rally of Gods, as Acropolis Rally has been called for many years, not only brings a spirit of Ancient Olympic Games but it is also a test of drivers' skills which they must show in order to reach the finish after 13 special stages. Due to mixed surface – tarmac on the first day and gravel on the second – Greek round of FIA European Rally Championship will stay in mind of all the drivers. During this event nobody can count on favours of mythical Gods and the crews have to trust their own skills and experience. This rally is a real proving ground and everybody has to find right compromise between pure speed and careful driving on narrow roads along rocky slopes, with many loose stones and basketball-size rocks. In the past even the best drivers had to accept defeat in Greece. Focus, skills and well-prepared Ford Fiesta R5 of Kajetan and Jarek will be extremely important factors in this rally.
Kajetan Kajetanowicz There are no easy rallies whatsoever. Such events simply don't exist. However, sometimes we have to face an extremely tough challenge. Acropolis Rally is regarded by the best drivers in the world as one of the most difficult events. The organisers constantly rise the bar and make the rally even more punishing – this year they decided to run their FIA European Rally Championship round on two very different types of surface. On the first day we will drive on tarmac and on the second day we switch to gravel. We can say that together with Jarek we have a chance to compete in two different rallies at once. This is great. I am going to have fun and proudly represent our partners and Poland.
---
Starts of Kajetan Kajetanowicz and Jarek Baran are supported by strategic partner of LOTOS Rally Team – LOTOS Group – as well as Driving Experience and CUBE.ITG.