Kajetan Kajetanowicz, making his Acropolis Rally debut, and co-driver Jarek Baran performed very well in Qualifying Stage for the third round of the FIA European Rally Championship. The Greek event used to be one of the most difficult rallies in the World Rally Championship but for the first time in 43 years it has returned to the FIA ERC roster. LOTOS Rally Team crew not only has to face tough road conditions but first of all to fight with very experienced drivers. The 60th running of this event, in ancient area of Corinth, has attracted the best European teams.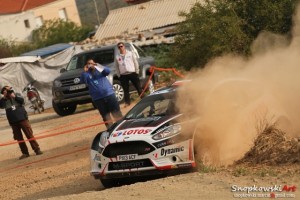 Kajetan and Jarek did a very good job on slippery tarmac stage on the banks of the Gulf of Corinth and took fourth place in Qualifying. This result entitled them to choose their starting position as fourth crew and they opted for sixth position. On the road Kajetanowicz and Baran will follow Jaromir Tarabus, Sepp Wiegand, Kevin Abbring, Craig Breen and Esapekka Lappi.
The results of today's Qualifying Stage prove that this rally will be a close-fought contest.
Kajetan Kajetanowicz  The Greek tarmac turned out to be even more slippery than we expected. You can't compare it with anything what we experienced in Poland. Gravel stages are also very different to what we are used to. Concentration will be the key to good stage times. It feels as if we were driving in two different rallies which makes this event more exciting and adds exceptional experience. I will have maximum fun behind the wheel because such diversity in one event is a novelty to me.
Fourth time in Qualifying Stage is a very good result because the gaps between crews are very small. It is absolutely fantastic to have six drivers covered by 1.2 second.

Jarek Baran  Tarmac stages in Acropolis Rally are very tricky and difficult because they seem to be easy – but this is misleading. Long bends, high speeds and slippery surface are typical for Greek tarmac stages. Gravel stages, which we will tackle on Sunday, are exceptionally "clean" but this is also deceptive. The tyres of each passing car tear out loose stones and small rocks. This kind of surface is difficult to compare with any Polish gravel stage.
---
Starts of Kajetan Kajetanowicz and Jarek Baran are supported by strategic partner of LOTOS Rally Team – LOTOS Group – as well as CUBE.ITG and Driving Experience. More info about Kajetan Kajetanowicz and the team available at: www.lotosrallyteam.pl, www.kajto.pl, www.facebook.com/EmocjeDoPelna www.facebook.com/KajetanKajetanowicz. and www.twitter.com/Kajto_pl