Kajetan Kajetanowicz and Jarek Baran showed excellent pace during leg one of the third round of the FIA European Rally Championship. After six demanding tarmac stages they hold third position in overall standings, just 0.3s behind second placed Bryan Bouffier. Craig Breen is in the lead of the rally.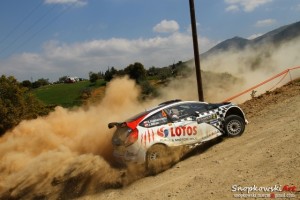 LOTOS Rally Team crew has run among the leaders since the beginning of the rally and held third place overall halfway through the first leg. After fifth special stage Kajetan and Jarek moved into second position. On the sixth and final stage of Saturday's running Kajetanowicz and Baran recorded third quickest time and kept their place in top three at the end of leg one.
The weather at the foot of the Acropolis was changeable and unpredictable, just like corners in the stages. Slippery tarmac with different grip levels did not make it easy for drivers and the better part of the second loop was run in wet conditions.
Tomorrow the crews will fight mostly on gravel with one tarmac exception: stage number 10, Super Special in Korinthos. This stage runs along picturesque harbour and is very spectacular.
Kajetan Kajetanowicz  I feel great after the first leg of Acropolis Rally because it is an excellent new experience. The day was difficult but I think that we did a good job in the conditions which were new to me. The car performed great although we were driving on tyres which were not particularly well suited to slippery and wet tarmac. I did my best, especially in the last stage of the day. I am happy that we are able to fight successfully with very experienced drivers. Small gaps mean that we could keep a consistent pace and the competition was very serious, at a very high level. Tomorrow we will fight on rocky gravel – it is something entirely different from today. I do not have great experience on this type of surface and we have to find a right compromise between speed and risk. It is difficult to progress without them.
---
Starts of Kajetan Kajetanowicz and Jarek Baran are supported by strategic partner of LOTOS Rally Team – LOTOS Group – as well as CUBE.ITG and Driving Experience. More info about Kajetan Kajetanowicz and the team available at: www.lotosrallyteam.pl, www.kajto.pl, www.facebook.com/EmocjeDoPelna www.facebook.com/KajetanKajetanowicz. and www.twitter.com/Kajto_pl