Polish rally fans have been waiting for such result for almost half of century. Third place in overall classification of Acropolis Rally, scored by Kajetan Kajetanowicz and Jarek Baran, is the best result for Polish crew in this event since Sobieslaw Zasada and Jerzy Dobrzanski who were runners-up in 1968. The route of Acropolis Rally, which is now run as a punishing round of the FIA European Rally Championship, used to host the best drivers of the world who were fighting on challenging mountain roads. This year's edition of Acropolis Rally not only consisted of gravel stages, well-known as part of the World Rally Championship, but also featured very quick and slippery tarmac tests.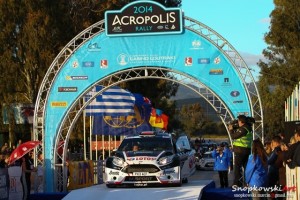 Right from the beginning LOTOS Rally Team crew was engaged in close-fought battle with European top drivers contesting the 60th edition of this classic rally on the Peloponnese peninsula. The gaps on each and every stage were extremely close on both days of competition. Getting to the finish of Acropolis Rally is a goal for many illustrious drivers and it speaks volumes about the success of Kajetanowicz, who tackled this event for the first time in his career. So far he has just five ERC outings outside Poland under his belt and this time only Craig Breen and Bryan Bouffier were quicker than him.
Kajetan Kajetanowicz This rally was completely new to me. I have never experienced competing on tarmac on day one and switching to gravel for day two. Winning the stages in a strong field of drivers is very encouraging and motivates me to go on with my hard work. I would like to thank them for close fight and great competition. The atmosphere during this rally was unique also thanks to the fans who were cheering and supporting us all the way long. My Partners gave me the opportunity to take part in rallies outside Poland and this is just incredible experience. Thanks to them I can still develop myself as a driver. The whole team performed brilliantly and worked very hard during this rally. Having such great people around me makes me feel psychologically comfortable. It is fantastic to finish Acropolis Rally and scoring top-three result among the best European drivers in my first outing here is a dream come true!
---
Starty Kajetana Kajetanowicza i Jarka Barana wspierają strategiczny partner LOTOS Rally Team – Grupa LOTOS – a także i CUBE.ITG i Driving Experience. Szczegółowe informacje dotyczące Kajetana Kajetanowicza i zespołu są dostępne na stronach www.lotosrallyteam.pl oraz www.kajto.pl, a także na: www.facebook.com/EmocjeDoPelna i www.facebook.com/KajetanKajetanowicz.