From 15-17 May top European rally drivers will visit São Miguel Island, the largest in the mid-Atlantic archipelago of Azores which is located almost in the middle between Lisbon and New York. Rallye Açores, held in breathtaking exotic countryside, is the fifth round of FIA European Rally Championship.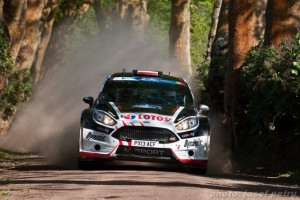 Kajetanowicz and Baran will tackle this event for the first time. On seventenn gravel special stages they will fight, among others, with double winner of this rally and triple Portuguese Rally Champion Bruno Magalhães and with Peugeot Rally Academy factory crews. The rally length exceeds 730 kilometres, with 220 kilometres of special stages run on the island which is only marginally bigger than Polish capital city Warsaw and its width does not exceed 16 kilometres between two coastlines. LOTOS Rally Team crew and their rivals will compete on extremely twisty and narrow stages which require the utmost precision – even the slightest mistake could prove to be very costly. Among other exciting stages they will tackle stunning Sete Cidades test, taking place around the rim of a volcanic crater. Eurosport will broadcast both runs of this stage, the longest of the rally, and two passes of Saturday's Tronqueira test – live to audience in almost 60 countries. Thanks to variable weather, influenced by ocean currents and winds, dry and hard gravel roads can turn very quickly into muddy, slippery surface which offers no grip at all. Unpredictable and changeable conditions make it even more difficult for the crews. Right choice of starting position and tyres will be essential in the serious competition ahead.
Kajetan Kajetanowicz We fly to a completely new place to us – for me it is like expedition to the end of the world. The route of this rally is impressive. Legendary Sete Cidades stage, running around the crater of extinct volcano, with steep slopes and cliffs, really fires my imagination! I know that after scoring good result in Acropolis Rally the expectations are high, but before each start we feel the same responsibility inside our team. I work very hard between rallies and I think that both me and our car Ford Fiesta R5 are well prepared to tackle very specific gravel stages in the Azores. Before the season started I had not imagined that the rounds of FIA European Rally Championship are so difficult and different from each other. This rally is said to be an extreme and huge event during which we have to expect the unexpected. Rallye Açores starts in a few weeks time and we are happy with every passing second because it brings us closer to the start of this exceptional event.
---
Starts of Kajetan Kajetanowicz and Jarek Baran are supported by strategic partner of LOTOS Rally Team – LOTOS Group – as well as CUBE.ITG and Driving Experience. More info about Kajetan Kajetanowicz and the team available at: www.lotosrallyteam.pl, www.kajto.pl, www.facebook.com/EmocjeDoPelna www.facebook.com/KajetanKajetanowicz. and www.twitter.com/Kajto_pl