Polish crew – Kajetan Kajetanowicz and Jarek Baran – won two of opening three stages of the fifth round of FIA European Rally Championship. They started with strong, third-fastest time in the opening test and in the next stage they defeated whole field of ERC drivers.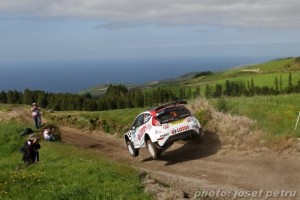 LOTOS Rally Team crew set the fastest time also in the spectacular superspecial Grupo Marques, which was tackled in pairs. After winning this stage they grabbed second place in overall classification of Rallye Açores, reducing Craig Breen's lead to just 0.9s. Their advantage over Kevin Abbring, who holds third position overnight, is almost 3 seconds. Small gaps between top crews will ensure tight and exciting battle during Friday stages held on São Miguel Island, famous for the only green tea plantation in Europe that is being used commercially.
Kajetan Kajetanowicz  The start of Rallye Açores was just fantastic, but at the same time very demanding. We were able to maintain good pace in conditions which can only be described as unforgiving . I am happy that we avoided major mistakes and smaller ones did not harm our progress. Every corner is tricky on these roads. Three Friday stages are just a warm-up before the rest of the rally. During recce I was really impressed by Sete Cidades stage. Extremely narrow sections, steep slopes and cliffs… but also beautiful landscape . I cannot imagine exciting competition without high adrenaline level. Here nothing will be missed – neither competition nor adrenaline.
---
Starts of Kajetan Kajetanowicz and Jarek Baran are supported by strategic partner of LOTOS Rally Team – LOTOS Group – as well as CUBE.ITG and Driving Experience. More info about Kajetan Kajetanowicz and the team available at: www.lotosrallyteam.pl, www.kajto.pl, www.facebook.com/EmocjeDoPelna www.facebook.com/KajetanKajetanowicz. and www.twitter.com/Kajto_pl