São Miguel Island, located 2000 kilometres (1250 miles) away from the westernmost point of continental Europe: this is where today the crews started the competition in 49th edition of Rallye Açores.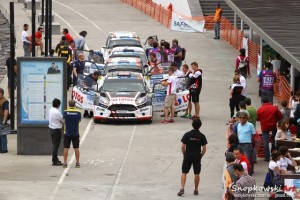 LOTOS Rally Team crew – Kajetan Kajetanowicz and Jarek Baran – tackled the Qualifying Stage for the 5th round of FIA European Rally Championship as third car on the road. They recorded third quickest time, losing just 0.27s to triple Portuguese Rally Champion Ricardo Moura and 1.5s to Craig Breen. They were faster than Kevin Abbring, Vasily Gryazin and other drivers. This result means that Kajetan will be the third driver to select his starting position for the first loop of the rally, which begins today in the afternoon.
Kajetan Kajetanowicz  The weather in Açores is really unpredictable. During the first day of recce it was beautiful and the next day everything changed drastically. I have to admit that the route selected by organisers consists of the most beautiful stages I have ever driven. The gravel in Açores is completely different to the surface on which we competed in Greece. It is very rough, like pumice. When it starts to rain, this gravel turns into slippery mud with no grip at all. It felt like we were "swimming" on the road, instead of driving. This rally will be very demanding for us, but at the same time it is really beautiful event.

Jarek Baran  When it comes to rhythm, the stages are variable. Most of them are twisty and extremely narrow, but some sections are a lot quicker. In the long stages the surface type changes several times and unpredictable weather makes it even more difficult. The famous Sete Cidades test, where the route goes around the rim of a volcanic crater, is a real masterpiece. This stage is just incredible.
---
Starts of Kajetan Kajetanowicz and Jarek Baran are supported by strategic partner of LOTOS Rally Team – LOTOS Group – as well as CUBE.ITG and Driving Experience. More info about Kajetan Kajetanowicz and the team available at:  www.lotosrallyteam.pl, www.kajto.pl, www.facebook.com/EmocjeDoPelna www.facebook.com/KajetanKajetanowicz. and www.twitter.com/Kajto_pl