Kajetan Kajetanowicz and Jarek Baran started Rallye Açores in great style. After first loop and two stage victories Polish crew held excellent second place and was classified less than one second behind rally leaders. Unfortunately, they ran out of luck in first Friday's test: after striking a rock bigger than basket ball which was lying on the racing line, they damaged the suspension of their Ford Fiesta R5. Ricardo Moura, local driver – born in Açores – who was running in front of Kajetan, also stopped in the same place.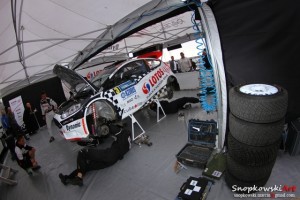 Kajetan and Jarek immediately started to repair their car in very tough conditions, in the special stage. Kajetan wanted to continue at all costs and after heroic fight with damaged parts, sweating blood, together with Jarek they managed to fix the car and finish the stage. Unfortunately, they exceeded the maximum permitted lateness and therefore were forced to retire from Leg 1 of the rally. After getting the car back to service park, mechanics prepared it for Leg 2, so that Kajetan Kajetanowicz and Jarek Baran can be back on the road for the next day of Rallye Açores.
Kajetan Kajetanowicz  After achieving good results and driving with good pace yesterday I felt very positive before today's stages, so it is even more regrettable to finish the first leg like this. We started the stage with great focus but unfortunately we hit a huge rock with one wheel. We did not see this rock, probably it was thrown on the road by cars running ahead of us. We hit it very hard. After couple of metres we stopped, got out of the car, assessed the damage quickly and decided to repair the suspension in the stage. We saw the light at the end of the tunnel, I desperately wanted to continue. We were doing our best, covered with mud – head to foot. We made it! We came back, but unfortunately after crossing the finish line it turned out that we had exceeded the maximum permitted lateness. Tomorrow we will be back in competition. My thirst for driving has not been fulfilled yet.
---
Starts of Kajetan Kajetanowicz and Jarek Baran are supported by strategic partner of LOTOS Rally Team – LOTOS Group – as well as CUBE.ITG and Driving Experience. More info about Kajetan Kajetanowicz and the team available at: www.lotosrallyteam.pl, www.kajto.pl, www.facebook.com/EmocjeDoPelna www.facebook.com/KajetanKajetanowicz. and www.twitter.com/Kajto_pl