Shortly after 10 am local time Kajetan Kajetanowicz and Jarek Baran, running as ninth car on the road, started Leg 2 of Rallye Açores. LOTOS Rally Team crew began Saturday's stages on tricky and very slippery Graminhais test, covered with fog in the first section, and recorded third time overall in 5th round of FIA European Championship.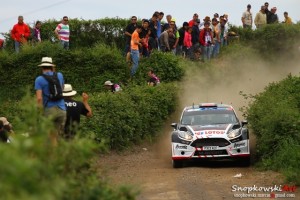 In the next stage, broadcasted live by Eurosport to many countries of the world, they went fourth-quickest and beat Vasiliy Gryazin, third driver in overall standings, by 10 seconds. Kajetanowicz and Baran finished first Saturday loop of Rallye Açores with stage win in spectacular Grupo Marques test. Kajetan drove in one heat against rally leader Bernardo Sousa and beat him by almost four seconds on 3.45-kilometre stage, in front of thousands of spectators. Today the Polish Champions repeated their Thursday's achievement, when they also recorded quickest time overall. After first Saturday loop the only Polish crew competing in Açores is classified in fourth position of Leg 2.
Kajetan Kajetanowicz  It is great that we can again bite into the gravel in Açores and get some more mileage with our Ford Fiesta R5. This means getting more experience and it is crucial for us – we want to learn as much as possible, gather experience and take it as the only excess baggage from Açores – maybe with exception for some souvenirs for friends.
---
Starts of Kajetan Kajetanowicz and Jarek Baran are supported by strategic partner of LOTOS Rally Team – LOTOS Group – as well as CUBE.ITG and Driving Experience. More info about Kajetan Kajetanowicz and the team available at: www.lotosrallyteam.pl, www.kajto.pl, www.facebook.com/EmocjeDoPelna www.facebook.com/KajetanKajetanowicz. and www.twitter.com/Kajto_pl