ajetan Kajetanowicz and Jarek Baran started their fight with very narrow gravel stages of Rallye Açores with winning two stages on the opening day. LOTOS Rally Team crew finished the first day of 5th round of FIA European Rally Championship in second place overall, losing less than one second to rally leader Craig Breen.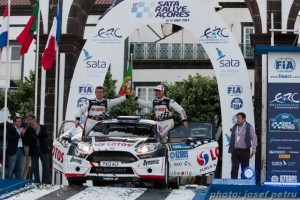 Unfortunately, bad luck struck on Friday morning – in the first stage they hit a giant rock and damaged the suspension of their Ford Fiesta R5. This was the moment when they proved themselves to be good mechanics. In extremely tough conditions, on the side of the special stage, Kajetan and Jarek managed to fix their rally car and showed fighting spirit, driving to the finish of the test. Unfortunately, they exceeded maximum permitted lateness and couldn't continue. On Saturday they were back on the road, using Rally2 system to fight on new stages. Since the beginning their pace was very good and they showed their speed. Overall in Rallye Açores LOTOS Rally Team crew won three of 10 stages completed by them and finished seven stages in top three. The rally was won by Portuguese Rally Champion Bernardo Sousa, who finished ahead of Kevin Abbring.
Kajetan Kajetanowicz  Last year, when I was doing commentary of this rally for Eurosport, I was very excited because I hoped that one day I would be able to compete here. Now my dreams came true and it feels just great. We were aware of the fact that many things would surprise us and that was the case. Although we did not manage to complete every kilometre of these gravel stages in Açores, we gained a lot of priceless experience here. I love rallies not only for the wins but also for emotions which make us stronger. Support of our fans, team and sponsors really helps and we always want to come back to places which mean a lot for us and stay in our minds. I know that I want to be back here. This is the plan and I will do my best to make it.

Jarek Baran  It was really good day. Results which we achieved on special stages look very optimistic – especially because we could compare our pace with drivers who were fighting hard for victory in this rally. Local spectators welcomed us warmly and their applause is the biggest reward for us. Support received from Poland gave us big motivation for today. Thank you very much.
---
Starts of Kajetan Kajetanowicz and Jarek Baran are supported by strategic partner of LOTOS Rally Team – LOTOS Group – as well as CUBE.ITG and Driving Experience. More info about Kajetan Kajetanowicz and the team available at: www.lotosrallyteam.pl, www.kajto.pl, www.facebook.com/EmocjeDoPelna www.facebook.com/KajetanKajetanowicz. and www.twitter.com/Kajto_pl