It was a very busy morning for the crews competing in Barum Rally, round eight of FIA European Rally Championship. Qualifying Stage, contested this morning, was the first chance for Kajetan Kajetanowicz and Jarek Baran to drive at competitive speed on roads in Zlin area. Barum is well known for its amazing atmosphere and the fans did not dissapoint.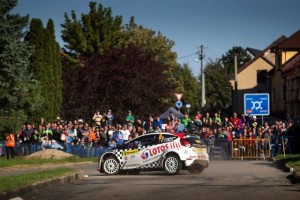 Huge crowd watched the four-kilometres long Qualifying Stage which was contested for the first time in long history of Czech round of European Championship. The serious competition will start this evening. To begin with, the crews will tackle spectacular Super Special Stage on streets of downtown Zlin. This stage is run in reversed order. Tomorrow LOTOS Rally Team crew, one of only few leading crews which have never competed in this rally, will run eight on the road.
Kajetan Kajetanowicz  Lots of spectators on this rally. It is celebration time for Czech rally fans and I hope it is the same for Poles who came here. It is one of the biggest and most difficult tarmac rallies in FIA European Rally Championship. The opponents are very strong and for many years they have gained a lot of information about the stages so it will be difficult to fight with them. Experience is very important here because the route is very diversed: extremely tricky, demanding and narrow stages with lots of sand. Those who were here know were to expect these "traps". We fight on this roads for the first time and out position is more difficult but we do not surrender. We are here to make a good impression and gain experience which we want to use next year. I am also sure that we will have a lot of fun on the stages. I did not check my heart rate this morning during practice runs but during Qualifying Stage it was very high, higher than in testing on very quick runs. These stages are so beautiful.

Jarek Baran  Barum Rally is a trademark in rally world. It is one of the most demanding tarmac events in this year's FIA European Rally Championship. I am here for the fourth time and I remember most of the stages except for new Majak test. I had a chance to check them in different configurations and it is obvious that the roads here are excellent for organising rallies. On one hand this rally is friendly to us – the route, landscape and types of tarmac are similar to what we have in Poland. However, in our country we know virtually everything about all these details and here we are for the first time. This is why the work done during recce was so important.
---
Starts of Kajetan Kajetanowicz and Jarek Baran are supported by strategic partner of LOTOS Rally Team – LOTOS Group – as well as CUBE.ITG and Driving Experience. More info about Kajetan Kajetanowicz and the team available at:www.lotosrallyteam.pl, www.kajto.pl, www.facebook.com/EmocjeDoPelna www.facebook.com/KajetanKajetanowicz. and www.twitter.com/Kajto_pl