This year's edition of Barum Rally turned out to be extremely demanding. Competition on almost 250 kilometres of special stages in eastern Moravia was full of unexpected twists. For Kajetan Kajetanowicz it was another valuable experience gained in his first outing in Czech round of FIA European Championship.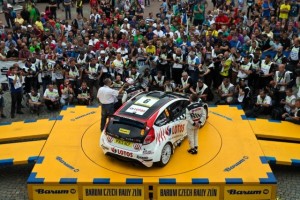 LOTOS Rally Team crew finished the rally in sixth place and second among non-Czech competitors. Intense battle was fought until the last special stage and the difficulty of this event was underlined by tiny margin of 1.6 seconds between fourth and sixth place after almost 250 kilometres of competitive driving. Vaclav Pech added to his tally another victory in Barum Rally and the podium was completed by Sepp Wiegand and Tomas Kostka.
Kajetan Kajetanowicz  It is a good beginning of the second part of the season. Summer holidays are over, we got down to learning and we do our homework. Before every rally – especially when it is new to us – we feel that the next one would be the most difficult. I am happy that we could fight with local and factory drivers and after the rally our position in European Championship is satisfying. We can always improve some things and undoubtedly our participation in this year's FIA ERC comes down to this. The whole team performed in excellent way, so big thanks to them. Lots of spectators from Poland made me feel as if I was at home. In two weeks time we are off to Cyprus. Different environment, temperatures, road surface and atmosphere – these are next challenges brought to us by FIA European Championship.

Jarek Baran  Barum is one of the rallies where knowledge of stages is extremely important. The pace was very good but the result is often defined by details. Now we have proven pace-notes which will be very useful for next season. This year's Barum Rally was a unique opportunity to feel the support of Polish fans who arrived in great numbers and we want to thank them very warmly.
---
Starts of Kajetan Kajetanowicz and Jarek Baran are supported by strategic partner of LOTOS Rally Team – LOTOS Group – as well as CUBE.ITG and Driving Experience. More info about Kajetan Kajetanowicz and the team available at:www.lotosrallyteam.pl, www.kajto.pl, www.facebook.com/EmocjeDoPelna www.facebook.com/KajetanKajetanowicz. and www.twitter.com/Kajto_pl