This weekend Cyprus – one of favourite holiday destinations, an island soaked in ancient and rally history – will host round nine of FIA European Rally Championship and round five of FIA Middle East Rally Championship. Third largest island in Mediterranean Sea will be a scene of rally competition for multiple Polish Champions Kajetan Kajetanowicz and Jarek Baran who will fight with over 60 opponents.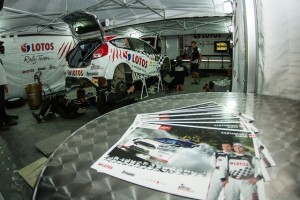 Cyprus Rally, which used to be called "European Safari", is well known for its route – torturous for tyres, equipment and crews. This rally is very technical and the serious competition is spiced up with mixed surface. For the first time in this year's championship the crews will fight on a combination of gravel and tarmac roads within the same stage. Over one third of the competitive route is run on asphalt sections and the cars have to be equipped with gravel tyres and suspension. Moreover the crews have just 24 tyres at their disposal and this amount must enable them to cover whole rally distance with maximum pace, right on the limit of grip on rocky stages. Combined with high ambient temperatures, it will be another tough test for LOTOS Rally Team crew to tackle.
Kajetan Kajetanowicz  This year I have many reasons to get excited – eight, to be precise [smile]. These are the unique rounds of FIA European Championship – some of them are already behind us, the rest is still ahead. This one is again exotic, so much different from previous ones. Right after finish of Czech round I began my preparations to Cyprus Rally, where I want to gather and process "gigabytes" of data regarding characteristics of this unique event with rich history. I feel a shiver down my spine when I realise that the greatest drivers of all times tackled these stages and as a boy I used to watch them in TV and admire their skills. Now I have this exceptional chance to compete there. This rally is another great challenge – not only because of new route and specific surfaces but above all due to high temperature. Combined with many extremely tight corners it requires outstanding fitness and concentration. The rally is also punishing for equipment and tyres so the art of compromise will be even more important here.
---
Starts of Kajetan Kajetanowicz and Jarek Baran are supported by strategic partner of LOTOS Rally Team – LOTOS Group – as well as CUBE.ITG and Driving Experience. More info about Kajetan Kajetanowicz and the team available at: www.lotosrallyteam.pl, www.kajto.pl, www.facebook.com/EmocjeDoPelna www.facebook.com/KajetanKajetanowicz. and www.twitter.com/Kajto_pl