On Monday's test stage Kajetan Kajetanowicz and Jarek Baran had the first chance to check the rally pace on this specific surface. After two days of recce, today it was the time to start the engines and begin the serious competition.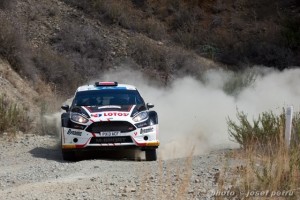 On the Qualifiyng Stage Kajetan Kajetanowicz and Jarek Baran were the quickest crew among all full-time FIA ERC participants and regular FIA Middle East Championship drivers. This victory enabled them to take first choice of starting position for Leg One of round nine of European Championship. They picked seventh position on road.
Kajetan Kajetanowicz Many people ask us to compare Cyprus Rally with other events. I think that this rally is just unique. It is a bit similar to Acropolis, but it is much more diverse and considering the temperature it seems that it will be a lot more challenging. On Saturday we have some more quick sections but there are also extremely twisty parts, especially on the gravel. There are many slow, very narrow corners with huge drops on the outside and also many long, unsighted sections. In these twisty sections there is one corner after another and the straights are often not longer than 50 metres. This rally is extremely demanding from physical point of view. I have never experienced such high temperature in the car. However, round nine of FIA European Rally Championship will be punishing not only for us – the crew – but also for suspension, tyres and brakes. We have a lot of tarmac sections and we have to drive on gravel suspension, with small brake discs. The heat will come into the cockpit through wheel arches, because the rally car is made this way. Even more heat will come from gearbox, differentials and, above all, exhaust system. With ALS working and with low average speed on the stages, these parts can get very hot. We can say that the whole floor becomes a big oven and you could easily cook meals on it. I will do my best to maintain concentration and good pace in these difficult conditions.

Jarek Baran  Cyprus Rally was always considered to be one of the most difficult rounds of World Rally Championship. The route is of course very twisty which results in very low average speeds on special stages. During the first loop the surface should be – given local circumstances – more or less even, but on the second passage we will have to find compromise between quick pace and saving the car. It is no coincidence that all frontrunners from Middle East Championship who fight for their points in Cyprus Rally use mainly RRC cars which are more robust and better suited to these conditions.
Both days of the rally are very different. On Saturday half of the stage kilometres are run on tarmac. Two stages are almost entirely asphalt tests, with short gravel sections. Regardless of this, every stage is completely different, has different characteristics and different type of gravel. Day two is a "real" Cyprus Rally because the organiser used the route known from previous editions. These stages really command respect.
---
Starts of Kajetan Kajetanowicz and Jarek Baran are supported by strategic partner of LOTOS Rally Team – LOTOS Group – as well as CUBE.ITG and Driving Experience. More info about Kajetan Kajetanowicz and the team available at: www.lotosrallyteam.pl, www.kajto.pl, www.facebook.com/EmocjeDoPelna www.facebook.com/KajetanKajetanowicz. and www.twitter.com/Kajto_pl