Kajetan Kajetanowicz and Jarek Baran (Ford Fiesta R5) after exciting fight scored excellent second place in Cyprus Rally. Thanks to this brilliant result they moved into third position in FIA European Rally Championship overall standings.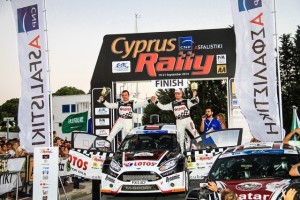 Polish crew hit the ground running in new conditions and since Saturday morning set blistering pace, made up over 20 places after losing time on Friday Super Special and took the overall lead. Second leg brought another change of conditions and new surprises for LOTOS Rally Team and their rivals. Sunday stages required a lot of attention and consistency. Despite some technical problems Kajetanowicz and Baran did not lose ground to frontrunners, setting top-three times. Defeating very quick and experienced drivers, Khalid Al Qassimi and Abdulaziz Al-Kuwari, who last year finished Cyprus Rally on podium, Kajetanowicz was topped only by Saudi driver Yazeed Al Rajhi who knows moonscape-like Cypriot stages like the back of his hand. Multiple stage wins helped the quickest European crew in this rally to clinch ERC Gravel Masters title. Four-time Polish rally champions achieved this feat thanks to excellent performance on previously unknown surface, in their first season of competition in FIA European Rally Championship.
Incredible charge of Kajetanowicz was recognised by ERC promoter and awarded with Colin McRae Flat Out Trophy. Kajetan received this coveted prize, presented by Jean-Pierre Nicolas, for the second time in his career. He got his first trophy for victorious fight until the end outing in last year's Rally Poland.
Kajetan Kajetanowicz If someone offered me second place in this event I would take it straight away, although on the other hand I wouldn't have a chance to drive on these beautiful and demanding stages. So it was much better to experience and see it for myself. This weekend was just fantastic. One week ago I could only dream about podium place in this rally and in overall standings of FIA European Championship. Today it became reality. Big round of applause for our team, partners and fans who travel and support us in all remote corners of Europe. Thank you very much. This result gives us wings before the next part of the season. It also makes me sure that it hard work pays off and this is our plan for two remaining rounds of the championship.

Jarek Baran This rally was extremely difficult and personally I had to get even with this event. Kajetan drove perfectly. These two days were full of emotion, with fantastic finish. We want to thank everyone who supported us here and in front of computers – it really gives strength in such demanding rally.
---
Starts of Kajetan Kajetanowicz and Jarek Baran are supported by strategic partner of LOTOS Rally Team – LOTOS Group – as well as CUBE.ITG and Driving Experience. More info about Kajetan Kajetanowicz and the team available at:
www.lotosrallyteam.pl, www.kajto.pl, www.facebook.com/EmocjeDoPelna www.facebook.com/KajetanKajetanowicz. and www.twitter.com/Kajto_pl