Kajetan Kajetanowicz and Jarek Baran – LOTOS Rally Team crew and recent winners of FIA ERC Gravel Masters title, awarded for gravel performance in FIA European Rally Championship – will take part in two more tarmac rounds of the series. First of them is Rallye du Valais in Switzerland, round ten of FIA ERC calendar, which takes place on 23-25 October. For Kajetanowicz, unlike for many of his biggest opponents, it will be the first start in this event. Just like in previous rounds of FIA ERC, the Polish crew will drive Ford Fiesta R5 prepared and run by M-Sport Poland.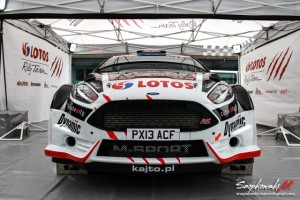 Before Rallye du Valais Kajetanowicz and Baran hold third place in FIA ERC standings. They scored 94 points in six outings – just 10 less than Sepp Wiegand who is second overall. LOTOS Rally Team crew are 29 points behind last year's Rallye du Valais winner and current championship leader Esapekka Lappi. There are 78 points on offer in two final rounds of the season.
Rallye du Valais was organised for the first time in 1960 as a regional event aimed at promotion of the region and local wines. Twenty years later Rallye du Valais became part of the European Rally Championship calendar. Special stages run through roads of the canton of Valais in southwestern Switzerland. Second-to-last event in this year's championship will start in Sion – capital city of region and the oldest city in Switzerland. Rally base, service park and ceremonial finish will be located in Martigny.
The route of 55th edition of Rallye International du Valais features almost 623 kilometres, including 260 kilometres of competitive distance, divided into 19 extremely demanding special stages. Most of them run in the same configuration as in previous years which makes the challenge even greater for Polish crew, tackling this event for the first time. Swiss counter of FIA European Rally Championship is famous for being tough for competitors and machines, not only because of high elevation of some stages, run at almost 2000 metres above sea level. The conditions on the stages are diverse. Tarmac has different levels of grip and uncertain weather in October further increases the challenge. Before the start of real competition, the crews taking part in FIA European Rally Championship will tackle the qualifying stage. This test is 3.3 kilometres long and begins on Thursday 23rd October at 9 in the morning. The fight for points will start on the same day at 3 in the afternoon, with the only new stage in the rally: Leukerbad (8.25 km).
Kajetan Kajetanowicz At the beginning of this season we were happy to start the competition in FIA European Rally Championship, thinking about gaining experience in difficult and diverse rounds of this series. After many successful but tough outings we will face double challenge in Switzerland. On one hand we will tackle specific stages on which we have never had a chance to compete and many of our biggest opponents already know this event from previous years. On the other hand we know that we are still contenders in the fight for top positions in FIA ERC, although at the finish of every stage, while checking the times on the board, we will keep in mind that our colleagues have already competed on these roads. For sure my experience with changing conditions on mountain stages in Polish Rally Championship will help but I guess that the route in Switzerland can be a lot tougher. Weather in Alps is variable and unstable. Moreover, in October we can expect a lot of mud on the road and even ice and snow in shady sections high in the mountains. In these diverse conditions it will be very important to have clever and precise pace notes. Wise choice of tyres will also be crucial because they can offer different grip, depending on temperature. As always, all these things give me extra motivation. I don't want this season to finish. I love competing in such rallies because each of them is completely different. To be honest, I love FIA European Rally Championship!
---
Starts of Kajetan Kajetanowicz and Jarek Baran are supported by strategic partner of LOTOS Rally Team – LOTOS Group – as well as CUBE.ITG and Driving Experience. More info about Kajetan Kajetanowicz and the team available at:
www.lotosrallyteam.pl, www.kajto.pl, www.facebook.com/EmocjeDoPelna, www.facebook.com/KajetanKajetanowicz. and www.twitter.com/Kajto_pl