LOTOS Rally Team crew began the competition in Swiss round of European Rally Championship with great pace, setting stage times at the forefront of FIA ERC standings. The conditions on the roads around Sion were totally unpredictable, so confident and consistent driving was the key – as it was proved by Kajetanowicz on his debut in this event. After three today's stages Kajetan and Jarek hold 7th place in overall standings, just 18 seconds off the lead.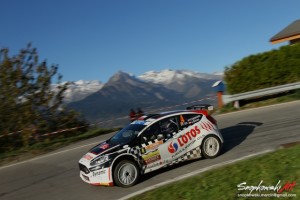 The first stage of 55th edition of Rallye du Valais turned out to be extremely demanding. The crews had to face different road conditions on 8.25-kilometre Leukerbad stage: some parts were flooded with water and another sections were dry and icy. Kajetanowicz and Baran showed fast and consistent pace. The next test was shortened from 11.66 to 4.5 kilometre because of ice and winter conditions in some sections. This stage suited LOTOS Rally Team crew well – Kajto and Jarek recorded second fastest time, just behind Craig Breen. On the final stage of today's loop Kajetan and Jarek, running as 12th crew on the road, faced lots of mud thrown on the road by cars driving in front of them. On very slippery and narrow stage rookie Kajto avoided mistakes and Polish duo finished first day in high 7th place. The first leg ends tomorrow and the crews will fight on eight stages divided into two identical loops over a distance of almost 100 kilometres.
Kajetan Kajetanowicz  This loop was short but fairly exciting: three special stages and each of them was different. Now our mechanics have some work to do with the car – there were many bumpy places so our Fiesta deserves a small servicing. We drive as 12th crew on the road although I think that today on two stages it was not important 🙂 Our form was confirmed by top times on opening stages. We have positive attitude and I have a very good feeling in the car so tomorrow we are going to fight and still learn at the same time. We will try to stay as focused as possible which is very important in such changeable and tricky conditions. I think we can be happy with our performance today.
---
Starts of Kajetan Kajetanowicz and Jarek Baran are supported by strategic partner of LOTOS Rally Team – LOTOS Group – as well as CUBE.ITG and Driving Experience. More info about Kajetan Kajetanowicz and the team available at:
www.lotosrallyteam.pl, www.kajto.pl, www.facebook.com/EmocjeDoPelna, www.facebook.com/KajetanKajetanowicz. and www.twitter.com/Kajto_pl