Kajetan Kajetanowicz and Jarek Baran began their Swiss preparations already on Monday. First two days of the week were very busy for LOTOS Rally Team crew. According to rally schedule, the recce took place on Monday and Tuesday. The crews had a lot of work because they had to prepare notes for 11 different special stages of the Swiss round of FIA European Rally Championship. Competition in another event which is new to Kajetanowicz will last for three days. The route consists of 19 stages and their total length is 260 kilometres.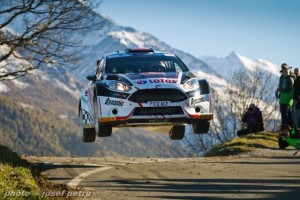 Before today's first stage of penultimate round of FIA ERC, which begins at 3 p.m. CET, the crews fought for starting positions on Qualifying Stage. The engine of Kajetan and Jarek's car stalled on this short test, so they had to stop and reset the computer in order to restart. The crews selected their starting positions according to the results of a single run of this stage. LOTOS Rally Team driver picked 12th position on the road for the first leg of Rallye du Valais.
Kajetan Kajetanowicz "Compromise" is the key word for this rally. Today we face three stages and this is the beginning of three days of extremely demanding competition, so we have to stay focused and wisely manage our energy. We have eleven different stages and many pages of pace-notes. For us this rally is even more difficult because we have no experience, we don't know the characteristics of this event. On Qualifying Stage we were reminded about old rally truth: not everything depends on us. At some point our engine stalled and we had to reset the computer. Our mechanics analyse this problem and for sure will fix it, so we will be able to tackle today's demanding stages. Difficult decisions await us: the tyre lottery and probably tricky choice of car settings. Many things are new to us but we will do our best to exploit our knowledge. I am a rookie here in Switzerland but we will not give up without a fight. It's no joke, this rally is for big boys 🙂

Jarek Baran  It is no coincidence that Rallye du Valais is called "small Monte Carlo". Although it takes place on the other side of the Alps, the Swiss round of FIA ERC is almost as difficult as Rallye Monte Carlo. Characteristics of roads in the canton of Valais is similar to the stages located north of Monte Carlo. Difficulty level is also raised by the weather because we can expect dry tarmac as well as ice or snow on the road. In no other round of this year's European Championship we have used so many pages to make the pace-notes. Here we have eleven different, very twisty special stages and for sure this rally will be very, very demanding.
---
Starts of Kajetan Kajetanowicz and Jarek Baran are supported by strategic partner of LOTOS Rally Team – LOTOS Group – as well as CUBE.ITG and Driving Experience. More info about Kajetan Kajetanowicz and the team available at:
www.lotosrallyteam.pl, www.kajto.pl, www.facebook.com/EmocjeDoPelna, www.facebook.com/KajetanKajetanowicz. and www.twitter.com/Kajto_pl