LOTOS Rally Team crew still among the frontrunners – Kajetanowicz and Baran hold second position in Rally Islas Canarias;
Newcomers Kajto and Jarek maintain quick pace in Gran Canaria: the Polish duo recorded another stage victory and won the biggest number of stages;
The tyre roulette continues – twisty Tarmac roads of the Canary Islands are unforgiving for the rubber;
Three stages to go: 52.2 kilometres of fierce battle for victory in the opening round of the FIA European Rally Championship.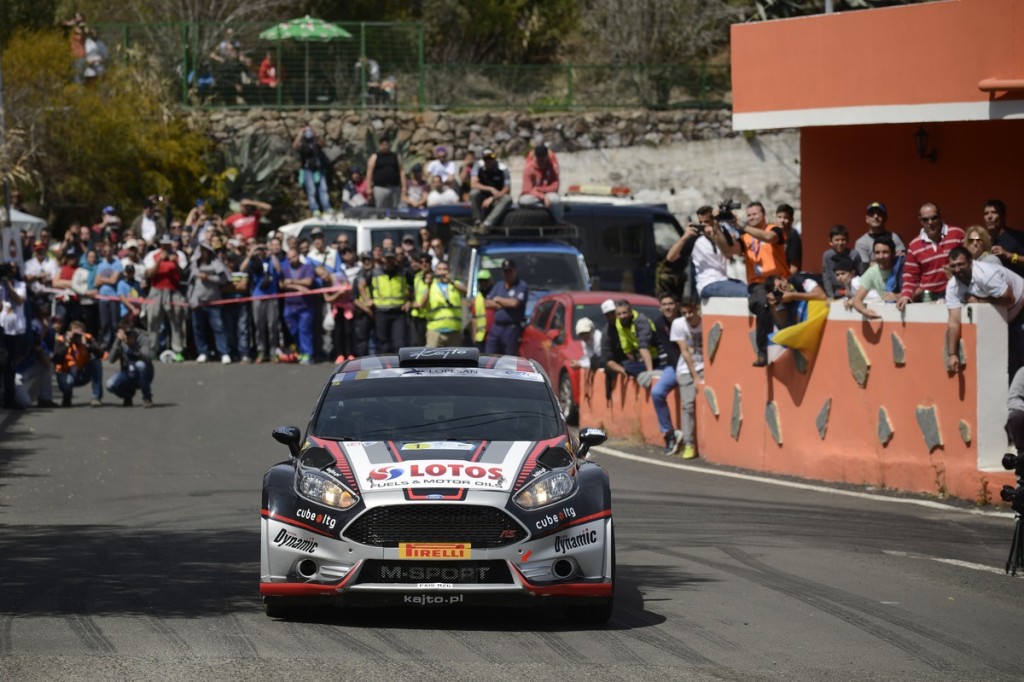 Reigning European Rally Champions and winners of Day 1 of Rally Islas Canarias started the next leg of competition on Gran Canaria with yet another excellent performance, just as they finished the Friday's stages. Kajetanowicz and Baran won comfortably, with 5.8 s advantage, Ingenio test – the longest one on the second day, climbing to an astonishing altitude of 1858 metres above sea level. This result strengthened the lead of the Polish crew, with gap of almost half a minute to Lukyanuk and Arnautov.
On the following two stages – Galdar (13.97 kms) and Valleseco (15.45 kms) – the Polish duo and other crews experienced massive problems with tyre wear. Today the temperatures are much higher than yesterday which – combined with very grippy and extremely rough Tarmac – make the life tough for the rally rubber in Gran Canaria. Despite losing precious seconds on the two final stages of this loop, Kajetanowicz and Baran – newcomers to the Canary Islands – hold an excellent second place in overall standings, which they owe to a great performance on the first day and fighting spirit they showed today. There are still three stages to go – and 52.2 kms of fierce battle to regain the lead in the rally.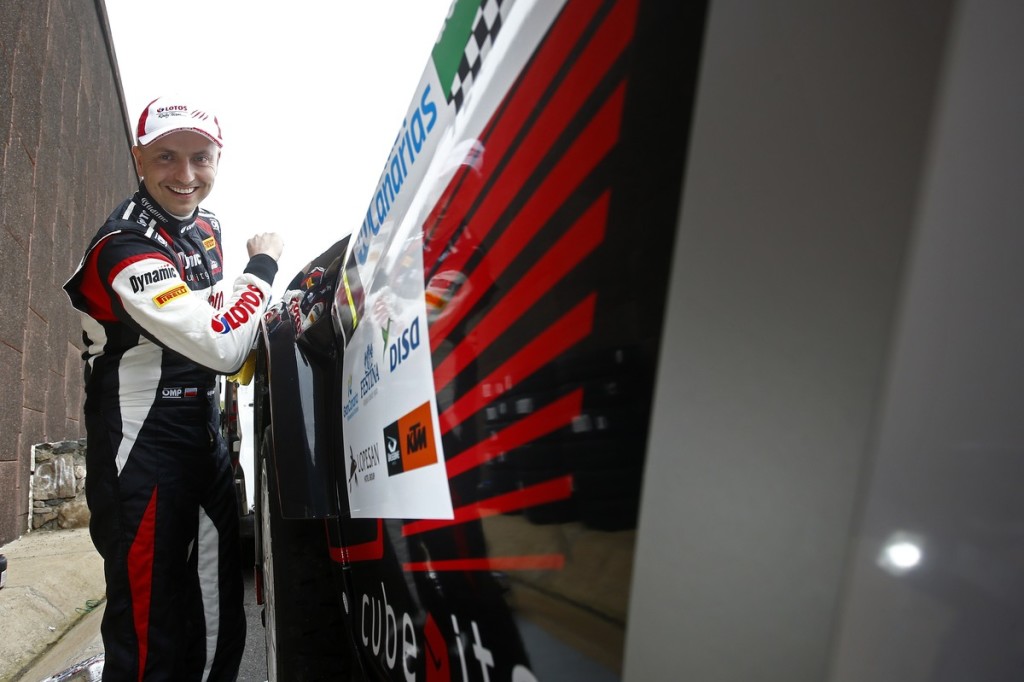 Kajetan Kajetanowicz We have just returned from the opening loop of the second day. It started very well for us because we won the first, difficult stage, on which we climbed to over 1850 metres. Our tyre problems began on the second stage. The Tarmac here is very rough and grippy – although these tyres are very good, they wore out quickly. First the canvas appeared, then the metal construction and it was not easy to stay on the road. I found it difficult to focus in these circumstances, new to me, and just to drive to the finish with reasonably fast pace. However, it worked out. These situations are like exams, but of course it would have been a lot better not to pass them here. When everything goes according to plan, you have to remember that always something can happen. Then you have to stay focused, remember that it is not the end of competition and everything is still open. It is easy to say this now, but up there, on the stage, when it starts to get really tough and you realise that you are loosing time, you have to remain focused, get your act together and just drive.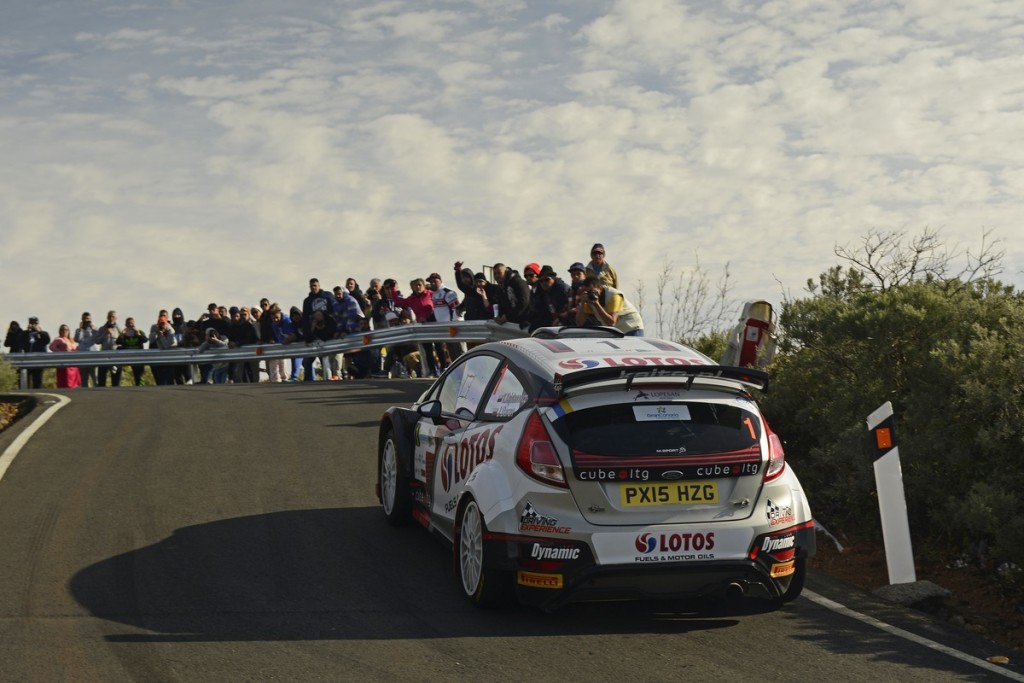 Rally Islas Canarias standings after SS10:
1. Alexey Lukyanuk (Russia) 1:41:09.4
2. Kajetan Kajetanowicz (Poland) +36.7 s
3. Luis Monzon Artilles (Spain) +1:32.7 s
4. Yonathon Perez Suarez (Spain) +2:32.6 s
5. Robert Consani (France) +2:41.9 s
6. Wojciech Chuchała (Poland) +4:40.7 s
7. Jarosław Kołtun (Poland) +4:44.0 s
8. Janos Puskadi (Hungary) +6:07.7 s
9. Ivan Ares Roel (Spain) +6:22.7 s
10. Surhayen Pernia (Spain) +6:39.3 s
Starts of Kajetan Kajetanowicz and Jarek Baran are supported by strategic partner of LOTOS Rally Team – LOTOS Group – as well as CUBE.ITG and Driving Experience. More info about Kajetan Kajetanowicz and the team available at: www.lotosrallyteam.pl, www.kajto.pl, www.facebook.com/EmocjeDoPelna, www.facebook.com/KajetanKajetanowicz and www.twitter.com/Kajto_pl.