Great season opening for the LOTOS Rally Team crew – the Polish duo comes second in their first start in Rally Islas Canarias;
Small gaps after 213 kilometres of tight battle: Kajetanowicz and Baran very close to their third win in a row in FIA ERC counter;
Another impressive debut for Kajetanowicz – the European Rally Champion won 6 out of 12 special stages and recorded 10 top-three times;
Kajetanowicz and Baran hold second place in the FIA ERC standings: they scored 29 points in Gran Canaria;
Polish driver raised his score to 80 stage wins in the FIA ERC rallies.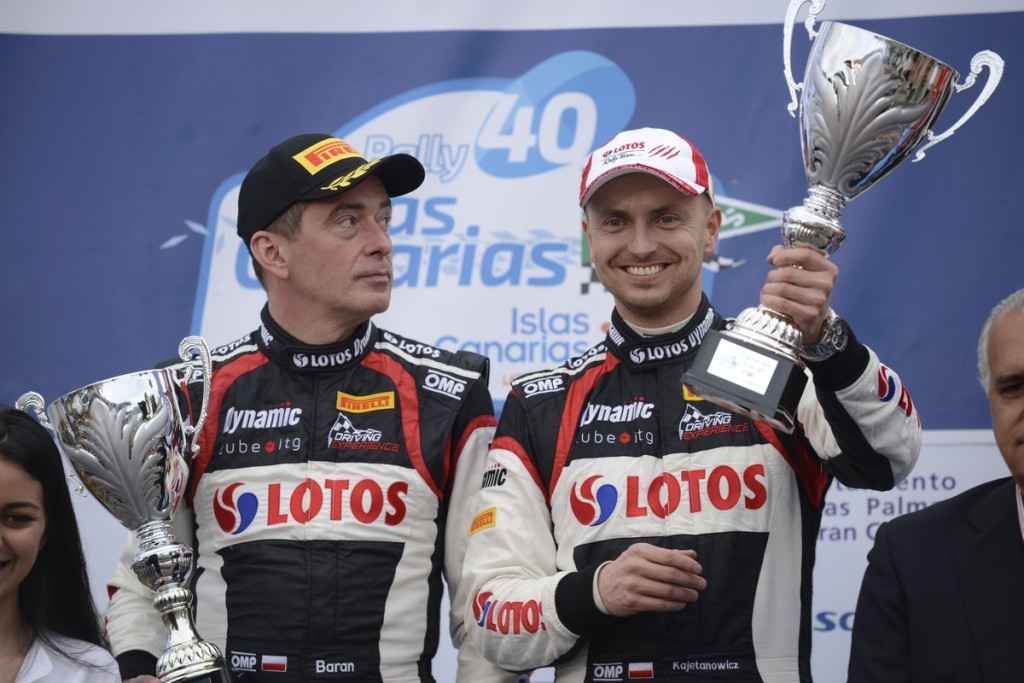 Both long and demanding legs of Rally Islas Canarias were spectacular and emotion-laden, with Kajetan Kajetanowicz and Jarek Baran as the main protagonists of the show. On the opening day the LOTOS Rally Team crew fought a ferocious battle for the lead with Mads Ostberg and Ola Floene – much more experienced competitors who currently occupy second position in the World Rally Championship. On Friday reigning European Rally Champions put a constant pressure on the Norwegian crew: Kajto and Jarek won four out of six special stages. Kajetanowicz was gradually closing the gap in overall standings, putting a lot of pressure on the experienced WRC driver. The Polish driver remained focused right until the last kilometre of the day, maintaining great pace at the same time, so that the LOTOS Rally Team crew finished this leg on top. Ostberg and Floene, chased by Kajetan and Jarek went off the road on SS7 and Rally Islas Canarias was over for them.
Kajetanowicz and Baran started the second day of battle for victory in the opening round of the 2016 FIA European Rally Championship with extending their lead to almost half a minute. The Polish crew won an extremely demanding, 22.8-kms Ingenio stage with record-breaking elevation change of 1152 metres – bigger than in the legendary Rallye Monte Carlo. On the following two tests they faced a real test of fighting spirit and determination. The tyres of their Ford Fiesta R5 wore out badly on twisty and abrasive roads of Gran Canaria. The Polish crew did everything they could but they were not able to defend their lead, despite sizeable advantage gained on the previous stages. During the final loop the LOTOS Rally Team crew tried to fight back and regain the lead. They narrowed the gap to Lukyanuk/Arnautov by four seconds but it was not enough – the time loss on the first loop was just too big.
In their first outing in Rally Islas Canarias Kajetan Kajetanowicz and Jarek Baran displayed a consistent and efficient performance. They finished 10 out of 12 stages in top three, including six wins. It means that Kajetanowicz raised his FIA ERC stage wins tally to 80 and has recorded 193 top-three finishes. Kajto and Jarek scored second place in overall standings of round 1 of the 2016 FIA ERC, starting their title defence campaign with 29 points: seven for winning Leg 1, four for fourth place on Leg 2 and 18 for the second position in the final classification. In Rally Islas Canarias the LOTOS Rally Team crew recorded their seventh FIA ERC podium in a row.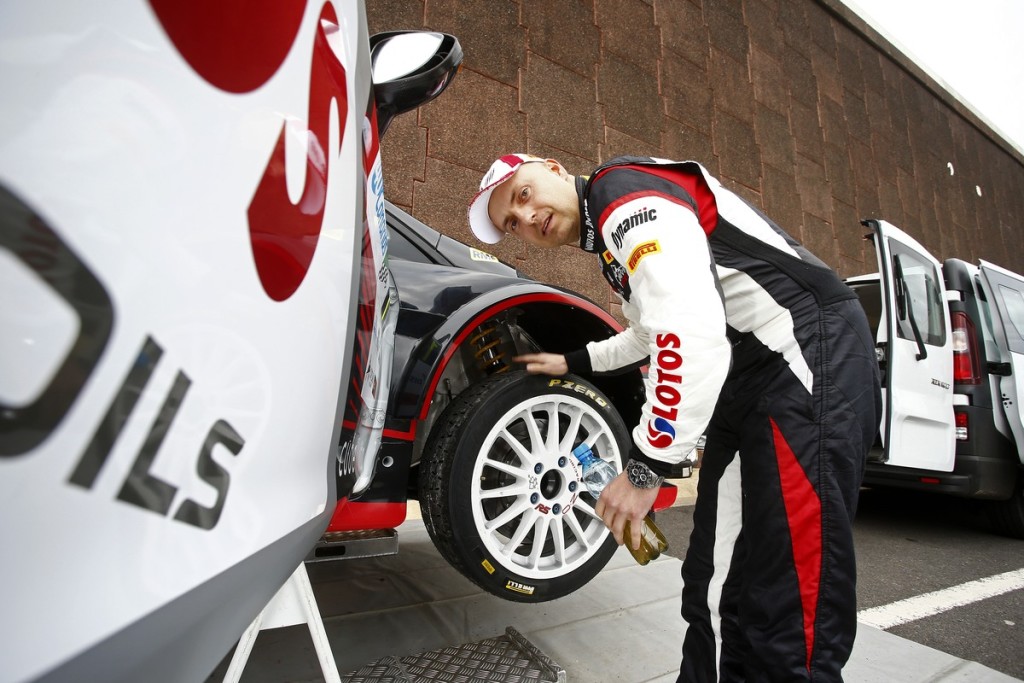 Kajetan Kajetanowicz  When you think about the Islas Canarias, first thing which comes to your mind are holidays. However, for us it was a hard and effective work, rewarded with stage wins, victorious Leg 1, lots of points and incredible emotions. We were leading and problems with heavy tyre wear demoted us to second place. The whole LOTOS Rally Team did a great job. Our car performed very well. It was a fantastic rally for us. We leave Gran Canaria with big smiles on our faces and heads full of motivation to fight in the European Rally Championship.
Jarek Baran What a fantastic island, what a fantastic rally with great traditions and Polish accents. This year we had mini-edition of Polish championship in Gran Canaria, in many categories. Basically we were supposed to score a hat-trick, as our compatriots did a great job in ERC-2 and ERC-3 – so huge congratulations to them. Nevertheless our second place in overall standings is also phenomenal. Apart from the Polish crews, we also saw lots of Polish supporters, among the Spanish fans. I am only half-joking, but I can say that we have just finished an event which probably should have been a part of Polish Rally Championship calendar.
Rally Islas Canarias standings after 12 special stages:
1. Alexey Lukyanuk (Russia) 2:13:52.4
2. Kajetan Kajetanowicz (Poland) +32.7 s
3. Luis Monzon Artilles (Spain) +1:51.4 s
4. Yonathon Perez Suarez (Spain) +2:58.5 s
5. Wojciech Chuchała (Poland) +5:57.3 s
6. Jarosław Kołtun (Poland) +6:17.0 s
7. Robert Consani (France) +7:19.6 s
8. Janos Puskadi (Hungary) +8:00.0 s
9. Surhayen Pernia (Spain) +8:26.2 s
10. Tomasz Kasperczyk (Poland) +8:37.0 s
The FIA ERC standings after Rally Islas Canarias:
1. Alexey Lukyanuk (Russia) 38 points
2. Kajetan Kajetanowicz (Poland) 29 points
3. Luis Monzon Artilles (Spain) 25 points
4. Yonathon Perez Suarez (Spain) 20 points
5. Wojciech Chuchała (Poland) 11 points
6. Robert Consani (France) 11 points
7. Jarosław Kołtun (Poland) 8 points
8. Janos Puskadi (Hungary) 4 points
9. Federico Della Casa (Switzerland) 3 points
10. Hermen Kobus (Netherlands) 2 points
= Surhayen Pernia (Spain) 2 points
= Antonin Tlustak (Czech Republic) 2 points
Starts of Kajetan Kajetanowicz and Jarek Baran are supported by strategic partner of LOTOS Rally Team – LOTOS Group – as well as CUBE.ITG and Driving Experience. More info about Kajetan Kajetanowicz and the team available at: www.lotosrallyteam.pl, www.kajto.pl, www.facebook.com/EmocjeDoPelna, www.facebook.com/KajetanKajetanowicz and www.twitter.com/Kajto_pl.