Kajetanowicz and Baran record second-fastest time in the Qualifying Stage for the Circuit of Ireland;
LOTOS Rally Team crew scores their 13th top-three finish in the FIA ERC qualifying;
Reigning European Rally Champions defeated a host of local competitors;
Kajetan picks his starting position for the Friday's stages as the second driver;
6 special stages and 93.1 competitive kilometres – Leg 1 of the Circuit of Ireland starts tomorrow at 10:51 CET.
Rain, sun and rain again – more than once during one hour – truly British weather welcomed Kajetanowicz and Baran and other competitors before today's Qualifying Stage for the Circuit of Ireland: round two of the 2016 FIA European Rally Championship. The 4.22-kms test took place on narrow but fast route north of Antrim: a town located on the shore of Lough Neagh – the largest lake in the British Isles.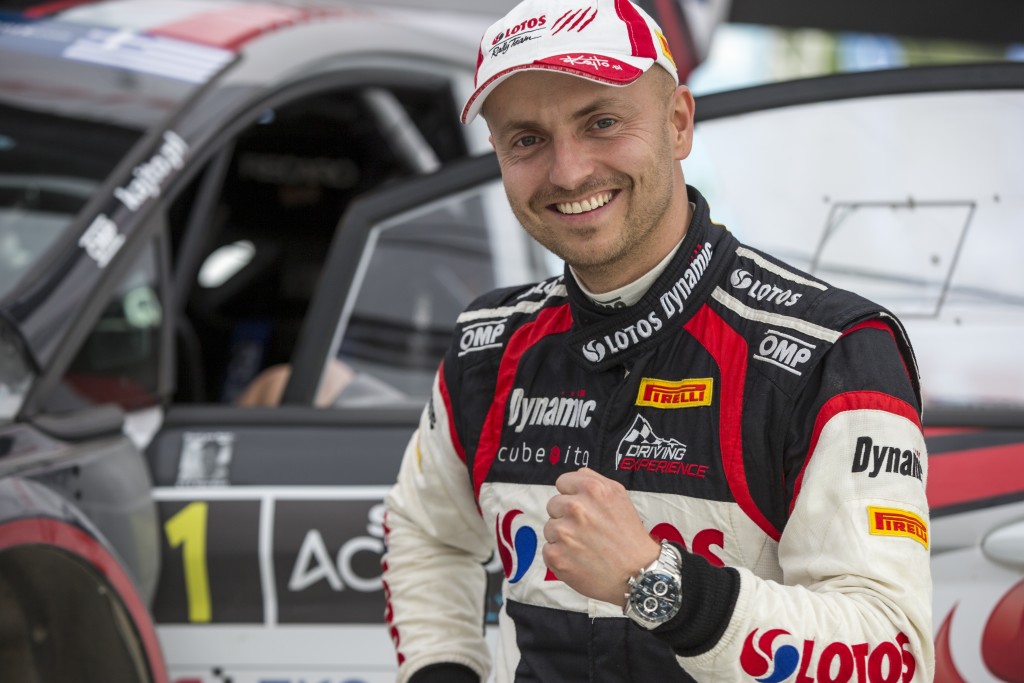 The competition for the best time and the right to get the first choice of starting position for tomorrow's special stages began at 13:48 CET. The European Rally Champions, representing LOTOS Rally Team, were the first crew to complete the Qualifying Stage. On wet, muddy and extremely slippery asphalt Kajetanowicz and Baran showed fast and assured performance, recording an impressive second fastest time. Only Elfyn Evans – factory M-Sport driver with 45 WRC starts under his belt – was quicker than the Polish driver. The reigning European Rally Champions defeated last year's Circuit of Ireland winner Craig Breen and many other drivers from the British Isles: Alastair Fisher, Keith Cronin (triple British Rally Champion), Tom Cave or Martin McCormack. The result achieved today by Kajetan and Jarek means that the Polish crew recorded top-three Qualifying Stage time in the FIA European Rally Championship for the fourth time in a row and 13th in their career.
The fight for victory in this year's Circuit of Ireland begins tomorrow at 10:51 CET. During the opening leg of the rally the best European and British crews tackle legendary stages north of Belfast which return to the itinerary after 20 years' break – including the longest test, The Glens (31.21 kms). Apart from the stages running across green valleys, moorlands and townships of County Antrim, the competitors will also fight on the street stage in Newtownards (2.3 kms) – the final test of Leg 1 of the second round of the 2016 FIA ERC, with total length of 93 competitive kilometres.
Kajetan Kajetanowicz I am glad that I do not have to forecast the weather in the British Isles. It is so changeable in Ireland that people who do it probably get fired very quickly [laughs]. We have just finished a fairly long Qualifying Stage which looked as if it was a gravel rally: there was so much mud. However, it does not mean that we did not have a lot of fun, driving in such demanding conditions. You have to be very alert and react immediately, although sometimes there is no time nor possibility to correct the line when you touch the verge of the road: way more slippery than the Tarmac itself. Our time was very good but it is difficult to say whether we could be among the frontrunners because we had two practice runs before the Qualifying Stage and tomorrow we will fight on roads which are completely new to us, while many our competitors know them well. The task is therefore very challenging. I am glad because I learn a lot during so different rallies. Last time out we were fighting in the Canary Islands, where the grip was fantastic, and here it is completely different – although if it is dry, there are sections on the road which offer really good grip. However, a change of weather conditions is enough to turn everything upside down. This is the Circuit of Ireland: as unpredictable as the weather here.

Jarek Baran In fact our second outing in the Circuit of Ireland is in large part another debut. The whole first leg is new to us and most of the local competitors know it from the past editions of the Ulster Rally. 30-kms Glens stage, running along the coastline, is hard to describe with words – and I do not mean the landscape. This test is so filled with information – jumps, corners, crests of all kinds – that it is one of the most impressive stages I have ever seen. The second day is mostly a repeat of last year's stages but it down not mean it will be easier. The weather is different and there is a lot of additional information in our pace notes.
The results of the Qualifying Stage for the Circuit of Ireland 2016
1. Elfyn Evans (Great Britain) 2:28.934
2. Kajetan Kajetanowicz (Poland) +4.541 s
3. Alastair Fisher (Great Britain) +5.166 s
4. Craig Breen (Ireland) +6.166 s
5. Keith Cronin (Ireland) +8.766 s
6. Martin McCormack (Ireland) +8.866 s
7. Fredrik Ahlin (Sweden) +9.766 s
8. Jaromir Tarabus (Czech Republic) +10.966 s
9. Federico Della Casa (Switzerland) +12.518 s
10. Tom Cave (Great Britain) +13.366 s
Starts of Kajetan Kajetanowicz and Jarek Baran are supported by strategic partner of LOTOS Rally Team – LOTOS Group – as well as CUBE.ITG and Driving Experience. More info about Kajetan Kajetanowicz and the team available at: www.lotosrallyteam.pl, www.kajto.pl, www.facebook.com/EmocjeDoPelna, www.facebook.com/KajetanKajetanowicz and www.twitter.com/Kajto_pl.