LOTOS Rally Team crew hold second position after 10 stages of the Circuit of Ireland;
Kajetanowicz and Baran raised their pace and cut the gap to the leaders by 14.7 seconds on the first of two today's loops;
2 top-three finishes on four stages for LOTOS Rally Team crew, including one stage win;
Just 10.4 seconds separating the Polish duo and rally leaders herald a great showdown on the final four special stages.
10.4 seconds – this is the gap which separates Kajetan Kajetanowicz and Jarek Baran from the Circuit of Ireland leaders after 10 special stages and 151 competitive kilometres of fierce battle in round two of the FIA ERC. After consistent, fast and effective driving during the opening leg, today the European Rally Champions raised their pace again. These efforts brought fantastic results: Kajto and Jarek recorded two top-three times on four stages, including one stage win. Thanks to this performance LOTOS Rally Team crew cut the gap to Craig Breen and Scott Martin by no less than 14.7 seconds. It means that the lead of Breen – Citroen factory driver – dropped to a bit more than 10 seconds. Given the average speed in this rally, the time difference between the two contenders equals to just 320 metres.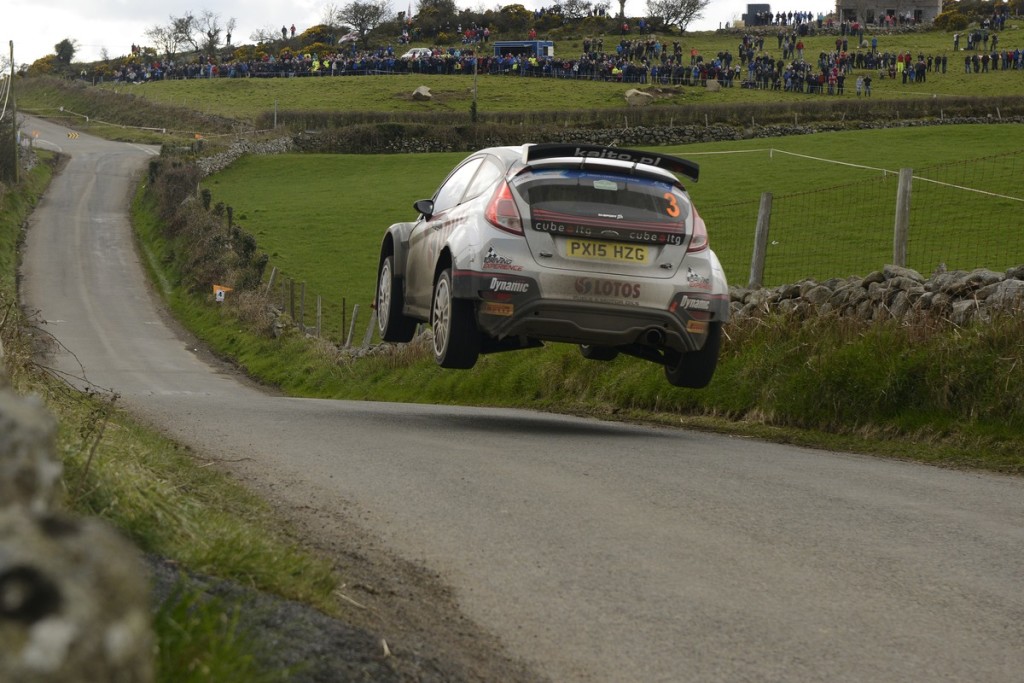 The competition on today's stages of the Circuit of Ireland heralds a great showdown on the final four special stages and reminds everybody of the last year's fight, when Kajetanowicz in his first outing here did not leave Breen any breathing space and pursued the Irishman right to the finish. The battle for victory in the Circuit of Ireland will last until 18:10 CET. There are still 58 kilometres of fierce fight to go, on narrow, bumpy and very fast stages in Northern Ireland.
Kajetan Kajetanowicz We are pushing hard and it seems that the fans like it as well. I think it is a good rally for us, good loop and good tyre choice. Yesterday we started with rain tyres and the opening loop was 80% dry, but later it got better. There is still a lot of work to do, although on some stages it would be very difficult to drive faster. They are very demanding, fast, with lots of mud – and very narrow, there is not enough space for any correction. As you can see, sometimes it works out – some drivers are quicker than us but we are also able to beat them. We won a stage, we closed the gap to Craig, chased him a bit and we are still in the hunt. Of course we would like to fight for victory but we also have to think about points. Here bad luck does not play a big role, there are many things which could happen by chance, surprisingly – things you cannot predict, especially in fast corners after crests, where we do not expect any mud. The rally is interesting because just 22 seconds separate the top three. Craig Breen is 10 seconds ahead and we have 12 seconds gap to Alastair Fisher. This fight is beautiful, we will do our best to keep the pace but now the weather is changing again and the conditions will be crucial – just like tyres. We try to get the best choice but it is difficult to judge anything now. Two stages are wet, the other two are dry and it impossible to tell how the situation would be in two hours' time, when we will drive the stage – and we have to leave the service park in a few moments. This is rally: you have to be a bit lucky and predict the conditions a bit. We don't have a crystal ball, we don't read the tea leaves but we will try and do our best in order to get as much information as possible and to make right decisions.
The Circuit of Ireland 2016 standings after SS10:
1. Craig Breen (Ireland) 1:21:16.3
2. Kajetan Kajetanowicz (Poland) +10.4 s
3. Alastair Fisher (Great Britain) +22.6 s
4. Josh Moffett (Ireland) +1:04.1 s
5. Jaromir Tarabus (Czech Republic) +1:24.9 s
6. Jonathan Greer (Great Britain) +1:24.9 s
7. David Bogie (Great Britain) +1:48.2 s
8. Tom Cave (Great Britain) +3:34.0 s
Starts of Kajetan Kajetanowicz and Jarek Baran are supported by strategic partner of LOTOS Rally Team – LOTOS Group – as well as CUBE.ITG and Driving Experience. More info about Kajetan Kajetanowicz and the team available at: www.lotosrallyteam.pl, www.kajto.pl, www.facebook.com/EmocjeDoPelna, www.facebook.com/KajetanKajetanowicz and www.twitter.com/Kajto_pl.