LOTOS Rally Team crew starts the Acropolis Rally with fastest time in the Qualifying Stage;
This victory enabled the European Rally Champion to get first choice of starting position, so important on gravel – he chose fifteenth position;
Kajetanowicz and Baran won the Qualifying Stage in Greece for the second time in a row, repeating their last year's achievement;
Today's result means that the Polish duo now have seven wins and 13 top three times in their FIA European Rally Championship career;
The fight for victory in round three of the FIA ERC takes place tomorrow and on Sunday – on 12 twisty, rocky stages with total length of over 231 competitive kilometres.
Although 208 days have passed since the previous outing of Kajetanowicz and Baran in a gravel round of the FIA European Rally Championship, the Polish champions have not forgotten how to drive fast on loose surface. The LOTOS Rally Team crew started the Acropolis Rally with the fastest time in the Qualifying Stage today. Kajetan and Jarek in their Ford Fiesta R5 Evo defeated their championship rivals Alexey Lukyanuk/Roman Kapustin and FIA ERC Junior runners-up Ralfs Sirmacis/Arturs Simins (Skoda Fabia R5). This triumph means that Kajetanowicz and Baran notched up their seventh Qualifying Stage victory in the FIA ERC. The LOTOS Rally Team crew also scored a top three finish for the thirteenth time in their career and fifth in a row.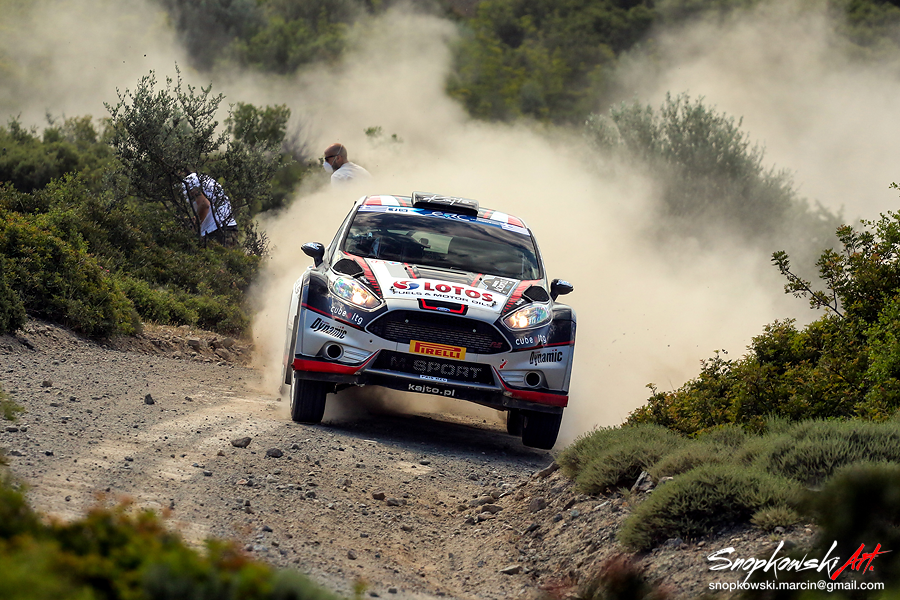 The Qualifying Stage victory means that Kajetanowicz got the first choice of starting position for tomorrow special stages, which is very important in gravel rallies. The qualifying winner can choose the best road position, in order to avoid loosing time due to cleaning loose gravel on the stages and at the same time to avoid driving on surface destroyed by the preceding cars. Kajetanowicz chose fifteenth starting position for the Saturday's stages.
The fight for victory in the 62nd edition of the Greek rally begins on Saturday 7 May. First leg consists of three gravel stages, each of them run twice: New Gravia (25.7 kms), Amfissa (14.29 kms) and Paleohori (12.43 kms). The first one – New Gravia which climbs to 1442 metres above sea level – starts at 9:08 CET. The Saturday competition ends with the second pass of Paleohori stage which commences at 15:43 CET. The crews will cover almost 105 competitive kilometres.
Last year's Acropolis Rally winners, Kajetanowicz and Baran, start this event with comfortable lead in the FIA European Rally Championship standings: with 22-points advantage over second-placed Alexey Lukyanuk. On top of that LOTOS Rally Team defends their lead in the FIA ERC Teams standings in Greece.
Kajetan Kajetanowicz It is great that we had not forgotten how to drive fast on gravel because over 200 days have passed since our last outing on this surface and for sure this break has some influence. We regained a good feeling very quickly today and we won the Qualifying Stage. The gaps were not so big but it is also good news, as it bodes well for good, exciting fight. You can approach the Acropolis Rally in two ways. The first one is to push to the limit and fight fiercely but on these stages it can cause some problems with the car. The other approach is to drive a bit slower which in turn makes it difficult to stay focused – and you need to keep concentration in order to drive cleanly, without incidents. This is why the best way is to find an optimal balance between both methods: to drive with confidence and reach the finish line, while doing it fast enough in order to win. For many days, since our pre-event testing, since the recce, I have been thinking about everything: how to choose the tyres, how to set up the car, how to tackle this extremely difficult route of the Acropolis Rally. Maybe someone could give me a hint [laughs]?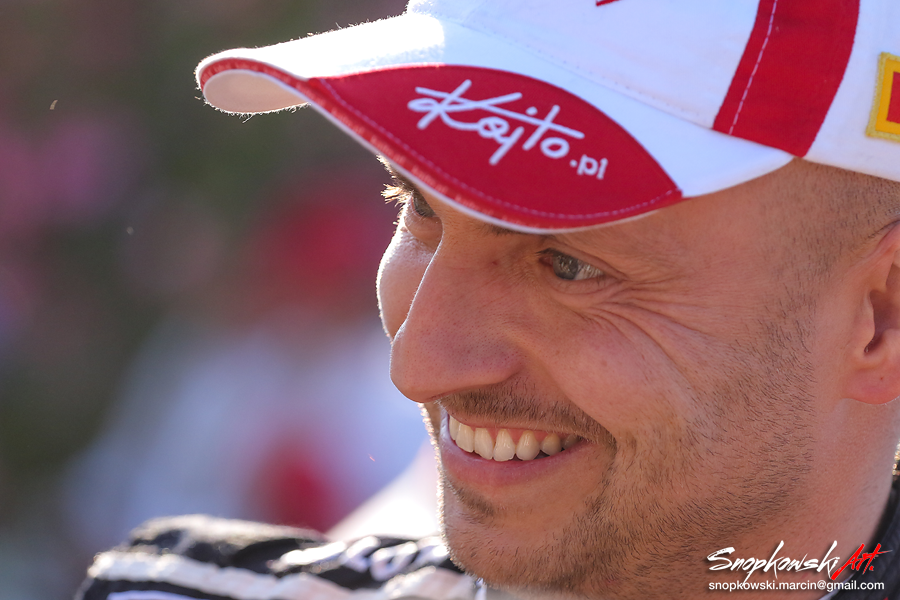 Jarek Baran This edition of the Acropolis Rally is completely different comparing to the one we tackled in two previous seasons. We are on higher altitude, the route is more hilly and similar to the classic versions of this event. Especially on the two longest stages each day you can see a few very mixed sections: there are wide places or narrow places, fast or very twisty, with good, hard and smooth gravel or with very rocky surface. If there is a single thing which could decide the outcome of this rally, then for me it would be the places where – according to a very old rule – you have to drive sensibly, respecting and saving the car a little bit more.
The results of the Qualifying Stage of the Acropolis Rally – round 3 of the FIA ERC:
1. Kajetan Kajetanowicz (Poland) 2:19.938
2. Alexey Lukyanuk (Russia) +0.095 s
3. Ralfs Sirmacis (Latvia) +1.732 s
4. Jaromir Tarabus (Czech Republic) +3.124 s
5. Wojciech Chuchała (Poland) +4.095 s
6. Raul Jeets (Estonia) +4.652 s
7. Lambros Athanassoulas (Greece) +4.736 s
8. Jarosław Kołtun (Poland) +4.790 s
9. Antonin Tlustak (Czech Republic) +5.864 s
10. Federico Della Casa (Switzerland) +7.046 s
The FIA ERC standings before the Acropolis Rally – round 3 of the FIA ERC 2016:
1. Kajetan Kajetanowicz (Poland) 60 points
2. Alexey Lukyanuk (Russia) 38 points
3. Craig Breen (Ireland) 38 points
4. Luis Monzon Artilles (Spain) 25 points
5. Alastair Fisher (Great Britain) 23 points
6. Yonathon Perez Suarez (Spain) 20 points
7. Josh Moffett (Ireland) 19 points
8. Jonathan Greer (Great Britain) 14 points
The FIA ERC Teams standings before the Acropolis Rally – round 3 of the FIA ERC 2016:
1. LOTOS Rally Team 50 points
2. C-Rally 33 points
3. Botka Rally Team 19 points
4. Auto Laca Competition 18 points
5. Tlustak Racing 18 points
6. Eurosol Racing Team Hungary 12 points
7. Tiger Energy Drink Rally Team 10 points
8. Sports Racing Technologies 10 points
Starts of Kajetan Kajetanowicz and Jarek Baran are supported by strategic partner of LOTOS Rally Team – LOTOS Group – as well as CUBE.ITG and Driving Experience. More info about Kajetan Kajetanowicz and the team available at: www.lotosrallyteam.pl, www.kajto.pl, www.facebook.com/EmocjeDoPelna, www.facebook.com/KajetanKajetanowicz and www.twitter.com/Kajto_pl