LOTOS Rally Team crew won 3 out of 6 special stages run on Saturday;
The FIA ERC leaders in ferocious fight, setting their sights on return to a position rewarded with precious points;
Kajetan and Jarek maintain excellent pace in every FIA ERC round: since the beginning of this season the Polish duo recorded top-three times on 24 out of 32 special stages.
 The Qualifying Stage victory, top-two times on 5 out of 6 special stages, including three stage wins – these numbers confirm that Kajetan Kajetanowicz and Jarek Baran show the best pace of all crews competing for victory in the 62nd edition of the legendary Acropolis Rally. Proving their FIA ERC Champions status, the Polish duo not only drove quickly today, but also showed excellent sportsmanship. Kajetan and Jarek fixed the car damage after the incident which occurred on the opening stage, when in the fight for fractions of seconds they cut a corner a bit too deep and rolled the car onto its roof. To make it even more annoying, there were no spectators around and the Polish crew lost a lot of precious time until the fans appeared and helped to put their Ford Fiesta R5 back on its wheels.
This difficult and stressful incident did not stop the LOTOS Rally Team crew: on the following stages Kajetanowicz and Baran counter-attacked and drove in their familiar style – fast, consistent and very effective. The amazing show started on SS2, with the first stage win for the committed European Rally Champions. On the next test they lost just 0.6 second to the fastest rivals. On the afternoon loop of the Acropolis Rally they continued their brilliant performance, wrapping up further two stage wins – on New Gravia (the longest one today) and Amfissa tests. Kajto and Jarek finished the exhausting and full of incredible emotions opening day of the Acropolis Rally with second place on the Paleohori stage.
However, this is just the halfway point of round 3 of the FIA European Rally Championship. Tomorrow the best European rally crews will tackle another three stages, run twice – including the longest test of the Acropolis Rally, Elatia/Karya. The second passage of this almost 34-kms stage marks the end of the 62nd edition of the Greek event. Sunday leg means even more fierce competition for points in the FIA ERC standings. There are 126.7 competitive kilometres to go, almost 22 kilometres more than the crews covered today. The Acropolis Rally finishes tomorrow at around 14:45 CET.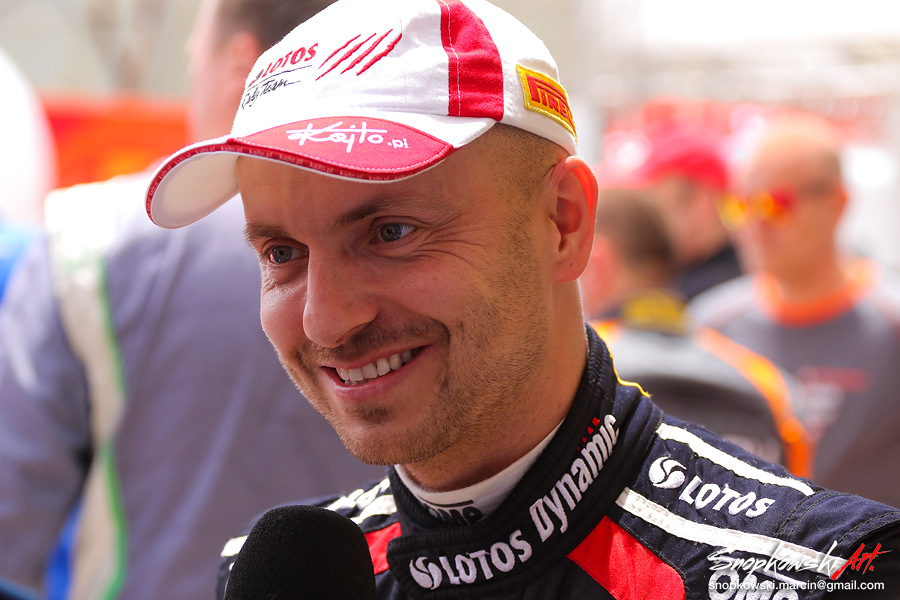 Kajetan Kajetanowicz We are at the halfway point of the rally which started with a tough experience for us. Fortunately we won some stages later on [smile]. It filled us with optimism. We are tired but happy with our performance. We had a lot of work with our car – not only in the service park but also between the stages. This rally is just like this: it is one of the most challenging rounds in the whole FIA ERC calendar and it used to be a part of the World Rally Championship. When everything goes well, the Acropolis Rally can bring great pleasure but for us it has been very demanding so far. Even the sophisticated rally cars suffer a lot on these roads. This is a tough exam and it taught me a lot. I would not have been able to learn this lesson if I had not competed in this event. It is nice that we stay focused and push our main rivals, showing them that you can drive faster on these stages. We have to consider our plan for tomorrow carefully. We just want to push because this is the only way to show that we were contenders for victory in this rally. Of course we would have preferred to win this event. Probably it is not possible any more but we will do our job and hopefully we will enjoy our driving. We love rallies and we take them as they are – irrespective of how difficult they are.
 Starts of Kajetan Kajetanowicz and Jarek Baran are supported by strategic partner of LOTOS Rally Team – LOTOS Group – as well as CUBE.ITG and Driving Experience. More info about Kajetan Kajetanowicz and the team available at: www.lotosrallyteam.pl, www.kajto.pl, www.facebook.com/EmocjeDoPelna, www.facebook.com/KajetanKajetanowicz and www.twitter.com/Kajto_pl