From hell to heaven – Kajetanowicz and Baran defended their lead in the FIA ERC standings after great battle and tenacious pursuit in the Acropolis Rally;
The European Rally Champions win Day 2 of the event with over 40-seconds advantage;
Fast and effective performance of the Polish duo enabled them to gain 26 places and to finish in the points – on 8th position in the overall standings;
The Greek event marks the 11th FIA ERC round in a row with points finish for the LOTOS Rally Team crew;
Kajto and Jarek impress not only with their commitment but also with pace – they recorded top-two times on 11 out of 12 special stages, including 8 stage wins.
During the 62nd Acropolis Rally we have witnessed everything what makes the fans love this sport: surprising twists of the plot, eruption of a young talent, dramas of the frontrunners and – last but not least – hard fight and incredible pursuit by the FIA European Rally Champions from Poland. Kajetan Kajetanowicz and Jarek Baran impressed with their sportsmanship and commitment, when stage by stage, kilometre by kilometre, they were fighting to make up for the time loss which they suffered on the unfortunate opening stage. This chase brought them back to the points-paying position in the top ten of the rally.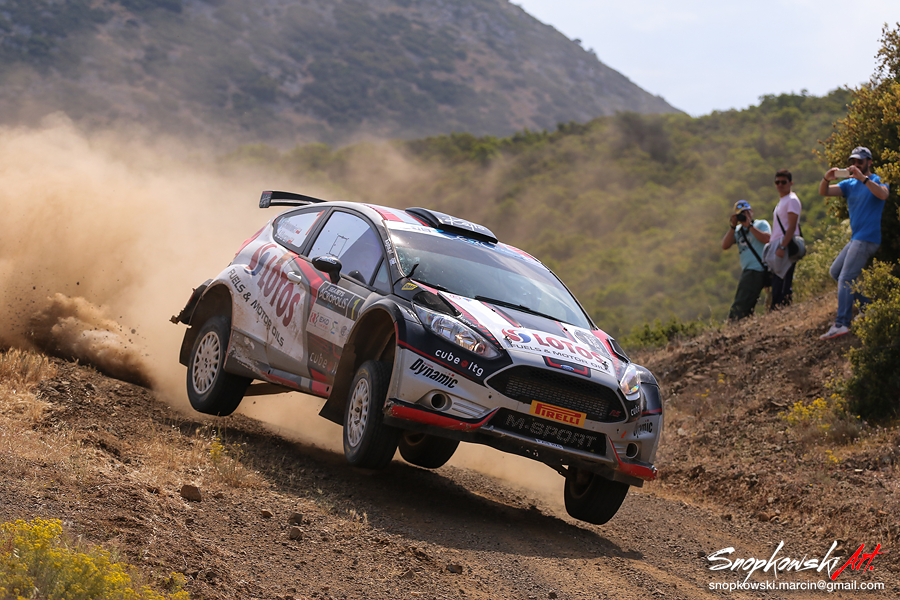 The crazy pursuit by the LOTOS Rally Team crew meant that they scored a result which on Saturday morning seemed to be completely out of reach. They gained 26 position over the course of 11 difficult, bumpy and rocky special stages of the Acropolis Rally, finishing the third round of the FIA European Rally Championship in 8th position. This result means that Kajetan and Jarek not only defended their lead in the FIA ERC overall standings but also increased their advantage over second-placed Alexey Lukyanuk. This year's Acropolis Rally marks the 11th FIA ERC round in a row with points finish for Kajto and Jarek.
In order to achieve this result, the European Rally Champions had to set an impressive pace. They won eight out of twelve special stages, finishing another three tests with second-fastest time. The numbers behind their performance during Day 2 are even more spectacular. On Sunday Kajetanowicz and Baran won five out of six stages, including two victories on the longest one – almost 34-kms Elatia/Karya test. Thanks to these results Kajetan and Jarek scored 7 extra points for winning Day 2. They scored 11 points in Greece, increasing their advantage in the FIA European Rally Championship standings to 25 points.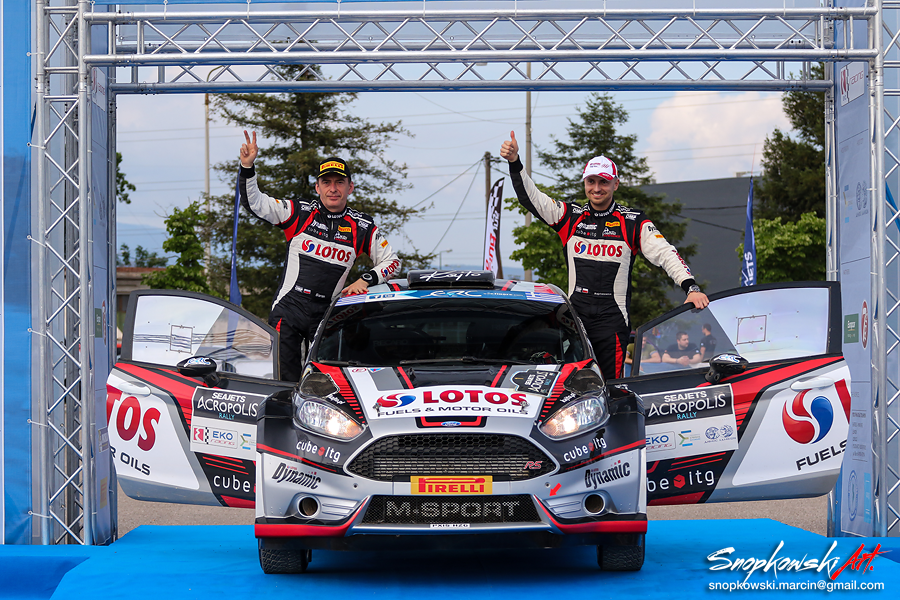 Kajetan Kajetanowicz Yesterday, after the opening stage, we were in hell. Now we feel as if we were in heaven. It was a huge character-building test. I think we did it for our families, for the whole team and partners, for our fans. We probably deserved it. It was not easy to bounce back after such big time loss. We fought until the end and we are proud as we put on a good show on stages which used to feature in the World Rally Championship rounds. It made me feel fulfilled. I love rallies because I can fight to the last metre, because they give me a lot of emotions and I can test my abilities in unusual situations.
Jarek Baran Well, after over sixty almost perfect rallies together, the statistics came into play. The longer you build a successful streak, the greater the possibility is that something would eventually happen. But this experience can also teach us something important. We have not fought for points at this kind of pace for a long time and during such a demanding event as the Acropolis Rally it means really strong sensation. Many thanks for the fans, your support gave us a lot of strength.
 The 2016 Acropolis Rally in numbers:
*1st place of Kajetanowicz and Baran the FIA ERC overall standings after the Acropolis Rally;
*25 points – advantage of Kajetanowicz and Baran in the FIA ERC classification;
*26 places over the course 11 special stages – ground gained by Kajetanowicz and Baran during the rally;
*11 out of 12 special stages (92%) finished in top two, including 8 out of 12 (66.6%) stage victories for Kajto and Jarek;
*The LOTOS Rally Team crew scored points in their 11th consecutive FIA ERC outing;
*The Polish duo finished 79% of the 2016 FIA ERC special stages run to date in top three, winning 45% of the stages.
Final standings of the 62nd Acropolis Rally – round 3 of the 2016 FIA ERC:
1. Ralfs Sirmacis (Latvia, Skoda Fabia R5) 2:53:12.5
2. Lambros Athanassoulas (Greece, Skoda Fabia R5) +2:42.3 s
3. Jaromir Tarabus (Czech Republic, Skoda Fabia R5) +2:42.4 s
4. Raul Jeets (Estonia, Skoda Fabia R5) +5:41.9 s
5. Wojciech Chuchała (Poland, Subaru Impreza) +8:19.9 s
6. Jarosław Kołtun (Poland, Ford Fiesta R5) +9:11.1 s
7. Tomasz Kasperczyk (Poland, Ford Fiesta R5) +10:40.4 s
8. Kajetan Kajetanowicz (Poland, Ford Fiesta R5) +13:58.1 s
9. Jose Luis Rios (Paraguay, Mitsubishi Lancer) +20:09.6 s
10. Alexey Lukyanuk (Russia, Ford Fiesta R5) +20:15.5 s
The FIA ERC standings after the Acropolis Rally:
1. Kajetan Kajetanowicz (Poland) 71 points
2. Alexey Lukyanuk (Russia) 46 points
3. Craig Breen (Ireland) 38 points
4. Ralfs Sirmacis (Latvia) 37 points
5. Jaromir Tarabus (Czech Republic) 28 points
6. Lambros Athanassoulas (Greece) 27 points
7. Luis Monzon Artilles (Spain) 25 points
8. Wojciech Chuchała (Poland) 24 points
9. Alastair Fisher (Great Britain) 23 points
10. Yonathon Perez Suarez (Spain) 20 points
Starts of Kajetan Kajetanowicz and Jarek Baran are supported by strategic partner of LOTOS Rally Team – LOTOS Group – as well as CUBE.ITG and Driving Experience. More info about Kajetan Kajetanowicz and the team available at: www.lotosrallyteam.pl, www.kajto.pl, www.facebook.com/EmocjeDoPelna, www.facebook.com/KajetanKajetanowicz and www.twitter.com/Kajto_pl