Competition on São Miguel Island, the Azores Rally (2-4 June): the next challenge for Kajetanowicz and Baran;
The FIA ERC leaders with a great opportunity to extend their championship advantage in a breathtaking landscape on the island in the middle of the ocean;
Rally dance on the rim of a dormant volcano – iconic feast for the fans and trademark of the Azores Rally: classic Sete Cidades stage;
Over 215 kilometres of fight on 16 special stages covered with volcanic gravel;
From gravel to asphalt, from asphalt to gravel: 89% of the route is run on gravel, the remaining 11% on asphalt.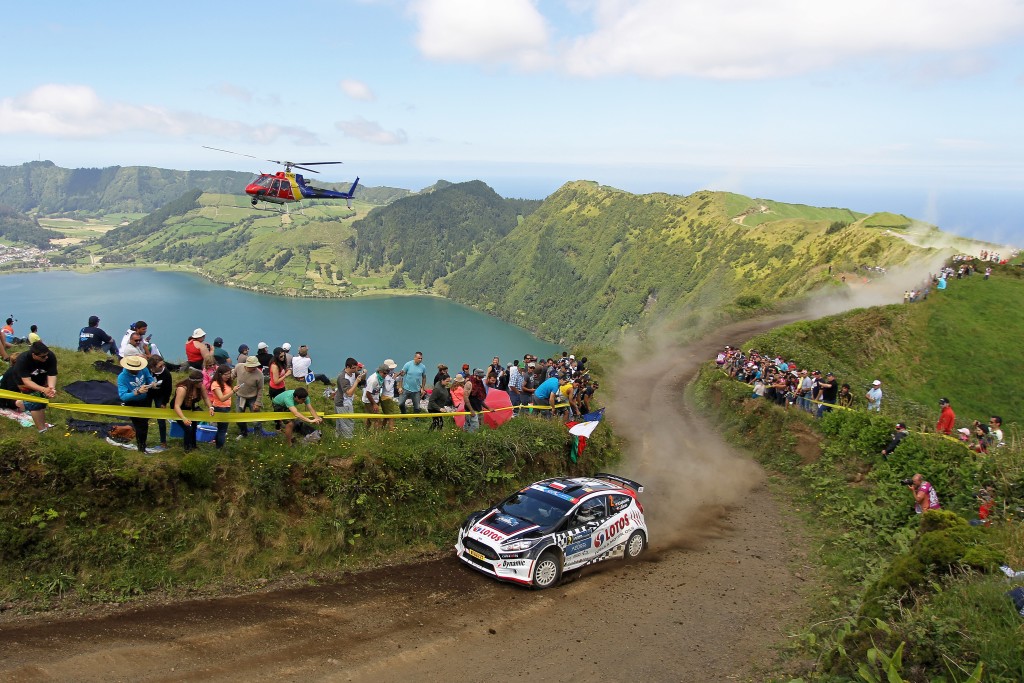 At the beginning of June the best European rally crews will compete in the most exotic round of the FIA European Rally Championship. The engine noise of rally cars will blare out almost 1500 kilometres west of Europe – on São Miguel Island, during the Azores Rally (2-4 June). Among the cars which will tackle the spectacular roads of this volcano island there is a Ford Fiesta R5 in LOTOS Rally Team livery – driven by Kajetan Kajetanowicz and Jarek Baran. The reigning FIA ERC champions enter this event for the third time. Last year they were runners-up in the Azores and Kajetan started his successful bid for the FIA ERC Gravel Master title there.
The fight for victory in round four of the 2016 FIA European Rally Championship takes place on 16 special stages and 215.5 competitive kilometres. The majority of the route – 89% of the stages – is run on twisty and narrow roads covered with rough, volcanic gravel, with different grip levels. The remaining 11% of the route consists of Tarmac sections. The organisers have prepared 16 stages including those won last year by Kajetanowicz and Baran: Feteiras, characterised by changeable rhythm, and Sete Cidades – around the rim of a dormant volcano. There is also a stage on which Kajetanowicz truly shines: spectacular superspecial stage Grupo Marques in a quarry, where the fans can watch fantastic head-to-head battles of two cars at the same time. The Polish driver is undefeated on this stage since his debut in the Azores in 2014.
The archipelago of the Azores, situated almost 1500 kilometres west of continental Europe, is famous for capricious, unpredictable weather. The residents of these Portuguese islands often joke that the weather forecast for the next day will eventually turn out to be correct in one week's time. Fog often appears high in the mountains of São Miguel Island and together with very humid air it causes rapid changes of grip levels on gravel, compared to sections at lower altitude, exposed to sunlight. In these treacherous and changeable conditions, in breathtaking scenery full of lush vegetation, Kajto and Jarek will fend off all FIA ERC frontrunners and a host of seasoned Portuguese competitors, with vast experience on these roads. After three opening round of the 2016 FIA ERC season the Polish duo enjoy the lead of 25 points over second-placed Alexey Lukyanuk. The LOTOS Rally Team crew are in a position to increase their advantage in the standings and consolidate the lead in the FIA ERC.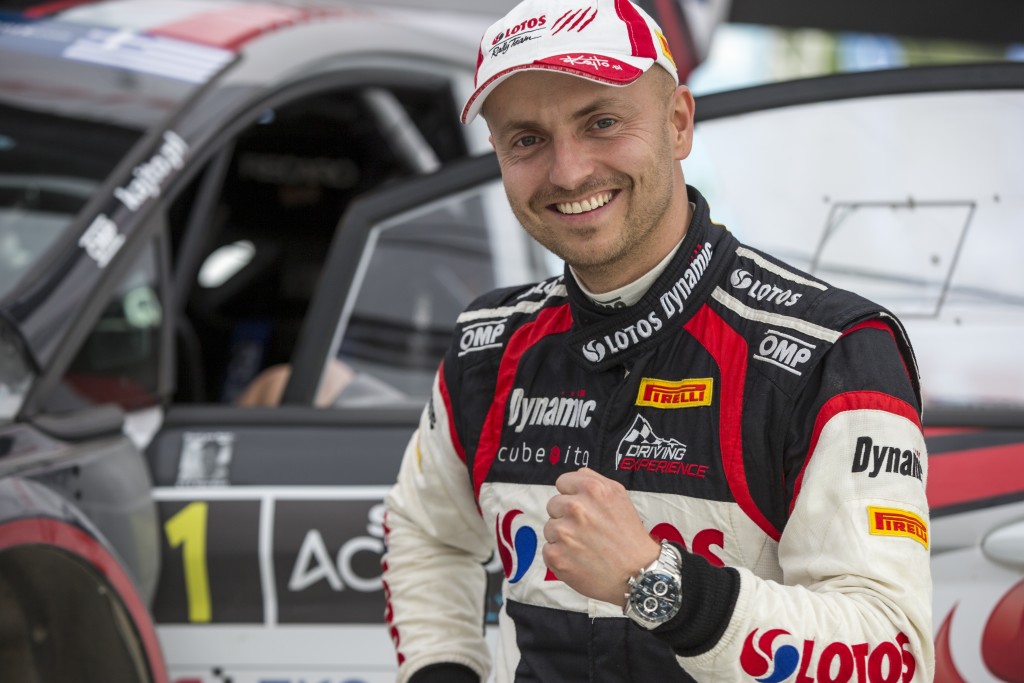 Kajetan Kajetanowicz I have an affection for many rallies, I like a lot of rallies very much, but I miss driving in the Azores not just after coming back to Poland, but already when we cross the ceremonial finish ramp at the end of this event. If you want to see this sport in a nutshell and learn as much as possible during a single rally, you should visit or compete in the Azores. On this small but picturesque island of São Miguel we face changeable grip levels on volcanic gravel, we check the precision of driving on narrow roads, we experience the capricious weather and test the accuracy of our pace notes, required when we drive at high speed into thick fog. This is when long hours of training and litres of sweat in the gym pay off – I need such preparation, so that my body could work fast and hard, and my brain could maintain focus on the highest revs. Fierce competition in these conditions is a very tasty feast for the fans. It is great that thanks to the efforts of partners and members of the LOTOS Rally Team I can fight for victory in the amazing scenery of the Azores. Together with other competitors we create a spectacular advertisement of the sport which I love so much.
The Azores Rally in numbers:
1st position of Kajetanowicz and Baran in the FIA ERC standings before the Azores Rally;
4th of 10 rounds of the 2016 FIA European Rally Championship;
25 points – the advantage of Kajetan and Jarek over second-placed crew in the FIA ERC standings;
2nd place of Kajetanowicz and Baran in their previous outing here, in 2015;
    215.53 kms – total length of 16 special stages;
In 1992 the Azores Rally was included in the European Rally Championship calendar for the first time;
1st position of LOTOS Rally Team in Teams standings before round four of the championship, the Polish squad enjoys comfortable lead of 13 points;
  25.72 kms – the longest special stage of the rally – famous Sete Cidades stage, around the rim of a dormant volcano;
Just 10 times in 51-years history of this event the rally was won by foreign drivers;
89% of the route is on gravel, the remaining 11% – on asphalt roads;
For 731 days Kajetanowicz is unbeaten on Grupo Marques test – spectacular superspecial stage in a quarry, won by Kajetan four times in a row since his first outing there;
22 stages of the Azores Rally finished by Kajetanowicz and Baran in top three in 2014 and 2015;
71 points scored in three opening rounds of the 2016 FIA ERC season by Kajetanowicz and Baran – the championship leaders;
7 stages won by Kajetanowicz and Baran in their two previous outings in the Azores Rally;
51st edition of this event takes place this year;
30 out of 38 (79%) of the special stages run this year Kajetan and Jarek finished in top three;
3930 kms is the straight-line distance from Warsaw, capital city of Poland, to rally base in Ponta Delgada;
In 11 previous FIA ERC outings Kajto and Jarek scored points;
17 out of 38 (45%) special stages run this year in the FIA ERC were won by Kajetanowicz and Baran, this is the best strike rate among all competitors.
The 2016 FIA ERC standings before the Azores Rally:
1. Kajetan Kajetanowicz (Poland) 71 points
2. Alexey Lukyanuk (Russia) 46 points
3. Craig Breen (Ireland) 38 points
4. Ralfs Sirmacis (Latvia) 37 points
5. Lambros Athanassoulas (Greece) 27 points
6. Jaromir Tarabus (Czech Republic) 27 points
7. Luis Monzon Artilles (Spain) 25 points
8. Wojciech Chuchała (Poland) 24 points
9. Alastair Fisher (Great Britain) 23 points
10. Yonathon Perez Suarez (Spain) 20 points
The 2016 FIA ERC Teams standings before the Azores Rally:
1. LOTOS Rally Team 58 points
2. C-Rally 45 points
3. Sports Racing Technologies 35 points
4. Tiger Energy Drink Rally Team 20 points
5. Botka Rally Team 19 points
6. Lascaris Foundation Team Greece 18 points
7. Auto Laca Competicion 18 points
8. Tlustak Racing 18 points
9. T&T Czech National Team 15 points
10. Eurosol Racing Team Hungary 12 points
Starts of Kajetan Kajetanowicz and Jarek Baran are supported by strategic partner of LOTOS Rally Team – LOTOS Group – as well as CUBE.ITG and Driving Experience. More info about Kajetan Kajetanowicz and the team available at: www.lotosrallyteam.pl, www.kajto.pl, www.facebook.com/EmocjeDoPelna, www.facebook.com/KajetanKajetanowicz and www.twitter.com/Kajto_pl.