Kajetan Kajetanowicz and Jarek Baran began the competition on São Miguel Island in a brilliant way. The Polish duo repeated the last year's success and won the city superspecial stage on the streets of Ponta Delgada, the capital city of the Azores. The LOTOS Rally Team crew started the test as the last of the seeded crews and recorded another victory in Ponta Delgada City Show, watched by large crowd of fans.
– Perfect atmosphere, amazing show! It is great to be back here 🙂 – said Kajetan Kajetanowicz at the finish line of the city stage, which he finished just before midnight CET.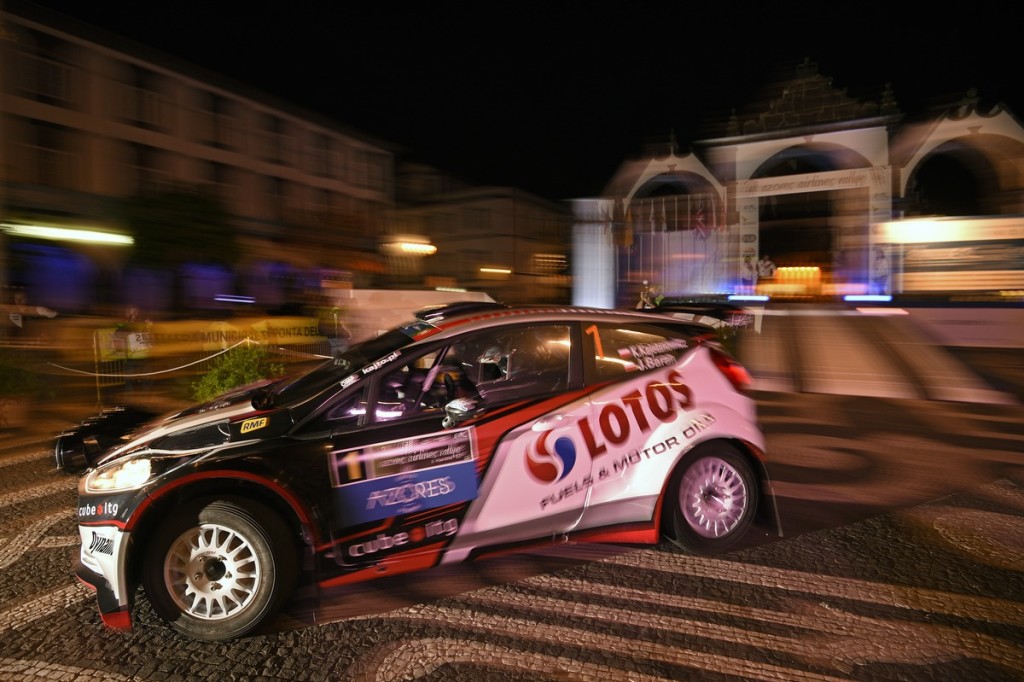 Rally cars fitted with gravel tyres were sliding a lot on slippery surface and bumpy cobblestones, entertaining the fans with spectacular sideslips. Kajetanowicz and Baran made use of their experience in such conditions and drove just like on their victorious runs on the famous Karowa Street in Warsaw: fast, with remarkable precision and efficiency. On this short test they defeated Portuguese crew Fontes/Ponte by 1.3 second and their biggest rivals in the FIA ERC – Lukyanuk/Arnautov – by 3 seconds.
This is an excellent start of the competition, although the results of this spectacular city stage does not count towards the overall rally classification. The real fight begins on Thursday – with the Qualifying Stage in the morning and the opening special stages in the afternoon. There is another spectacular test among them: Grupo Marques, run in a quarry. The fans have a unique opportunity to watch head-to-head battles between two cars at the same time. Kajetanowicz and Baran are undefeated on this stage since their first outing in the Azores, over 730 days ago.
Starts of Kajetan Kajetanowicz and Jarek Baran are supported by strategic partner of LOTOS Rally Team – LOTOS Group – as well as CUBE.ITG and Driving Experience. More info about Kajetan Kajetanowicz and the team available at: www.lotosrallyteam.pl, www.kajto.pl, www.facebook.com/EmocjeDoPelna, www.facebook.com/KajetanKajetanowicz and www.twitter.com/Kajto_pl