Consistent and quick pace of the Polish crew in mixed conditions – Kajto and Jarek scored seven top-three times on 10 stages and won three of them;
Efficient Kajetanowicz stays in hunt for the Azores Airlines Rallye victory;
No margin for error – after 112.7 competitive kilometres two leading crews are separated by just 9.8 secs;
Exhilarating battle between Kajetanowicz, Lukyanuk and Moura keeps the fans in suspense.
Ten special stages have been covered so far by the crews fighting for victory in the Azores Airlines Rallye. The battle at the top is so tense and fierce that halfway through the rally two leading crews – Kajetanowicz/Baran and Lukyanuk/Arnautov – are separated by just 9.8 seconds. If you convert this time difference into distance, then the gap between two top cars after 112.7 competitive kilometres of round four of the FIA ERC is just 228 metres. These numbers show that high level of concentration and efficiency are absolutely crucial in this exhilarating battle. There is no margin for error on wet and slippery gravel roads of São Miguel Island.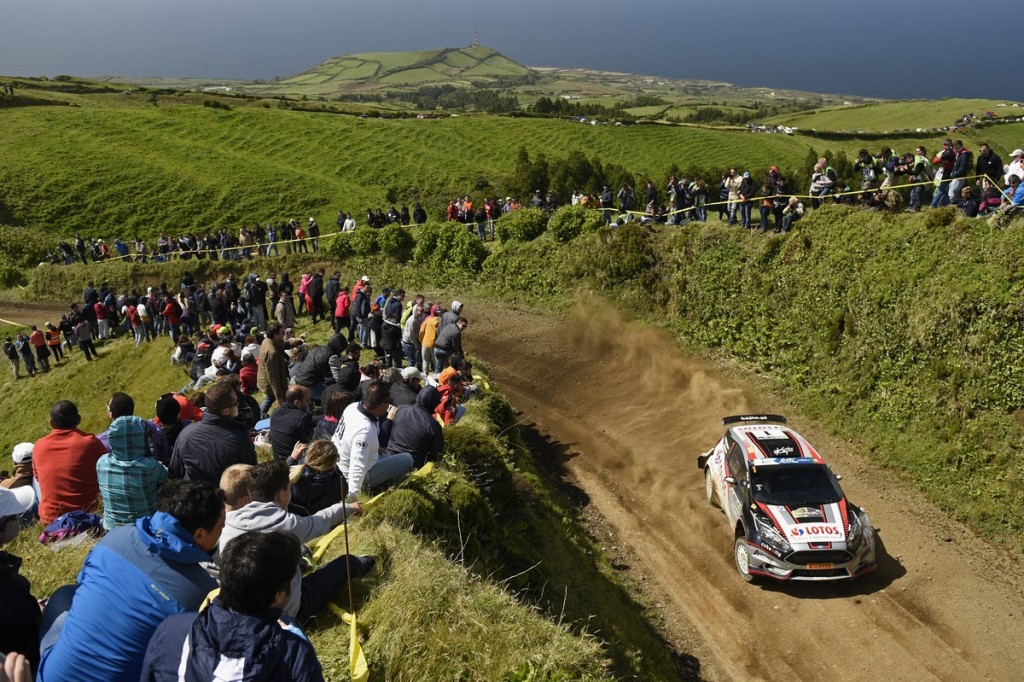 For the most part of the first leg of the 51st running of the Azores Airlines Rallye, contested on roads covered with thick fog, the FIA ERC leaders kept Lukyanuk and Arnautov at bay,  retaining their advantage over the Russian duo. The LOTOS Rally Team crew underlined their quick and consistent pace with six top-three results on all six stages run today, including two fastest times. Kajto and Jarek notched up one of their stage victories on the trademark test of the Azores Airlines Rally – Sete Cidades, one of the toughest gravel stages in the world. Also on the second running of this test Kajetanowicz and Baran were quick and recorded second fastest time.
Ultimately after the first leg of the rally Kajetanowicz and Baran trail their biggest rivals Lukyanuk and Arnautov by only 9.8 seconds. The Polish crew enjoys 31-seconds advantage over third-placed Portuguese duo, Moura and Costa. It means that fight for victory in round four of the FIA European Rally Championship is still wide open and tomorrow it will resume virtually from square one – as there are 102.7 competitive kilometres to go on Saturday. This distance is divided into six special stages: the first one is Graminhais (20.96 kms), climbing to the highest point of the route – 942 metres above sea level. It starts at 12:16 CET. The rally battle of the Azores ends with Tronqueira stage: this fight on almost 22 kms test takes place on the northern coast of São Miguel Island (start at 19:02 CET). The rally finishes around 20:00 CET.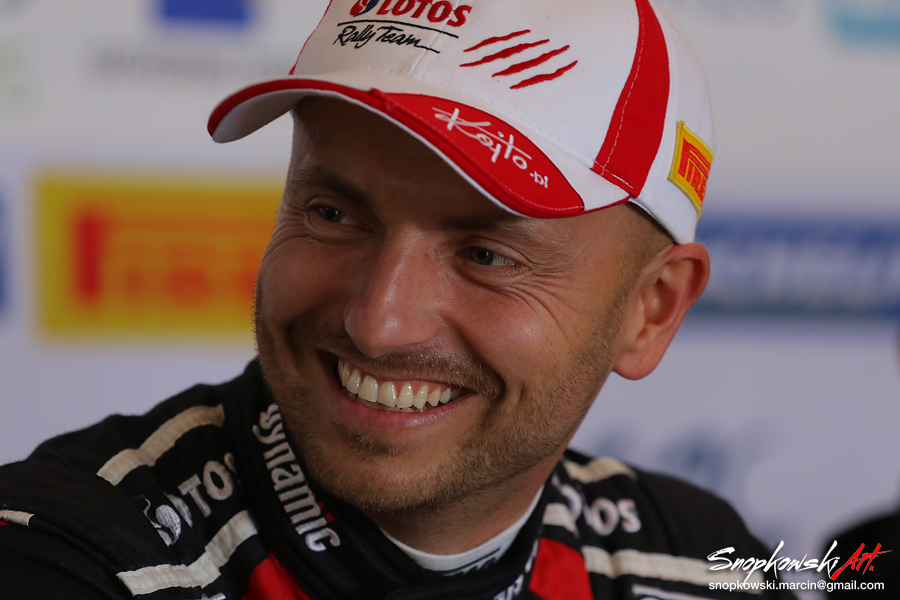 Kajetan Kajetanowicz After covering well over 100 competitive kilometres we can say that tomorrow we start this rally from scratch. We are in fight for victory all the time and we learn a lot in these extremely changeable conditions. Every stage is exceptional, there is different grip on each of them. After overnight and morning rainfall the sun came out and I was surprised how fast these gravel stages dried out. We are on island, after all, and the conditions change quickly and massively. Not only sun and strong wind make the roads dry – also the cars going in front of us clean the surface of loose gravel. All these things contribute to a great experience. This rally is demanding but it also brings us and our fans a lot of positive emotions. We are happy because less than 10 seconds separate us from the leaders and our advantage over third-placed crew reached half a minute. The fight should be great tomorrow, just as it was today. Our plan remains the same as in every other rally: I want to drive as fast as possible, making good use of the opportunities created by our partners, team, car and my experience and skills.

The Azores Airlines Rallye 2016 standings after SS10:
1. Lukyanuk/Arnautov (Russia, Ford Fiesta R5) 1:20:35.2
2. Kajetanowicz/Baran (Poland, Ford Fiesta R5) +9.8 s
3. Moura/Costa (Portugal, Ford Fiesta R5) +40.8 s
4. Sirmacis/Simins (Latvia, Skoda Fabia R5) +1:05.1 s
5. Meireles/Castro (Portugal, Skoda Fabia R5) +3:08.8 s
6. Fontes/Ponte (Portugal, Skoda Fabia R5) +3:24.6 s
7. Botka/Szeles (Hungary, Citroen DS3 R5) +3:37.0 s
8. Orsak/Smeidler (Czech Republic, Ford Fiesta R5) +3:38.9 s
9. Jeets/Toom (Estonia, Skoda Fabia R5) +4:17.5 s
10. Tlustak/Kucera (Czech Republic, Skoda Fabia R5) +4:21.5 s
Starts of Kajetan Kajetanowicz and Jarek Baran are supported by strategic partner of LOTOS Rally Team – LOTOS Group – as well as CUBE.ITG and Driving Experience. More info about Kajetan Kajetanowicz and the team available at: www.lotosrallyteam.pl, www.kajto.pl, www.facebook.com/EmocjeDoPelna, www.facebook.com/KajetanKajetanowicz and www.twitter.com/Kajto_pl