Kajetanowicz and Baran high in the Azores Airlines Rallye standings, thanks to significant advantage gained during first leg of competition;
The Poles drove through three stages this morning with rear-wheel drive only, after a driveshaft failure;
LOTOS Rally Team crew stay in the hunt for podium after heroic performance on the opening loop today, despite the car failure;
Fight in the Azores is far from over – Kajetan and Jarek have three long and difficult stages to go, so the fight for precious points will last another 56 competitive kilometres.
After great first leg of the Azores Airlines Rallye, full of exciting twists of plot and fierce competition, Kajetan Kajetanowicz and Jarek Baran held an excellent second position in the overall classification of this event, trailing the leaders by just 9.8 seconds. The Polish crew enjoyed a comfortable advantage over the rest of the field, so on Saturday the fight for victory in round four of the European Rally Championship was supposed to start basically from scratch.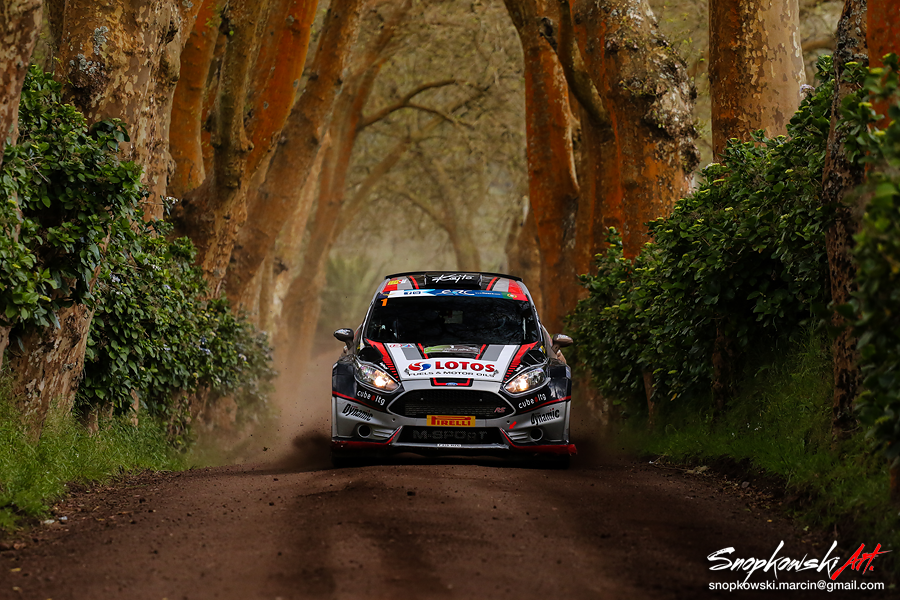 Unfortunately, just a few kilometres into the opening stage today (Graminhais, 20.96 kms), the right-front driveshaft on Poles' car snapped under braking into a corner. It meant that Kajetan and Jarek had to deal without front-wheel drive on the remaining kilometres of three gravel stages on São Miguel Island. The engine in the car of the leaders of the FIA European Rally Championship powered only the rear axle, which hindered the acceleration and exits from many tight corners. Kajetanowicz did his best to minimise the time loss and he succeeded. Thanks to the heroic performance of the LOTOS Rally Team crew and huge advantage gained on the first leg of this rally, the reigning FIA European Rally Champions stay in the hunt for podium in Portuguese FIA ERC counter. After 13 special stages Kajetanowicz and Baran occupy an excellent third place with significant advantage over fourth-placed crew. There are still three long and difficult stages to go: over 56 competitive kilometres of fight for precious points in the oldest rally series in the world.
Kajetan Kajetanowicz  After two very nice days of the rally – beautiful, difficult and challenging – we found out that sometimes this sport can be even tougher. A few kilometres into the opening stage today a driveshaft snapped under braking. Fortunately, I managed to slow down because the differential disengaged and this situation reminded me how hard it is to stop the rally car without front axle drive. I realised what had happened quite quickly but not straight away and emotions were running high. We continued with rear-wheel drive only. If I wasn't competing against very fast drivers in four-wheel drive cars, I would be probably happy that I can have some fun with sliding and driving sideways. This day was going to be great and this failure excluded us from fight for victory. The advantage we gained yesterday had been so big that right now we are in third place, despite losing over three minutes on this loop. In twisty sections in the forest, full of tight corners where traction was crucial, I entered all hairpins in third gear because even slight throttle opening caused the rear of the car to step out. It reminded me of distant past, when I was driving a Polski Fiat 126. Tough moments can happen but I still love rallies, irrespective of the difficulties which I encounter.
The Azores Airlines Rallye 2016 standings after SS13:
1. Lukyanuk/Arnautov (Russia, Ford Fiesta R5) 1:58:12.0
2. Moura/Costa (Portugal, Ford Fiesta R5) +25.3 s
3. Kajetanowicz/Baran (Poland, Ford Fiesta R5) +3:35.5 s
4. Orsak/Smeidler (Czech Republic, Ford Fiesta R5) +4:04.4 s
5. Meireles/Castro (Portugal, Skoda Fabia R5) +4:21.0 s
5. Botka/Szeles (Hungary, Citroen DS3 R5) +4:57.8 s
7. Rego/Magalhaes (Portugal, Ford Fiesta R5) +5:06.4 s
8. Tlustak/Kucera (Czech Republic, Skoda Fabia R5) +5:08.0 s
9. Jeets/Toom (Estonia, Skoda Fabia R5) +5:09.3 s
10. Teodosio/Teixeira (Portugal, Ford Fiesta R5) +5:41.3 s
Starts of Kajetan Kajetanowicz and Jarek Baran are supported by strategic partner of LOTOS Rally Team – LOTOS Group – as well as CUBE.ITG and Driving Experience. More info about Kajetan Kajetanowicz and the team available at: www.lotosrallyteam.pl, www.kajto.pl, www.facebook.com/EmocjeDoPelna, www.facebook.com/KajetanKajetanowicz and www.twitter.com/Kajto_pl