Rally Poland (30th June-3rd July) marks the first appearance of reigning European Rally Champion in World Rally Championship event;
Challenge full of novelties: no less than 91% of the stages have been changed since the previous outing of Kajetanowicz and Baran in Rally Poland (2013);
LOTOS Rally Team crew compete in a Ford Fiesta R5, fighting for victory in WRC-2 category – for R5 and S2000 cars;
Fierce fight expected: 25 rivals in contest for class victory – including last year's WRC-2 champions and current leaders of this category;
306.1 kilometres at incredible pace: the route of the second-fastest rally in the calendar consists of 21 extremely quick special stages.
On Thursday, 30th June, Kajetan Kajetanowicz and Jarek Baran – current leaders of the FIA European Rally Championship – commence the competition in 73rd Rally Poland. For Kajetanowicz, three-time winner of this event, this year's edition of festival of speed in Masuria marks his debut in the World Rally Championship round. The fight for overall victory in the second-fastest event of the whole WRC calendar will be contested by competitors in the strongest WRC cars. The LOTOS Rally Team crew will fight for the best possible result in WRC-2 classification. Most of the drivers in this category use R5 cars – just like Ford Fiesta R5 of the Polish crew.
The organisers of round seven of this year's World Rally Championship prepared 21 stunningly fast special stages, for which the drivers love Rally Poland so much. In 2015 only the legendary Rally Finland brought higher speeds than the Polish classic. Last year's winner drove with fully open throttle by no less than 60.3% of the time he needed to complete all Masurian stages. This year the competitors face 306.1 competitive kilometres and 33% of this route is completely new – these gravel roads were not used in two previous editions of the Polish WRC counter (in 2014 and 2015). The biggest challenge awaits the rally cars and drivers on the third day of the rally: on Saturday, 2nd July. On this day the crews will cover the most competitive kilometres – 124.58 kms, including the longest stage of the rally, Stańczyki (25.27 kms) – without a service break between first and second loop. There is only a tyre fitting zone in Gołdap on Saturday.
The fight in 73rd Rally Poland starts on Thursday evening with first of three passages of spectacular Arena Mikołajki superspecial, where two cars run head-to-head and lots of spectators can enjoy direct fight between two crews. On Sunday the competition in Masuria ends with second passage of Sady stage (8.55 kms). This stage finishes at around 12:50 CET and the ceremonial finish takes place at 14:00 CET in Mikołajki, on the main square.
73rd Rally Poland not only marks the first outing of Kajetan Kajetanowicz in the World Rally Championship. Almost whole route of this event is completely new to the reigning European Rally Champion. Just 9% of the stages are on the roads which Kajto knows after his previous starts in Rally Poland – including the one in 2013, where he claimed a spectacular victory in extreme conditions, on wet gravel. However, main rivals of the LOTOS Rally Team in WRC-2 category have some experience from their past outings in Rally Poland. Among 26 crews eligible for WRC-2 points there are Elfyn Evans – factory M-Sport driver with 47 WRC rounds under his belt, Esapekka Lappi – overall winner of Rally Poland 2012 and last year's WRC-2 winner in Polish WRC counter, and Pontus Tidemand – runner-up to Lappi last season in Mikołajki.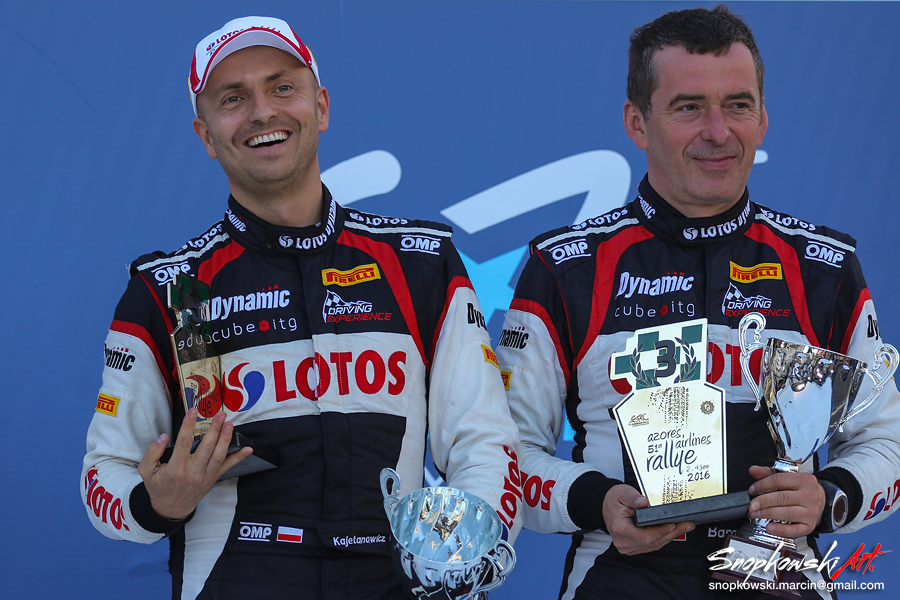 Kajetan Kajetanowicz I cannot wait any longer and blood starts to circulate faster in my veins because during our pre-event test I reminded myself how fantastic it is to drive a rally car on Masurian gravel. This is why I literally feel like a cat on hot bricks, waiting for more kilometres behind the steering wheel: even more exciting and pleasant ones – because covered during real, fierce competition. In the European Rally Championship we compete on equally fast stages – or even faster, like in Estonia – but those roads are wider than the tests around Mikołajki. The challenge is therefore demanding and we have to be properly prepared and focused, especially as I have not competed in this event for three years. We have no less than 25 opponents in our category but I am not worried about it – I am happy because strong field makes our World Rally Championship debut even more exciting. We have been working hard with the whole LOTOS Rally Team to get this opportunity and this privilege, so now we will do our best to become an interesting part of the rally spectacle in Masuria.
73rd Rally Poland in numbers:
1st outing of Kajetanowicz in a World Rally Championship event;
3 wins in Rally Poland for Kajetanowicz, when this even was a part of the FIA European Rally Championship calendar;
2010, 2011, 2013 – years when Kajto and Jarek won Rally Poland;
1253.29 kms – total route length of the Polish WRC counter;
306.1 kms – combined length of 21 special stages of 73rd Rally Poland;
7th round of 14 in the FIA World Rally Championship 2016;
35 – total number of top-three stage times recorded by Kajetanowicz in his Rally Poland outings;
5th time Rally Poland is included in the World Rally Championship calendar;
15 special stages won by Kajetan Kajetanowicz in his Rally Poland outings;
4 wins in Rally Poland of Jarek Baran – Kajetan's co-driver;
1973 – the year of first appearance of Rally Poland in the World Rally Championship calendar;
Rally Poland is the second oldest car rally in the world, after Rallye Monte Carlo. The first edition of the Polish classic took place in 1921.
25.27 kms – the longest special stage of the rally – Stańczyki, run next to the Polish-Russian border;
91% of special stages have been changed since last outing of Kajetanowicz in Rally Poland (2013);
73rd edition of this event takes place this year;
124.58 competitive kilometres covered by the crews without any service break on Saturday 2nd July – there is only a tyre fitting zone in Gołdap;
33% of the stages were not used in past two editions of the rally;
Rally Poland is the second fastest round in the World Rally Championship Calendar. Last year the overall winner clocked average speed of 121.4 kph. The highest average speed by WRC cars was recorded in Finland: 125.4 kph. This is just 2.1 kph more than average speed of Kajetan and Jarek during Rally Estonia 2015;
67 crews including 6 from Poland feature on the entry list for round 7 of the WRC 2016 season. No less than 25 compete against Kajetanowicz and Baran in WRC-2 category.
Starts of Kajetan Kajetanowicz and Jarek Baran are supported by strategic partner of LOTOS Rally Team – LOTOS Group – as well as CUBE.ITG and Driving Experience. More info about Kajetan Kajetanowicz and the team available at: www.lotosrallyteam.pl, www.kajto.pl, www.facebook.com/EmocjeDoPelna, www.facebook.com/KajetanKajetanowicz and www.twitter.com/Kajto_pl