Fierce battle in every category – 73rd Rally Poland heats the atmosphere among thousands of enthusiastic fans;
Great streak of Kajetanowicz and Baran comes to an end: damaged wheel rim hampers their chances in the fight for top positions in WRC-2;
Faster than experienced veterans – LOTOS Rally Team crew with better stage times than regular WRC contenders;
124.6 kilometres without a service break tomorrow: the longest and the toughest day of round seven of the World Rally Championship.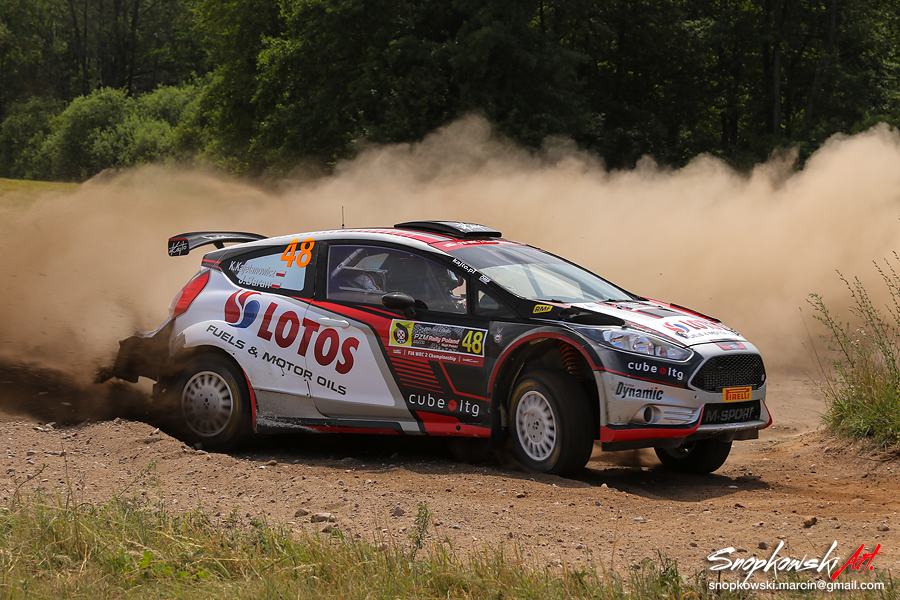 The ultimate success in rallies depends on many factors: work, preparation, talent but also luck. The European Rally Champions lacked the latter bit today, during their fight for the best result possible in WRC-2 classification of 73rd Rally Poland. The LOTOS Rally Team driver started his first outing in the World Rally Championship counter with efficiency and zeal. On four opening stages of today's nine test Kajetan and Jarek made up 9 places, defeating many regular, experienced WRC contenders. The Polish crew drove quickly and effectively, although the conditions were far from ideal: the road was boggy and cars running in front of them left quite deep ruts. This performance gave them 6th position in 25-strong WRC-2 field after five special stages.
Kajetanowicz and Baran started the second loop with strong intention to consistently close the gap to the WRC-2 frontrunners. Unfortunately in one of the hairpins, in a deep rut, a wheel rim cracked and damaged brake disc in the car of reigning European Rally Champions. It meant that Kajto and Jarek completed another three stages without brakes in the right front wheel.
Tomorrow the LOTOS Rally Team crew tackle the longest day of competition in 73rd Rally Poland. There are seven special stages to go, totalling 124.6 competitive kilometres. The competitors have to cover this distance without any service break. There is just 10-minutes tyre fitting zone between the loops, in town of Gołdap.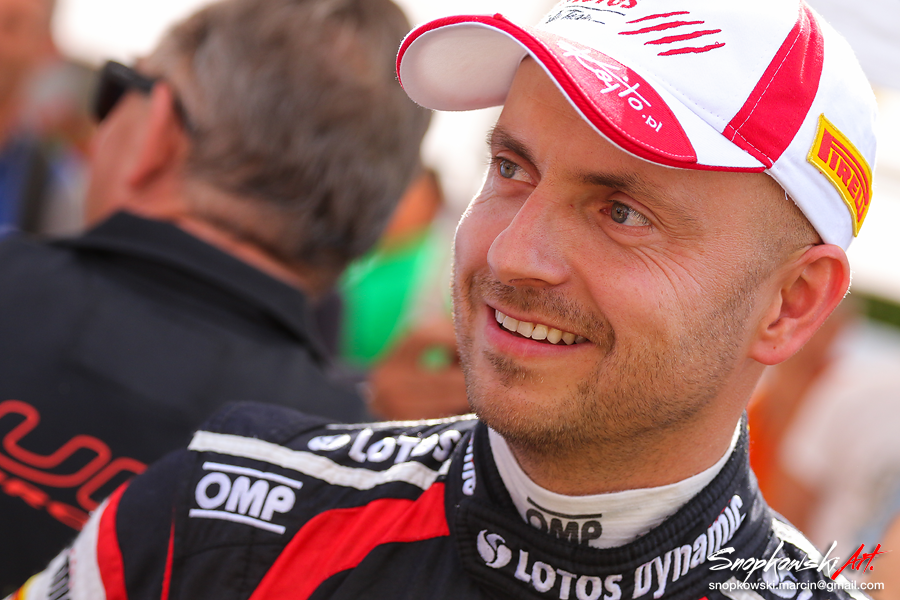 Kajetan Kajetanowicz Believe me, it is not easy to compete against such strong opposition when brakes are working only on three wheels of your rally car. This is not an easy situation but as always – and also this time – we try to extract positive things. I learned a lot during the second loop today. I downshifted earlier in order to use the gearbox to slow down the car under braking. Even in these adverse conditions I just could not afford myself not to feel the fun while driving – mostly thanks to the fans. There were lots of them and I knew they were keeping their fingers crossed for us, even in those difficult moments. This is just incredible. The Polish fans crave for great emotions and excitement – and rallies at top level meet their needs. During Rally Poland we, as well as the fans, can meet drivers with really great pace. Today our road position was not great but I hope that you have to pay your dues only once in WRC. The organisers could not assign us a better road position so we had to drive on severely destroyed roads. We were not able to fight on equal terms with the frontrunners although I know it would have been difficult. However, we are happy because today we were defeating some experienced drivers with lots of mileage in WRC and tomorrow we can continue this fight.
Starts of Kajetan Kajetanowicz and Jarek Baran are supported by strategic partner of LOTOS Rally Team – LOTOS Group – as well as CUBE.ITG and Driving Experience. More info about Kajetan Kajetanowicz and the team available at: www.lotosrallyteam.pl, www.kajto.pl, www.facebook.com/EmocjeDoPelna, www.facebook.com/KajetanKajetanowicz and www.twitter.com/Kajto_pl