9 positions gained – efficient performance of Kajetanowicz and Baran on new stages enable them to make up ground in WRC-2 standings;
LOTOS Rally Team crew among WRC-2 frontrunners, although distant starting position hampers their progress;
European Rally Champions are the fastest Polish crew of 73rd Rally Poland after five special stages;
Difficult WRC debut for Kajetanowicz – changeable grip and ruts left by preceding cars does not make his task easier;
Promising kick-off for Kajetan and Jarek: high, 6th place in strong WRC-2 field after today's first loop.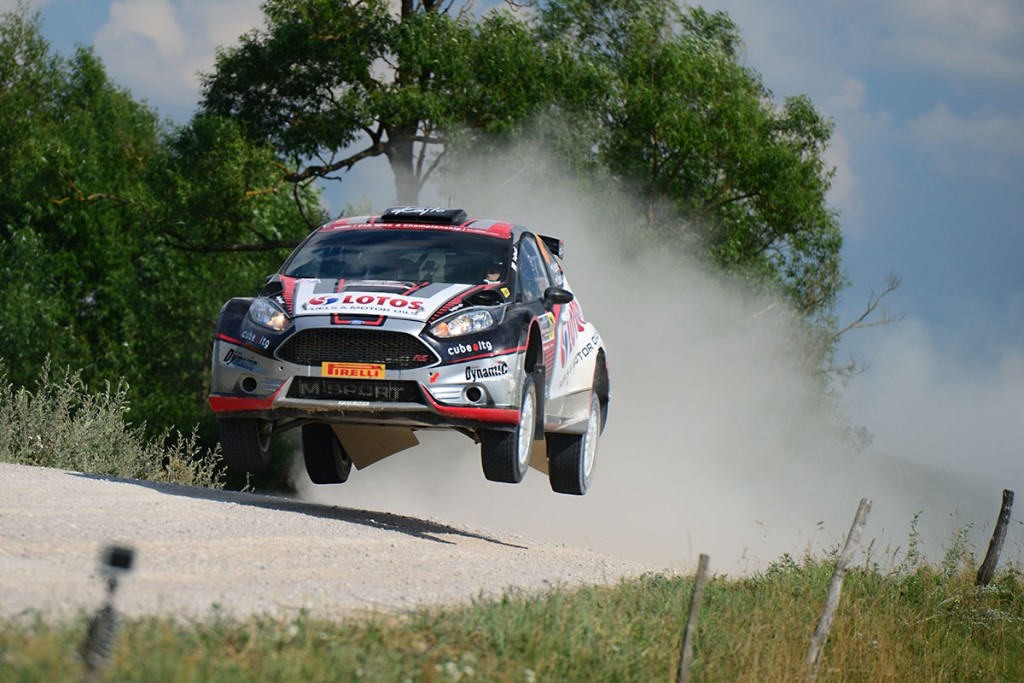 After yesterday's excitement of Arena Mikołajki stage, opening test of 73rd Rally Poland, today the atmosphere on the route of the Polish WRC counter is even hotter. Kajetan Kajetanowicz and Jarek Baran head out on soft, gravel roads around Mikołajki as 34th crew (19th in their class). This does not make their task any easier – road conditions for the FIA European Rally Champions are far from optimal. On boggy route, in deep ruts left by preceding crews, Kajetanowicz has a lot of work to do behind the steering wheel of his Ford Fiesta R5. However, the efforts of the LOTOS Rally Team crew bring impressive results. On the first loop of today's stages top Polish crew displayed fast and efficient performance. Thanks to their pace, Kajto and Jarek gained no less than 9 position in WRC-2 standings over the course of four special stages.
In the first World Rally Championship in his career Kajetanowicz maintains very consistent and efficient pace. On the first stage of today's loop – 6.5-kms Chmielewo test – the LOTOS Rally Team driver started his chase after WRC-2 leaders. In a strong field of 24 opponents Kajto and Jarek finished two stages on 6th position and further two on 7th place, overtaking many crews which are ahead of them on the road, driving in better conditions.
Today the crews fighting in 73rd Rally Poland still have almost 61 kilometres of fierce fight on Masurian gravel. After service break the competitors will repeat Chmielewo (6.52 kms), Wieliczki (17.3 kms), Świętajno (21.14 kms) and Stare Juchy (13.5 kms) stages. The second loop is longer than the opening one, because it ends with spectacular Arena Mikołajki test (2,5 kms). It is also more difficult, as the road conditions get worse with every passing crew.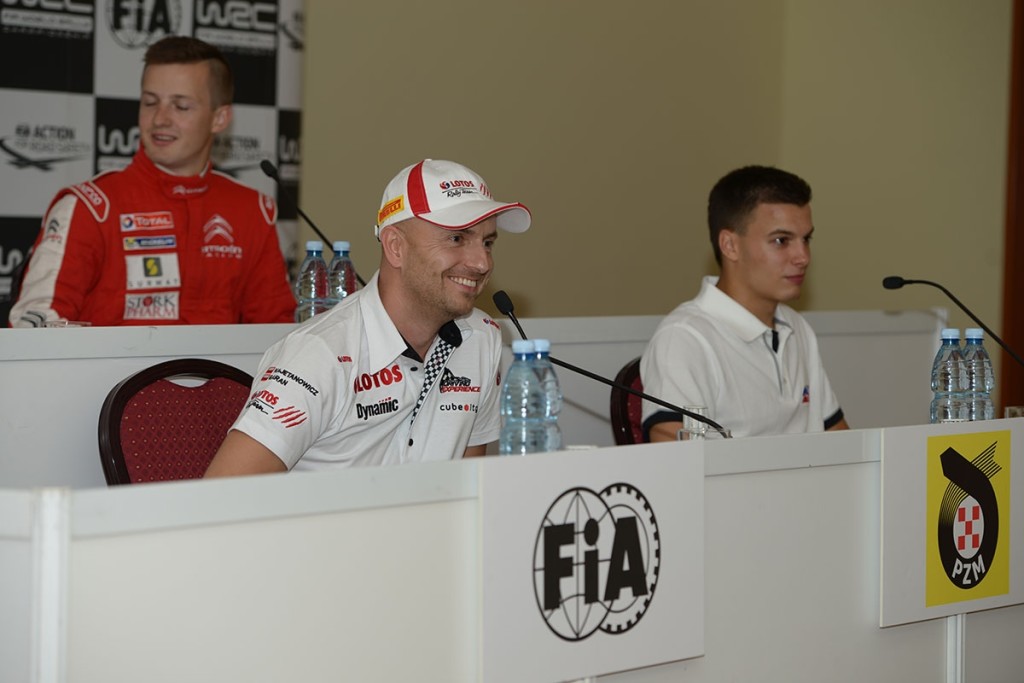 Kajetan Kajetanowicz We have not competed in this rally for years. It is great that the stages are so fast and exciting and each of them is different. Although our road position is not the best when it comes to setting good stage times, we have really good feeling, it is OK so I am not easing off. I think we show good pace, although the route is already destroyed a bit. We run as 34th crew and it favours a bit the crews running in front of us. We are doing our best while having a lot of fun – and it is also important. For the second loop we raise the suspension because the ruts will be deeper. I don't think that the road conditions would improve after passing of front-wheel drive cars running behind us and after further 30 four-wheel drive cars which run in front. However, this is the beauty of first outing in the World Rally Championship, so we just continue with our job, enjoying the route and the rally.
73rd Rally Poland – WRC-2 standings after SS5:
1. Tidemand/Andersson (Sweden, Skoda Fabia R5) 31:49.9 s
2. Suninen/Markkula (Finland, Skoda Fabia R5) +6.5 s
3. Lappi/Ferm (Finland, Skoda Fabia R5) +9.8 s
4. Evans/Parry (Great Britain, Ford Fiesta R5) +13.5 s
5. Kruuda/Jarveoja (Estonia, Ford Fiesta R5) +15.5 s
6. Kajetanowicz/Baran (Poland, Ford Fiesta R5) +37.3 s
7. Fuchs/Mussano (Peru/Argentina, Skoda Fabia R5) +46.4 s
8. Bergkvist/Sjoberg (Sweden, Citroen DS3 R5) +54.5 s
9. Pedder/Moscatt (Australia, Skoda Fabia R5) +1:02.6 s
10. Maurin/Ural (France, Skoda Fabia R5) +1:04.1 s
11. Aasen/Gulbaek (Norway, Ford Fiesta R5) +1:06.7 s
12. Gilbert/Jamoul (France, Citroen DS3 R5) +1:13.2 s
Starts of Kajetan Kajetanowicz and Jarek Baran are supported by strategic partner of LOTOS Rally Team – LOTOS Group – as well as CUBE.ITG and Driving Experience. More info about Kajetan Kajetanowicz and the team available at: www.lotosrallyteam.pl, www.kajto.pl, www.facebook.com/EmocjeDoPelna, www.facebook.com/KajetanKajetanowicz and www.twitter.com/Kajto_pl