Consistent gains – LOTOS Rally Team crew made up another five positions during second loop of Saturday's leg in Polish WRC counter;
Kajetanowicz and Baran back among the frontrunners in WRC-2 – the Poles hold 6th place in their class after 17 special stages of 73rd Rally Poland;
Progress also in classification of the day – Kajto and Jarek recorded 5th place in WRC-2 standings on the longest and the most difficult leg;
59.6 kms of competition in Masuria still to go – four special stages separate us from conclusion of rally feast in Mikołajki;
Showdown live on TV: two of four stages on Sunday are broadcasted live by Polsat and TVP.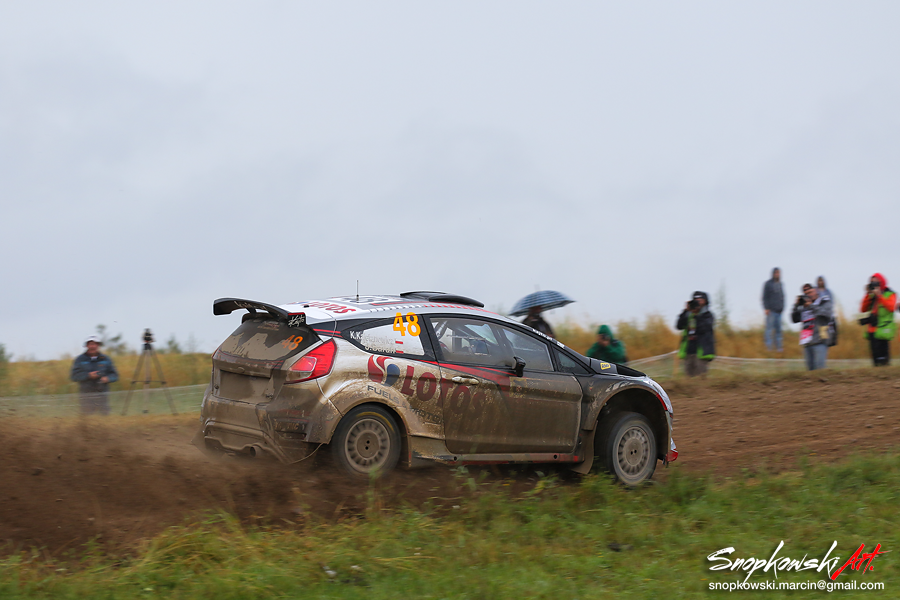 Kajetan Kajetanowicz and Jarek Baran systematically fulfilled their plan during the longest, 124.6-kms leg of 73rd Rally Poland. Reigning European Rally Champions maintained fast and assured pace, recording stage times among WRC-2 frontrunners. Good performance of the LOTOS Rally Team crew, combined with errors and technical problems of their rivals, enabled Kajetan and Jarek to gain no less than 9 positions on eight stages contested today. Consequently, Kajetanowicz and Baran hold 6th place in WRC-2 classification after 17 special stages run so far. The number 48 Ford Fiesta R5 was placed one position higher in the classification of Saturday's leg. Kajetanowicz, competing in a WRC counter for the first time in his career, is also the highest-placed Polish driver in 73rd edition of Rally Poland.
There are still four special stages to go in round seven of the World Rally Championship: two runs of 21.25-kms Baranowo and of 8.55-kms Sady – 59.6 competitive kilometres on Sunday. Both passages of the latter test will be broadcasted live by Polsat Sport Extra, TVP 2 and TVP Sport.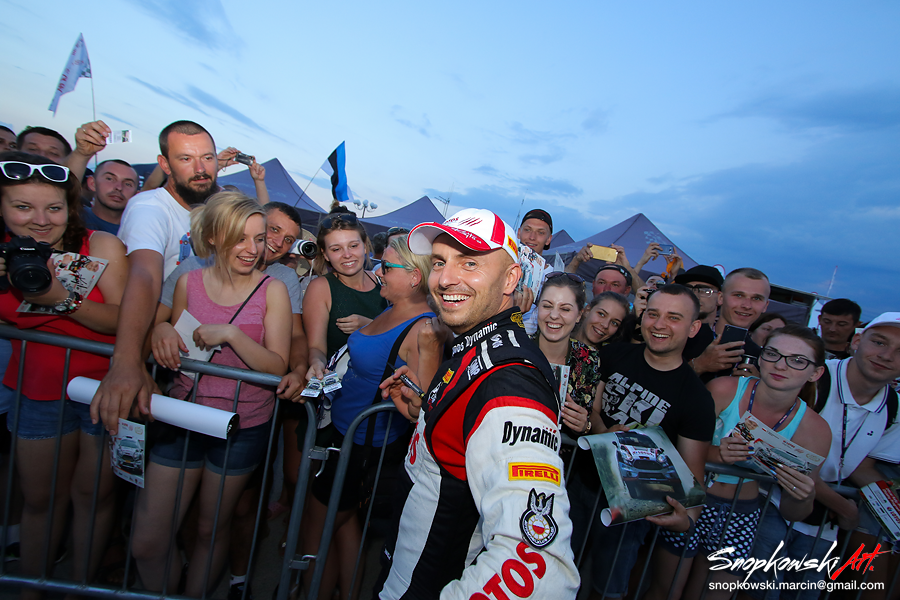 Kajetan Kajetanowicz The route is beautiful. We have a lot of jumps, many corners over crests where the car unloads and you have to position it correctly before entering the bend. This is just incredible. The stages represent the very essence of rallying – a bit like in classic Finland, a bit like in crazy Estonia. I knew that this rally would be difficult, I knew it would be longer than those in the FIA European Rally Championship – but I had been waiting for it for a long time. However, I was not sitting back with my arms folded, doing nothing – I can withstand the heat thanks to hard training and because I do not have to compete in this rally – I do it because I love it. Today the competitors held on well but on the penultimate stage they had a lot of moments – mostly due to those ruts in which everybody has to drive. I was trying to be careful, especially in hairpins as there always might be something sticking out – like a stone taken out by another car. However, in all other places I was driving one hundred percent, with pedal to the metal.
73rd Rally Poland – WRC-2 standings after SS17:
1. Lappi/Ferm (Finland, Skoda Fabia R5) 2:09:36.3
2. Suninen/Markkula (Finland, Skoda Fabia R5) +10.8 s
3. Evans/Parry (Great Britain, Ford Fiesta R5) +26.6 s
4. Gilbert/Jamoul (France, Citroen DS3 R5) +4:30.6 s
5. Fuchs/Mussano (Peru/Argentina, Skoda Fabia R5) +5:40.5 s
6. Kajetanowicz/Baran (Poland, Ford Fiesta R5) +5:15.5 s
7. Kremer/Winklhofer (Germany, Skoda Fabia R5) +5:25.0 s
8. Pedder/Moscatt (Australia, Skoda Fabia R5) +5:52.7 s
9. Kołtun/Pleskot (Poland, Ford Fiesta R5) + 6:24.9 s
10. Loubet/Landais (France, Citroen DS3 R5) +6:26.5 s
11. Parn/Morgan (Estonia, Ford Fiesta R5) +8:48.6 s
12. Turan/Zsiros (Hungary, Ford Fiesta R5) +9:50.2 s
Starts of Kajetan Kajetanowicz and Jarek Baran are supported by strategic partner of LOTOS Rally Team – LOTOS Group – as well as CUBE.ITG and Driving Experience. More info about Kajetan Kajetanowicz and the team available at: www.lotosrallyteam.pl, www.kajto.pl, www.facebook.com/EmocjeDoPelna, www.facebook.com/KajetanKajetanowicz and www.twitter.com/Kajto_pl