Battle until the end: LOTOS Rally Team crew persistently fight to gain further positions in WRC-2 standings;
Kajetanowicz and Baran set the fastest stage times among Polish crews on Saturday's stages of Rally Poland;
Determination and good pace bring results: Kajto and Jarek made up four positions over the course of three opening stages today;
European Rally Champions hold 6th place in classification of today's stages, in 22-strong WRC-2 field.
On the opening loop of Saturday's leg of 73rd Rally Poland Kajetan Kajetanowicz and Jarek Baran repeated their yesterday's performance, showing good pace on fast stages of the Polish WRC counter. On three stages run today – Gołdap (14.75 kms), Stańczyki (25.27 kms) and Babki (21.02 kms) – reigning European Rally Champions recorded sixth, fifth and sixth fastest time in 22-strong WRC-2 field. The LOTOS Rally Team crew defeated, among others, current holders of second place in WRC-2 standings and competitors who have a lot more World Rally Championship events under their belts than newcomer Kajetanowicz.
Thanks to consistent and efficient performance on the opening loop, Kajetan and Jarek gained four positions in WRC-2 standings. In Saturday's leg standings the LOTOS Rally Team crew holds sixth place among 22 classified crews. After tyre change in remote tyre fitting area in Gołdap, the competitors start the second loop with Gołdap, Stańczyki and Babki tests. This day ends with third and final passage of Arena Mikołajki Superspecial.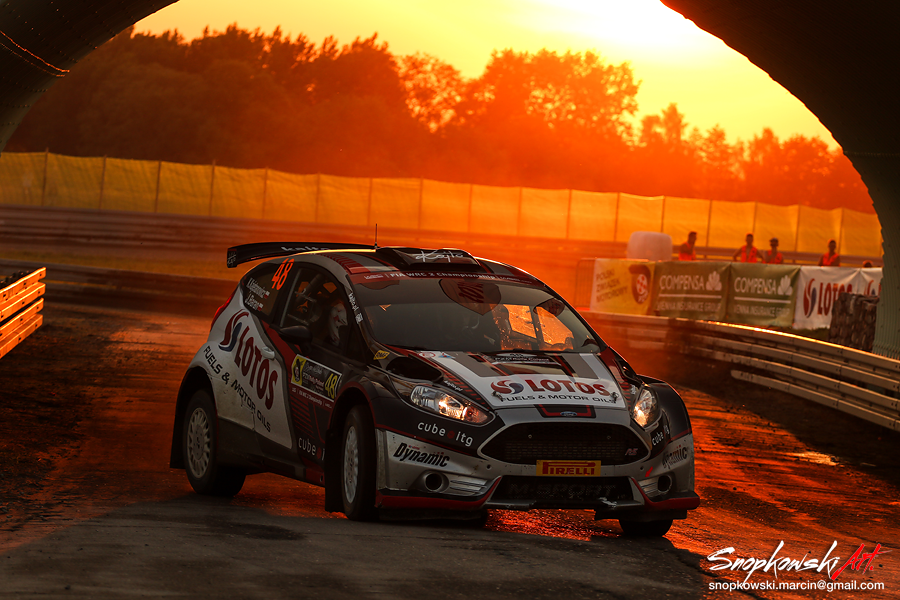 Kajetan Kajetanowicz I am happy not only because everything goes well for us today, but above all because we are pushing hard and we made up a lot of time and positions. We are chasing other competitors and although it is difficult to fight against factory crews, driving still gives us much fun. It is exciting, fast and nice, despite high temperatures inside the car. There are plenty of fans along the stages. Sometimes we drive literally between two lines of spectators who cheer, wave their flags and have a lot of fun. They create an excellent atmosphere and we feel it inside our car.
Starts of Kajetan Kajetanowicz and Jarek Baran are supported by strategic partner of LOTOS Rally Team – LOTOS Group – as well as CUBE.ITG and Driving Experience. More info about Kajetan Kajetanowicz and the team available at: www.lotosrallyteam.pl, www.kajto.pl, www.facebook.com/EmocjeDoPelna, www.facebook.com/KajetanKajetanowicz and www.twitter.com/Kajto_pl