Four days and over 300 kilometres of hard fight – Kajetanowicz wraps up fourth place in class in his first WRC outing;
Fierce battle for LOTOS Rally Team crew – the Poles made up no less than 13 positions on extremely fast special stages in Masuria;
12 points in his debut – Kajetanowicz scores his first ever points in World Rally Championship;
FIA ERC leaders defeated 21 rivals on their way to the finish in 73rd Rally Poland, including many regular WRC contenders.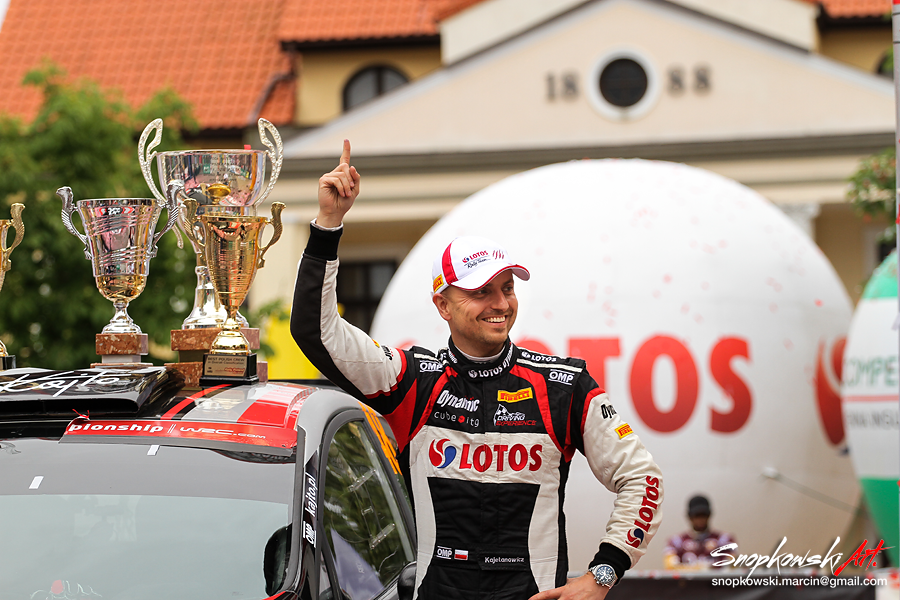 Sheer determination, fighting spirit, concentration at the highest level, perfect preparation, competitive pace, efficiency and commitment – this is what Kajetan Kajetanowicz showed in his first outing in World Rally Championship. Over four days of long and exhausting competition Kajetanowicz and his co-driver Jarek Baran drove quickly and efficiently, reaching the finish line of 73rd Rally Poland right behind top three in WRC-2 standings.
The WRC-2 category in round seven of World Rally Championship was packed with very strong competitors. Among 25 entered crews there were last year's winners, factory teams, current championship leader and many drivers with dozens of WRC outings under their belts. Securing fourth position in the first outing in such a strong field was by no means an easy feat, especially after seventh special stage, when Kajetanowicz and Baran had to start chasing rivals in order to make up as many places as possible. They lost considerable ground after rim failure in a deep rut which left the Polish crew without brakes in right front wheel, before three long special stages.
Reigning European Rally Champions made sure that this issue did not affect their concentration and on the following stages they consistently climbed up the WRC-2 standings. On Saturday the crews contested the longest (124.6 competitive kilometres) and the toughest leg of the rally, run without service break. The LOTOS Rally Team crew showed fast and consistent pace on seven stages, avoided problems and made up nine places. On Sunday, the final day of the rally, when many competitors struggled with lots of issues on roads which were damp and softened by rain, Kajto and Jarek gained another two positions and reached the finish line of 73rd Rally Poland in fourth place in WRC-2 classification. It means that Kajetanowicz and Baran defeated on their way 21 rivals, including current second-placed crew in WRC-2 championship standings and factory crews.
Kajetan Kajetanowicz To sum up this rally, I can say without any doubt that it was a successful although very tough debut, but this is World Rally Championship. I always want to compete in difficult, challenging rallies, so everything we experienced in Rally Poland is quite natural and it is good that we can enjoy it, while the obstacles do not discourage us. "Never give up!" – this attitude once again proved to be right and we did a good job because our whole team was very motivated. It is good that I withstood the pressure and it was not easy. The thing which pleased me the most was that we were able to maintain the pace of regular World Rally Championship contenders. There are competitors whose pace just does not forgive errors. Of course some of them are slower but it does not change the fact that this field is full of drivers who very rarely lift the foot off the throttle. You cannot count on their bad luck while fighting against them – you have to drive at blinding pace. Today the roads were destroyed so much that loose stones punctured the floor of our car, so we had much mud and water inside. The previous days were characterised by heat and dust so it shows how difficult our task was. This is why fourth place in this demanding rally, with two punctures and wheel change on the stage, confirm our belief that it is worth to have faith and work hard in order to fight against the best drivers in the world. I take this as a great training for the future which – I hope – will bring us positive surprises and our WRC adventure will not end with this one outing.

Jarek Baran For me this is a very nice comeback – after few years – to World Rally Championship, because it happened right here, in Rally Poland. Although this is not the first WRC round in Mikołajki, so far we have not had a chance to compete in it and I missed this outing a lot. Probably everyone would say that the conditions were difficult. But believe me – they were very difficult. Today and yesterday were like two completely different faces of rallies. It was extremely hot on Friday and Saturday but today the damp road was terribly slippery and this wet surface made us feel as if we were competing in two separate rallies. Starting so far back is not easy and during the opening two days we were separated from leading WRC-2 crews by dozen other cars, so the road conditions were getting worse. Rally Poland 2016 means a lot of experience for us, when it comes to driving style, pace notes and road reading. I think that we have to appreciate these things, as the most important experience after this debut. The fans are just amazing, there were lots of them and they cheered for us very vigorously. Many thanks to them.
73rd Rally Poland in numbers:
4th place of Kajetan Kajetanowicz in WRC-2 classification in his debut in World Rally Championship counter;
12 points in WRC-2 standings scored by Kajetan and Jarek in 73rd Rally Poland;
108.0 kph – the average speed of the LOTOS Rally Team crew over the course of 306.1 competitive kilometres and 21 special stages of Rally Poland;
49 out of 67 entered crews were classified at the finish of the Polish WRC counter;
13 positions gained by the LOTOS Rally Team crew in WRC-2 classification;
15 out of 25 crews entered in WRC-2 classification reached the rally finish in Mikołajki.
73rd Rally Poland – WRC-2 standings after SS21:
1. Suninen/Markkula (Finland, Skoda Fabia R5) 2:43.27.2
2. Evans/Parry (Great Britain, Ford Fiesta R5) +49.6 s
3. Lappi/Ferm (Finland, Skoda Fabia R5) +2.32,7 s
4. Kajetanowicz/Baran (Poland, Ford Fiesta R5) +6:32.8 s
5. Kołtun/Pleskot (Poland, Ford Fiesta R5) +10:36.4 s
6. Loubet/Landais (France, Citroen DS3 R5) +11:01.5 s
7. Tidemand/Andersson (Sweden, Skoda Fabia R5) +15:20.3 s
8. Fuchs/Mussano (Peru/Argentina, Skoda Fabia R5) +15:59.8 s
9. Turan/Zsiros (Hungary, Ford Fiesta R5) +17:29.5 s
10. Kruuda/Jarveoja (Estonia, Ford Fiesta R5) +18:45.8 s
Starts of Kajetan Kajetanowicz and Jarek Baran are supported by strategic partner of LOTOS Rally Team – LOTOS Group – as well as CUBE.ITG and Driving Experience. More info about Kajetan Kajetanowicz and the team available at: www.lotosrallyteam.pl, www.kajto.pl, www.facebook.com/EmocjeDoPelna, www.facebook.com/KajetanKajetanowicz and www.twitter.com/Kajto_pl