15 points in hand – Kajetanowicz and Baran defend their FIA European Rally Championship lead in Rally Estonia (15-17 July);
Three days of competition at crazy pace: FIA ERC leaders look forward to a challenge faster than WRC rallies;
16 special stages and 211.5 competitive kilometres on extremely fast gravel roads in Estonia;
White and red line-up – Kajetanowicz and Baran (Ford Fiesta R5) among 7 Polish crews taking part in Estonian FIA ERC counter;
Almost 40% of special stages in Rally Estonia changed in comparison with 2015 edition.
Smooth and wide gravel special stages, numerous jumps where the rally cars fly over 40 metres in air, plenty of blind corners over crests and record speeds – these are characteristics of the fastest FIA ERC round in the calendar: forthcoming Rally Estonia (15-17 July). Kajetan Kajetanowicz and Jarek Baran take the challenge with starting number 1 on their rally car, one year after their fantastic first outing in this event. In 2015 current FIA ERC leaders narrowly missed the top spot in Estonia and took the lead in the series which they did not surrender until the end of the season. In round 6 of this year's FIA European Rally Championship the LOTOS Rally Team crew will battle against 44 crews, including no less than 13 in the most advanced R5 cars. Nine drivers will field Group N cars which are still very competitive on Estonian gravel, thanks to higher top speeds than R5 machines – up to 213 kph.
Demanding special stages of Rally Estonia do not favour foreign drivers. There are just two non-Estonian names in the Hall of Fame. In 2012 the rally was won by Norwegian driver Mads Ostberg who currently has almost 100 WRC starts under his belt. Last year the victory laurels went to the 2014 Estonian champion Alexey Lukyanuk, who has lots of experience on these stages.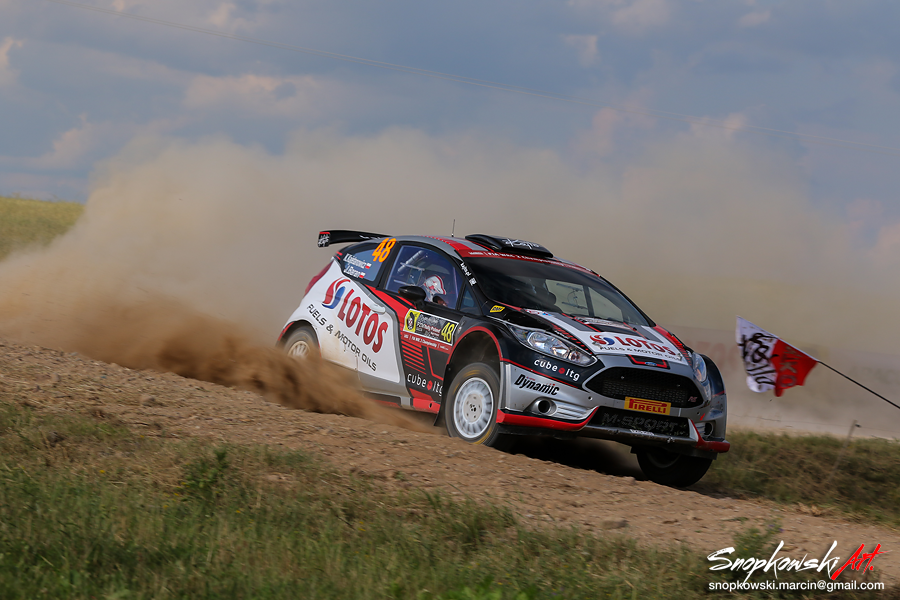 The fight for victory in round 6 of the FIA ERC takes place on 16 special stages and 211.5 competitive kilometres. Almost 40% of these roads were not used last year. The rally base remains unchanged and is located in Otepaa – the winter capital city of Estonia and one of the favourite training grounds for Justyna Kowalczyk, Polish famous cross-country skiing champion. Ceremonial start and finish also remain in the same place: in Tartu, second-largest city of Estonia.
The most fascinating thing about this rally – from fans and competitors point of view alike – is incredible pace of the rally cars on gravel roads, used every day by local drivers. In his last year debut Kajetanowicz drove no less than 76.1% of Urvaste test (14.82 kms) in fifth gear – the highest one. The Polish driver not only won this stage but also clocked record average speed of 141.6 kph. Even in the World Rally Championship no stage was faster in 2015 – although the crews use WRC cars, more powerful (by around 35 HP) and faster than R5 machines. During exciting fight in this year's Rally Estonia, at equally high pace, the LOTOS Rally Team crew will defend their lead in the FIA European Rally Championship standings. In their four outings so far this year, Kajetanowicz and Baran scored 92 points and ahead of round 6 enjoy 15-points advantage over second placed Lukyanuk and Arnautov. LOTOS Rally Team leads also the Teams Standings, having scored 38 points more than their nearest rivals.
.
Kajetan Kajetanowicz During this rally only left foot has slightly less work to do than in other FIA European Rally Championship rounds but the rest of the body – especially right foot and head – have no time to breathe. I do not know any other rally in which you have to push the pedal to the metal so often, for so long. The mental effort begins already during recce, when your imagination has to work at highest possible revs. Where do you have to turn, where to brake, how to position the car on the corner entry? We need to find answers to these questions while driving at speeds allowed during recce: 50-60 kph. The answers have to be spot-on and precise because couple of days later we fight for fractions of seconds, doing 180 kph or more on the same piece of road. This is why it is so easy to commit an error in Estonia and this is why it is so hard to score points here. This rally is just great – very exciting, because success requires experience, bravery, faith in your abilities, confidence, quick car, perfect pace notes and, as usual, a bit of luck. In order to win you have to mix all these ingredients in perfect proportions, keeping the pedal to the metal at the same time.
The 2016 FIA ERC standings ahead of Rally Estonia:
1. Kajetan Kajetanowicz (Poland) 92 points
2. Alexey Lukyanuk (Russia) 77 points
3. Ralfs Sirmacis (Latvia) 41 points
4. Craig Breen (Ireland) 38 points
5. Freddy Loix (Belgium) 38 points
6. Ricardo Moura (Portugal) 37 points
7. Jaromir Tarabus (Czech Republic) 33 points
8. Kris Princen (Belgium) 28 points
9. Lambros Athanassoulas (Greece) 27 points
10. Wojciech Chuchała (Poland) 26 points
The 2016 FIA ERC Teams standings ahead of Rally Estonia:
1. LOTOS Rally Team 83 points
2. C-Rally 45 points
3. Tlustak Racing 42 points
4. Botka Rally Team 37 points
5. Sports Racing Technologies 35 points
6. T&T Czech National Team 30 points
7. Tiger Energy Drink Rally Team 26 points
8. Peugeot Belgium Luxembourg 25 points
9. Lacaris Foundation Team Greece 18 points
10. Auto Laca Competition 18 points
Starts of Kajetan Kajetanowicz and Jarek Baran are supported by strategic partner of LOTOS Rally Team – LOTOS Group – as well as CUBE.ITG and Driving Experience. More info about Kajetan Kajetanowicz and the team available at: www.lotosrallyteam.pl, www.kajto.pl, www.facebook.com/EmocjeDoPelna, www.facebook.com/KajetanKajetanowicz and www.twitter.com/Kajto_pl