LOTOS Rally Team crew scores top three result on the Qualifying Stage for Rally Estonia for the second time in a row;
Mixed weather conditions at the start of competition – Rally Estonia welcomed the crews with intermittent showers;
Today's result marks seventh top three finish in a row and 16th overall for Kajetanowicz and Baran on the FIA ERC Qualifying Stage;
Reigning European Rally Champion earned third choice of the starting position for tomorrow's stages of round 6 of the 2016 FIA ERC;
Competition for Rally Estonia victory starts today at 19:00 CET with city stage in Tartu.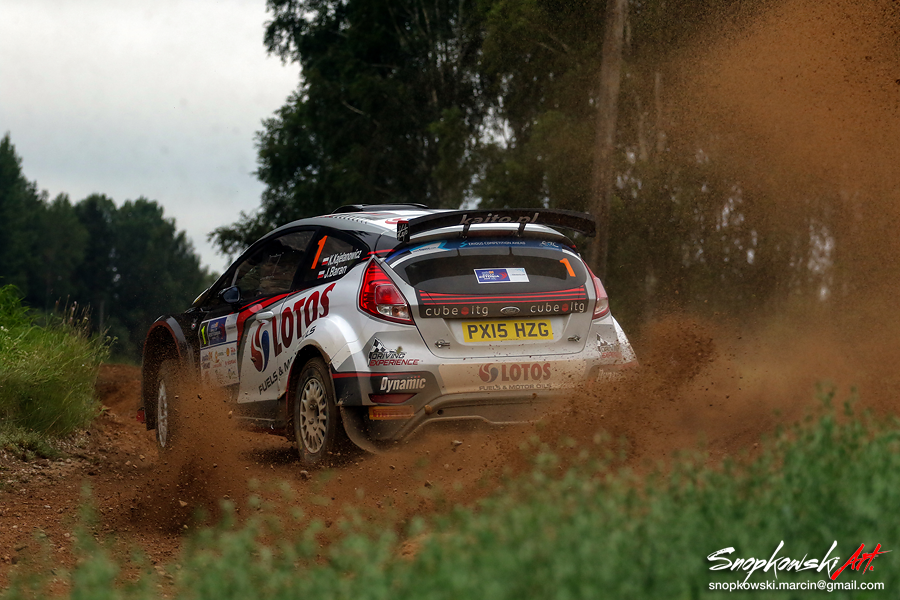 Fierce battle for victory in the fastest round in this year's FIA European Rally Championship calendar starts this evening with city stage in Tartu, but fans and competitors have already tasted emotions and fast driving on Estonian gravel roads. The 2.97-kms Qualifying Stage was an appetiser before the real fight in round 6 of the 2016 FIA ERC. Current European Championship leaders, Kajetan Kajetanowicz and Jarek Baran, were the first crew to complete this test, which started right after noon local time. Although the route was identical to last year's Qualifying Stage, the conditions were completely different. The surface was very damp after overnight rain, which made it treacherously slippery – but it was still very fast and the LOTOS Rally Team crew clocked an average speed of over 122 kph. Thanks to this excellent pace, reigning European Rally Champions were classified in third position. This result marks 7th top three finish in a row and 16th overall for Kajetan and Jarek on the FIA ERC Qualifying Stage. The first two places were taken by competitors with excellent knowledge of local gravel roads: last year's rally winner Alexey Lukyanuk from Russia (Ford Fiesta R5) and Ralfs Sirmacis from Latvia (Skoda Fabia R5).
The Qualifying Stage results are particularly important in rallies run on loose surface. Positions taken in the qualifying determine the order in which leading fifteen crews choose their starting positions for the opening leg of the rally. The Qualifying Stage winner has the first choice, so at the same time he is privileged and has to take difficult decision of picking the best starting position. When the surface is dry, good starting position helps to avoid "cleaning" the road of slippery loose gravel and driving at the back of the pack, on roads which could be heavily damaged by preceding cars. On the other hand if the stages are wet, it is better to run more towards the front of the field. The crews select their starting positions at 17:00 CET on the main square in Tartu.
The first of 16 special stages starts today at 19:00 CET: this is the city test on streets of Tartu, second-largest city in Estonia. Competition on gravel begins tomorrow at 8:30 CET with 14.53-kms Kengu 1 test. Saturday's leg, the longest of the rally, consists of 9 stages with combined length of 129.14 competitive kilometres.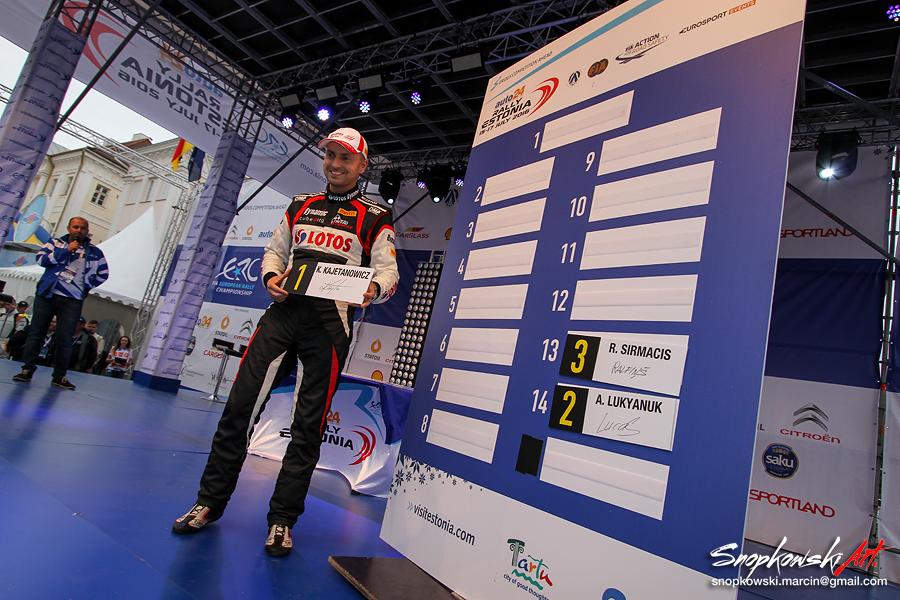 Kajetan KajetanowiczWe started the rally with the same stage we drove last year but in completely different conditions. Today it was more wet and there were more ruts but anyway it was exciting. Lots of crests and flat-out corners mean that it was fun to drive. I think that many drivers enjoyed this stage. This is a sort of an appetiser before competition on Saturday and Sunday. Very nice, challenging stages await us. For sure this rally will be very demanding. You have to decide whether you should brake, lift your right foot or not. This is important if you don't want to lose speed on corner exit and on long straight. When you are sure you can make it, you have to push pedal to the metal. That's the solution for this rally. However, it is difficult to judge the grip when you are approaching the corner, doing 170-180 kph on loose surface. You have to make up your mind and sometimes take a risk, especially when you are fighting with rivals who are experienced on this kind of surface and they raise the bar very high. Just like in the Canary Islands, we feel a bit like at home here, as if it was a Polish championship round, because many Polish crews compete here. It is great that we can have a fight here.
Jarek Baran The roads of Rally Estonia are distinctive but a bit homogenous. The landscape and road characteristics are very similar in every part of every stage. It is difficult to judge where you are at any given moment. From co-driver's point of view new sections of the route do not have significant meaning. The rhythm of reading the pace notes is always fast and it requires the highest level of concentration.
The results of the Qualifying Stage for Rally Estonia – round 6 of the 2016 FIA ERC:
1. Lukyanuk/Arnautov (Russia, Ford Fiesta R5) 1:25.996
2. Sirmacis/Kulss (Latvia, Skoda Fabia R5) +0.226 s
3. Kajetanowicz/Baran (Poland, Ford Fiesta R5) +0.516 s
4. Plangi/Sarapuu (Estonia, Mitsubishi Lancer Evo X) +1.764 s
5. Kaur/Simm (Estonia, Mitsubishi Lancer Evo IX) +2.376 s
6. Kołtun/Pleskot (Poland, Ford Fiesta R5) +2.756 s
7. Jeets/Toom (Estonia, Skoda Fabia R5) +3.277 s
8. Arai/Macneal (Japan, Ford Fiesta R5) +3.435 s
9. Katsuta/Barritt (Japan, Ford Fiesta R5) +3.573 s
10. Aus/Koskinen (Estonia, Mitsubishi Lancer Evo IX) +3.857
Starts of Kajetan Kajetanowicz and Jarek Baran are supported by strategic partner of LOTOS Rally Team – LOTOS Group – as well as CUBE.ITG and Driving Experience. More info about Kajetan Kajetanowicz and the team available at: www.lotosrallyteam.pl, www.kajto.pl, www.facebook.com/EmocjeDoPelna, www.facebook.com/KajetanKajetanowicz and www.twitter.com/Kajto_pl