Quick pace of Kajetanowicz and Baran on Estonian gravel: the Polish duo finished all four stages run today in top three of overall rally standings;
Fierce battle at the front, no margin for error – less than 30 seconds gap between first and fifth crew;
1.7 seconds from podium position – the LOTOS Rally Team crew in fourth place after five special stages;
Crazy speeds even on damp gravel – the pace in Rally Estonia is still very fast despite changeable, capricious weather.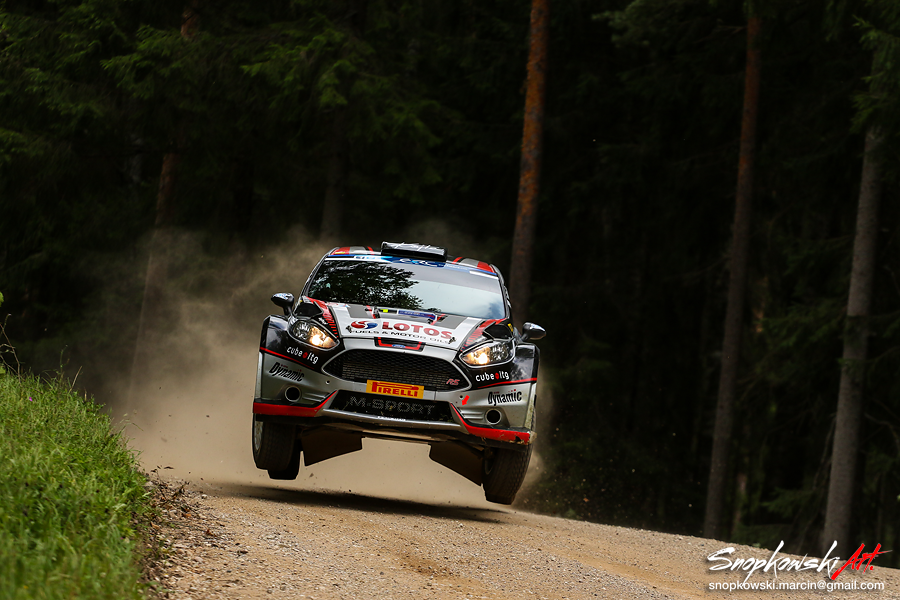 The competition on Estonian gravel takes place at amazing pace and maximum speeds, irrespective of weather conditions around Otepaa. After early morning rain the first cars on the road drove on damp surface, even wet in some places. Further runs of the opening stages took place in bright sunshine. Kajetan Kajetanowicz and Jarek Baran displayed fast and assured performance in these changeable and unpredictable conditions, placing themselves among the frontrunners of round 6 of the 2016 FIA ERC. After five special stages the LOTOS Rally Team crew holds fourth place and only 1.7 seconds separate the European Rally Champions from third position.
So far Rally Estonia turns out to be even faster than last year's edition. Kajetanowicz and Baran covered the opening five stages with average speed of over 124 kph. Top three times in overall classification on all four tests run today prove the effectiveness of the Polish duo.
The Saturday leg of round 6 of the FIA ERC is the longest one and the competitors still have a lot of work to do after the opening loop – with 79 flat-out kilometres over the course of five special stages scheduled for this afternoon, with the longest Rua test among them. Almost 30-kms stage includes some sections of Urvaste stage, where last year Kajto and Jarek clocked an impressive average speed of 141.6 kph – faster than any special stage of the 2015 World Rally Championship. Today the fight ends with spectacular Tarmac show in Elva, where the cars with gravel suspension and tyres will slide on 1.66-kms city stage.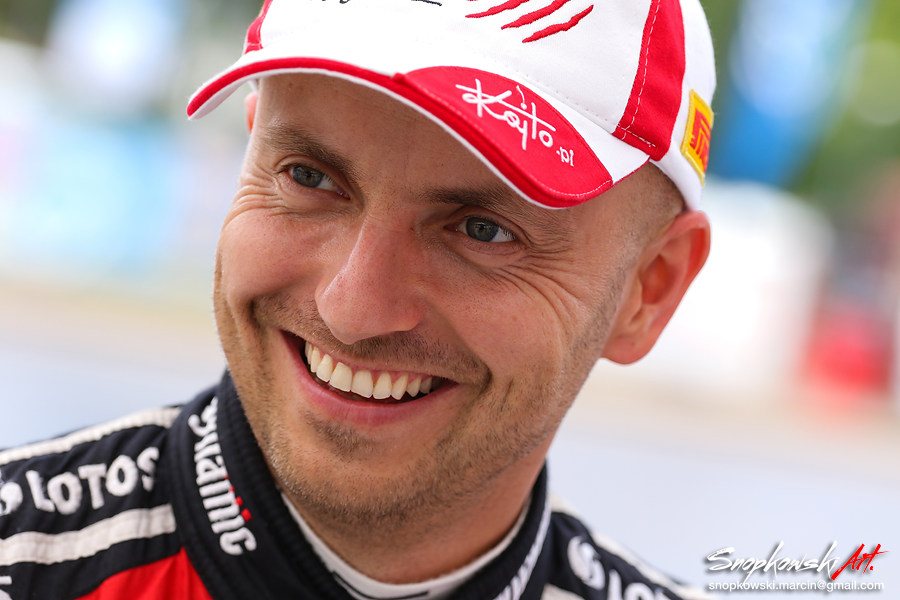 Kajetan Kajetanowicz We have a lot of fun, the stages are fantastic. They changed compared to the first loop, which is obvious on gravel surface. The opening loop was wet and during the second one the roads were more destroyed and drying at the same time, so they were of course faster. We have a lot of interesting experience, fighting with very quick drivers who know these roads very well. We are in the game, we are on the verge of setting the best times and this is good. I think that this is the pace we would like to maintain, without committing errors which can cost a lot on these fast, gravel stages. We are setting good times but we are also searching for even better grip and all those details because it is not possible to improve a lot at this level. We will see what we can still do. Second part of the day awaits us, including the longest stage of this rally: almost 30 kilometres. This test is heavily revised compared to last year, with many new sections. For sure I will try to focus and drive as cleanly, as quickly and as smoothly as possible.
Rally Estonia standings after SS5:
1. Lukyanuk/Arnautov (Russia, Ford Fiesta R5) 24:29.5
2. Sirmacis/Kulss (Latvia, Skoda Fabia R5) +6.8 s
3. Kaur/Simm (Estonia, Mitsubishi Lancer Evo IX) +15.4 s
4. Kajetanowicz/Baran (Poland, Ford Fiesta R5) +17.1 s
5. Aus/Koskinen (Estonia, Mitsubishi Lancer Evo IX) +29.7 s
6. Jeets/Toom (Estonia, Skoda Fabia R5) +53.7 s
7. Arai/Macneal (Japan, Ford Fiesta R5) +58.6 s
8. Kołtun/Pleskot (Poland, Ford Fiesta R5) +58.7 s
9. Habaj/Woś (Poland, Ford Fiesta R5) +1:04.0 s
10. Domżała/Gospodarczyk (Poland, Mitsubishi Lancer Evo X) +1:35.7 s
Starts of Kajetan Kajetanowicz and Jarek Baran are supported by strategic partner of LOTOS Rally Team – LOTOS Group – as well as CUBE.ITG and Driving Experience. More info about Kajetan Kajetanowicz and the team available at: www.lotosrallyteam.pl, www.kajto.pl, www.facebook.com/EmocjeDoPelna, www.facebook.com/KajetanKajetanowicz and www.twitter.com/Kajto_pl