Kajetanowicz and Baran claim second place in overall classification of Rally Estonia for the second time in a row;
37-points advantage – LOTOS Rally Team crew score 29 points in Estonia and considerably strengthen their lead in the FIA ERC standings;
Consistent and efficient pace – Kajto and Jarek finished in top three no less than 13 out of 16 special stages of sixth round of the 2016 FIA ERC;
Second place of Polish duo in Sunday leg of Estonian ERC counter;
Rally Estonia marks fourth podium place this season for Kajetanowicz and Baran and 13th consecutive FIA ERC round finished in the points.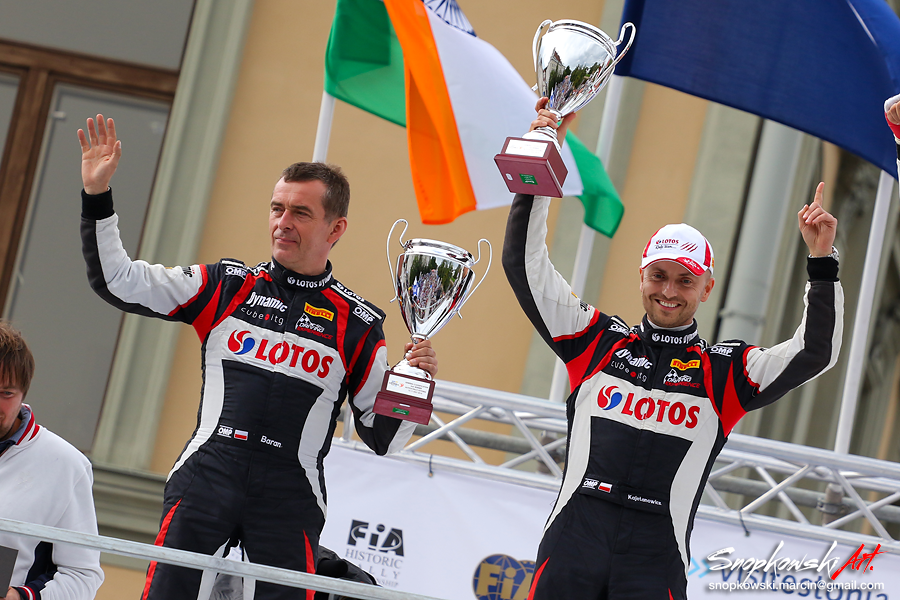 Kajetan Kajetanowicz and Jarek Baran once again proved that fighting until the end and fulfilling your plan persistently always pay off in this year's FIA European Rally Championship, even if something goes wrong. Thanks to determination, focus and fast driving combined with strong belief in their success, the LOTOS Rally Team crew claimed second position in Rally Estonia, which finished today. Excellent result of Kajetan and Jarek on Estonian gravel stages marks their second podium in a row in this event. Moreover, just like last year, reigning European Rally Champions leave Estonia as the championship leaders.
The opening leg of round 6 of the FIA ERC took place in changeable conditions. The competition started on wet gravel which began to dry up as soon as the rain stopped. Over the course of the first loop, in unpredictable conditions, Kajetanowicz and Baran climbed to fourth place. After eighth special stage the Polish duo moved to third position and held on to it even after two final stages of Leg 1, when they had to fight not only with the route and rivals but also with power steering failure.
On Sunday leg the LOTOS Rally Team crew presented mature attitude which they are famous for, consistently fulfilling their plan of fast and efficient driving. Kajetan and Jarek headed towards the rally finish with confidence, notching up top times on a regular basis and claiming second position in Leg 2 standings. Second-placed crew in the European championship, Alexey Lukyanuk and Alexey Arnautov, did not reach the finish line: the Russians had been leading the rally until the penultimate stage, where they crashed out. In the end victory went to the Latvian crew of Ralfs Sirmacis and Maris Kulss (Skoda Fabia R5). Behind Kajetan and Jarek, third place was claimed by the local crew Rainer Aus and Simo Koskinen (Mitsubishi Lancer Evo IX). Apart from Kajetanowicz and Baran, another two Polish crews finished the rally in top ten: Jarosław Kołtun/Ireneusz Pleskot (5th place) and Łukasz Habaj/Piotr Woś (6th place).
On their way to today's success Kajetanowicz and Baran recorded 13 top three times on 16 special stages of Rally Estonia. Round 6 of the FIA European Rally Championship marks the fourth podium this season for the LOTOS Rally Team and 13th consecutive FIA ERC rally finished in the points by Kajetanowicz and Baran.
Right after the halfway mark of the season, with six out of ten FIA ERC rounds completed, Kajetanowicz leads the Drivers Championship with 121 points. His biggest rival Alexey Lukyanuk amassed 37 points less and Ralfs Sirmacis holds third position, having scored 79 points. LOTOS Rally Team comfortably leads the Teams Championship, with 101 points. The next round of the FIA European Rally Championship takes place in Poland: Rajd Rzeszowski (4-6 August) appears for the first time in series' calendar.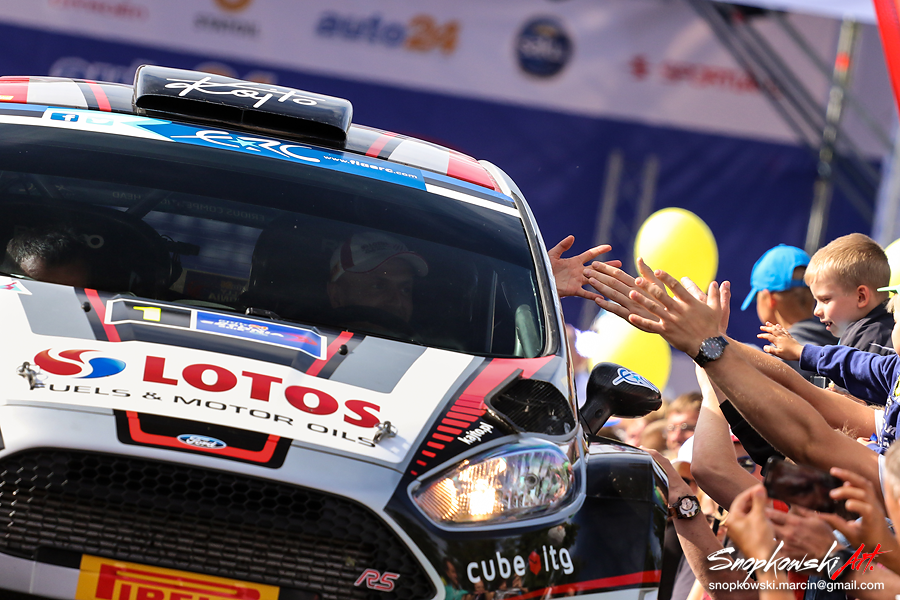 Kajetan Kajetanowicz Each rally, beginning with decision to participate, through preparations, testing, recce until the fight on the stages, is a series of decisions which we have to make. Sometimes we are in a more comfortable situation, when we can think them over. In other cases we have to react in split second, impulsively. There are also decisions which are very difficult for a rally driver because sometimes you have to find an appropriate harmony between things he could achieve and things he would like to achieve. It is not easy because when I am competing in my rally car, my head is resonating with thoughts which are pushing me constantly to drive faster and to strive for victory all the time. On the other hand when you claim second place in such a demanding rally like this one in Estonia, you gain not only a new surge of motivation but also strength required to make difficult, mature decisions which ultimately bring us closer to our coveted target.

Jarek Baran Many difficult situations which we survived yesterday set down our place in this competition. We had to remain focused and do our job. Once again the old truth was confirmed: in order to win, first you have to reach the finish. It was an extremely demanding event and podium in Rally Estonia is extraordinarily precious to me.
Rally Estonia standings after SS16:
1. Sirmacis/Kulss (Latvia, Skoda Fabia R5) 1:44:16.2 s.
2. Kajetanowicz/Baran (Poland, Ford Fiesta R5) +1:34.5 s
3. Aus/Koskinen (Estonia, Mitsubishi Lancer Evo IX) +3:44.8 s
4. Jeets/Toom (Estonia, Skoda Fabia R5) +4:03.4 s
5. Kołtun/Pleskot (Poland, Ford Fiesta R5) +5:02.3 s
6. Habaj/Woś (Poland, Ford Fiesta R5) +8:07.6 s
7. Niinemae/Valter (Estonia, Peugeot 208 R2) +10:36.0 s
8. Michajłow/Kokins (Russia, Mitsubishi Lancer Evo X) +11:20.5 s
9. Griebel/Winklhofer (Germany, Opel Adam R2) +11:15.8 s
10. Ingram/Edmondson (Great Britain, Opel Adam R2) +11:20.5 s
The FIA ERC standings after Rally Estonia:
1. Kajetan Kajetanowicz (Poland) 121 points
2. Alexey Lukyanuk (Russia) 84 points
3. Ralfs Sirmacis (Latvia) 79 points
4. Craig Breen (Ireland) 38 points
5. Freddy Loix (Belgium) 38 points
6. Ricardo Moura (Portugal) 37 points
7. Raul Jeets (Estonia) 36 points
8. Jarosław Kołtun (Poland) 33 points
9. Jaromir Tarabus (Czech Republic) 33 points
10. Kris Princen (Belgium) 28 points
Starts of Kajetan Kajetanowicz and Jarek Baran are supported by strategic partner of LOTOS Rally Team – LOTOS Group – as well as CUBE.ITG and Driving Experience. More info about Kajetan Kajetanowicz and the team available at: www.lotosrallyteam.pl, www.kajto.pl, www.facebook.com/EmocjeDoPelna, www.facebook.com/KajetanKajetanowicz and www.twitter.com/Kajto_pl