All stages in top three – consistent pace of LOTOS Rally Team crew during the opening loop of Sunday's leg of sixth round of the 2016 FIA ERC;
Third place after 13 special stages run so far – Kajetanowicz and Baran hold podium position in overall standings of Rally Estonia;
Precious seconds in hand – the Polish duo increased their advantage over following crew to 17.4 seconds;
Three special stages to go – 41.13 competitive kilometres separate the best European rally crews from Rally Estonia finish.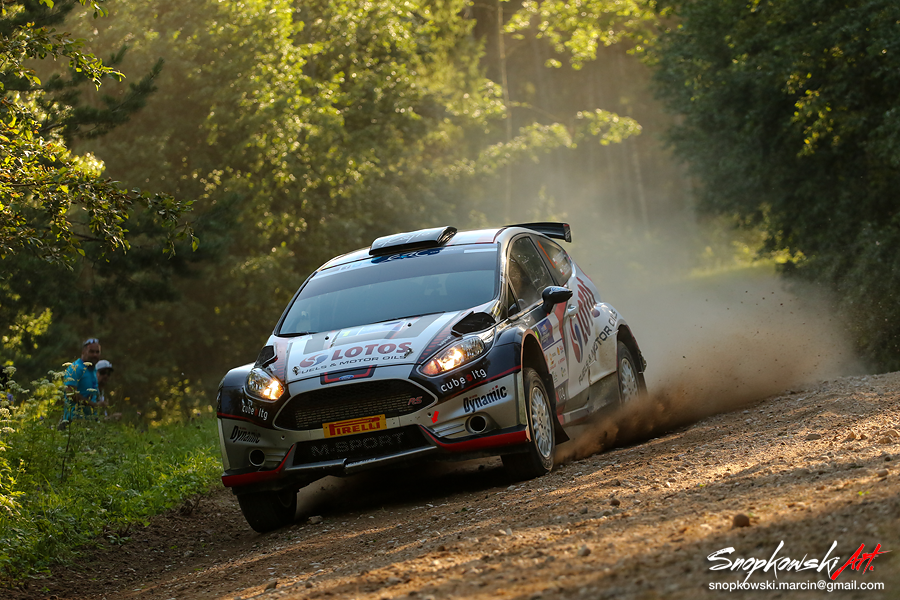 The opening loop of Leg 2 of Rally Estonia, consisting of three special stages, turned out to be the fastest in this year's event. Of course high pace was presented also by Kajetan Kajetanowicz and Jarek Baran. This enabled the LOTOS Rally Team crew to retain their podium position in overall standings in round 6 of the FIA ERC.
On the opening stage of Sunday's battle – Ristimae, the longest test today (19.96 kms) – and on Vissi test (13.32 kms) the reigning European Rally Champions recorded third fastest times. The latter stage was the fastest so far in this year's Rally Estonia: Kajetanowicz and Baran recorded average speed of 131.38 kph. Before service break in Otepaa Kajto and Jarek raised their pace and on the final test in the loop, Saverna, notched up second fastest time, just one second behind the stage winner. Given the speeds reached on Estonian gravel, this time difference equals to distance of just 36 metres.
The competition in Rally Estonia enters its crucial phase on Sunday afternoon. The crews still have three challenging stages to go before they reach the finish: Ristimae (19.96 kms), Vissi (13.32 kms) and Saverna (7.85 kms). The rally ends with ceremonial finish at 16:00 CET on the main square in city of Tartu.
Kajetan Kajetanowicz  Today I can enjoy my driving again and the stages help very much because they are very exciting, including the new ones. They bring us a lot of pleasure. There are some jumps, corners and crests – all of them taken at maximum speeds. This is what we love about rallying, what makes us miss these stages as soon as we finish them. Power steering failure which happened yesterday punished me a bit and my left arm is not fully operational but I forget about it when the starting machine counts down the remaining seconds, when the light goes green. We recorded top three times on every stage, we consolidated our podium position so we fulfil our plans. The stages today are very hard compared to yesterday, so we can really push pedal to the metal.
Rally Estonia standings after SS13:
1. Lukyanuk/Arnautov (Russia, Ford Fiesta R5) 1:24:33.1
2. Sirmacis/Kulss (Latvia, Skoda Fabia R5) +27.9 s
3. Kajetanowicz/Baran (Poland, Ford Fiesta R5) +1:43.1 s
4. Aus/Koskinen (Estonia, Mitsubishi Lancer Evo IX) +2:00.5 s
5. Jeets/Toom (Estonia, Skoda Fabia R5) +3:50.6 s
6. Kołtun/Pleskot (Poland, Ford Fiesta R5) +4:36.7 s
7. Habaj/Woś (Poland, Ford Fiesta R5) +7:49.5 s
8. Niinemae/Valter (Estonia, Peugeot 208 R2) +9:00.4 s
9. Michajłow/Kokins (Russia, Mitsubishi Lancer Evo X) +9:34.6 s
10. Griebel/Winklhofer (Germany, Opel Adam R2) +9:43.6 s
Starts of Kajetan Kajetanowicz and Jarek Baran are supported by strategic partner of LOTOS Rally Team – LOTOS Group – as well as CUBE.ITG and Driving Experience. More info about Kajetan Kajetanowicz and the team available at: www.lotosrallyteam.pl, www.kajto.pl, www.facebook.com/EmocjeDoPelna, www.facebook.com/KajetanKajetanowicz and www.twitter.com/Kajto_pl