FIA European Rally Championship returns to Poland – Rally Rzeszów (4-6 August) joins the series' calendar for the first time;
Undisputed pacesetters – LOTOS Rally Team comfortably lead all championship classifications ahead of the Polish ERC round;
90 crews including four past winners – strong field in 25th edition of Rally Rzeszów;
Kajetanowicz and Baran return to competition on asphalt after 117 days: they face 13 special stages and 214.21 competitive kilometres;
Kajto's anniversary – the European Rally Champion won his first special stage in overall standings of the Polish Rally Championship 10 years ago, in Rzeszów.
The fierce competition in the oldest rally series in the world returns to Polish special stages for the first time in three years. Round seven of the 2016 FIA ERC, Rally Rzeszów (4-6 August), is completely new to the series. Among the crews which tackle the challenge in the Polish round of the championship, after almost 1000 competitive kilometres on gravel, there are the reigning European Champions Kajetan Kajetanowicz and Jarek Baran. Just like in previous rounds, the LOTOS Rally Team duo will drive a Ford Fiesta R5 Evo equipped with Pirelli tyres. For the last time the FIA ERC visited Poland in 2013, when Kajetanowicz and Baran won 70th Rally Poland and claimed their fourth national championship title. At the same time it was the last outing of Kajetanowicz in the Polish Rally Championship.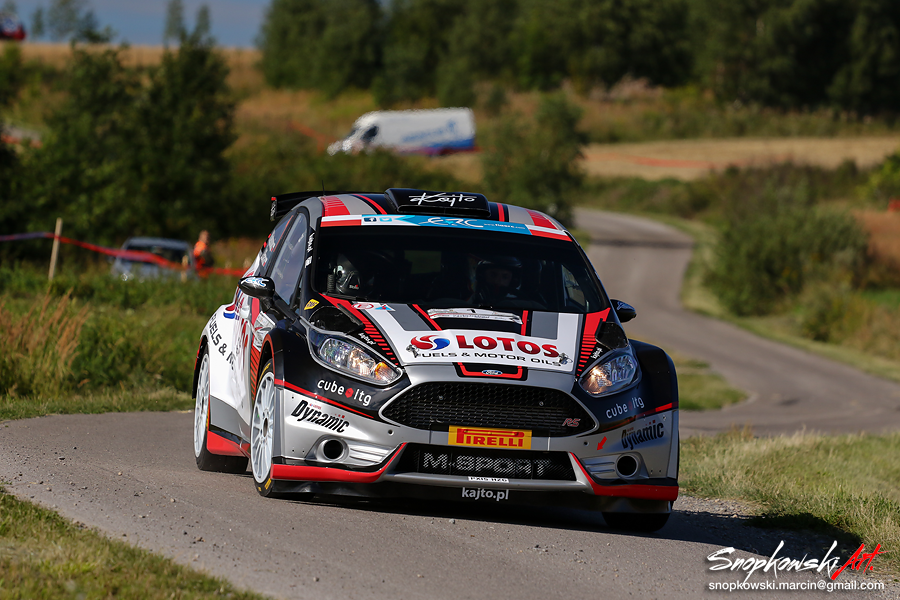 In their five opening outings in the 2016 FIA ERC Kajetanowicz and Baran scored four podiums and collected 121 points. This tally gives them a comfortable lead in the standings – they enjoy 37-points advantage ahead of Rally Rzeszów. LOTOS Rally Team leads also the Teams standings, with 41-points advantage over the second-placed squad. The LOTOS Rally Team crew will fight for points on the Polish stages not only against the host of national championship frontrunners, including the reigning Polish Champion Łukasz Habaj or current series leader Grzegorz Grzyb – two-time Rally Rzeszów winner. The entry list features also regular FIA ERC contenders and record-holder of this event, Bryan Bouffier – four-time Rally Rzeszów winner and three-time Polish Rally Champion. There are 90 crews entered, including 75 flying Polish colours.
The fight will take place over 214 kilometres divided into 13 special stages on demanding asphalt roads in the foothills of the Carpathian Mountains. The route, in beautiful landscape of Subcarpathia, is twisty and smooth but very narrow. The trademark stage – Lubenia, well-known and universally liked by the drivers – is of course included in the itinerary and this year's version is 24.4-kms long. Interestingly, the competitors in 25th Rally Rzeszów will also test their skills on a hill climb route. Part of Korczyna stage runs on the road used during the Polish Hill Climb Championship.
Round seven of the 2016 FIA ERC starts with the Qualifying Stage Niechobrz (3.17 kms) on Thursday at 11:10 CET. After ceremonial start in Rzeszów the crews will tackle a spectacular street stage in the capital city of Subcarpathian Province – 4.05 kms, start at 20:00 CET. The rally moves south of Rzeszów on Friday, with two loops of three stages – including the famous Lubenia test. On Saturday the itinerary consists of another two loops of three stages, with total length of 106 competitive kilometres. The competition in 25th Rally Rzeszów ends on Saturday 6 August around 16:30 CET. The event ends with official finish ceremony at 17:40 CET in Rzeszów, on the main square.
Kajetan Kajetanowicz Rally Rzeszów brings me nothing but positive memories – just like my first stage win ever or excellent organisation of this event. However, with hindsight I think that all stage victories and championship titles under my belt have less meaning than all things I have experienced over all these years, up until now. Thanks to hard work, commitment and persistence of the whole team not only success "arrived", but I also met many interesting people with whom we have built valuable relationships and shared incredible emotions. Today I am a different driver and sportsman but one thing remains the same: my love for this work has not changed since I started doing this. This is why, thinking about the championship at the same time, I will drive this rally with all my heart and I am sure that my team have the same plan.

Rally Rzeszów in numbers:
* 1st place of Kajetanowicz and Baran in the FIA ERC standings before Rally Rzeszów;
* 121 points scored by Kajetanowicz and Baran in five out of six rounds of the 2016 FIA ERC;
*1054 days separate 25th Rally Rzeszów and 70th Rally Poland – the previous FIA ERC round held in Poland;
* Two times in a row – Kajetan Kajetanowicz won Rally Rzeszów in 2012 and 2013, when this event was a part of the Polish Rally Championship;
*1090 days will have passed since the previous outing of Kajetan and Jarek in Rally Rzeszów on 4 August – when this year's event begins;
* 214.21 kilometres – combined length of 13 special stages;
* 10th outing of Kajetanowicz in this event;
*  Five podiums for Kajetan Kajetanowicz in Rally Rzeszów – in 2008, 2009, 2010, 2012 and 2013;
*   7th round out of 10 in the FIA European Rally Championship 2016 and 4th asphalt rally this season;
*  10 years ago, in Rally Rzeszów, Kajetan Kajetanowicz recorded his first stage victory in the Polish Rally Championship;
1st time in history Rally Rzeszów is a part of the FIA ERC calendar;
24.44 kms – the longest special stage of the rally – Lubenia;
25th edition of this event takes place in 2016;
90 crews including no less than 75 from Poland have entered this year's rally;
Four victories in Rally Rzeszów by the record-holder Bryan Bouffier – three-time Polish Rally Champion;
21 stage wins notched up by Kajto and Jarek in their four outings in the 2016 FIA ERC season;
1 – starting number of the LOTOS Rally Team crew in this event;
52 out of 70 stages (74%) of the 2016 FIA ERC finished in top three by the LOTOS Rally Team crew;
37 points – the advantage of Kajetanowicz and Baran over second placed crew in the FIA European Rally Championship standings.
1st place of LOTOS Rally Team in championship standings, ahead of round seven the Polish team enjoys healthy advantage of 41 points.
965 competitive kilometres on gravel – the distance on loose surface covered by Kajetanowicz and Baran at rally pace since the Circuit of Ireland Rally, their previous outing on asphalt.
Schedule of 25th Rally Rzeszów – round 7 of the FIA ERC (all times are CET)
Thursday 4 August (1 special stage; 4.05 kms):
08:00 – Free Practice
11:10 – Qualifying Stage (Niechobrz, 3.17 kms)
16:15 – Start Order Selection (Rzeszów)
17:00 – Ceremonial Start (Rzeszów)
20:00 – SS 1 – Rzeszów (4.05 kms)
Friday 5 August (6 special stages; 104.65 kms):
09:05 – Service A – 15 mins (Rzeszów)
10:10 – SS 2 – Konieczkowa 1 (8.82 kms)
10:55 – SS 3 – Lubenia 1 (24.44 kms)
12:05 – SS 4 – Chmielnik 1 (18.75 kms)
13:10 – Service B – 30 mins (Rzeszów)
14:30 – SS 5 – Konieczkowa 2 (8.82 kms)
15:15 – SS 6 – Lubenia 2 (24.44 kms)
16:25 – SS 7 – Chmielnik 2 (18.75 kms)
Flexi Service C – 45 mins (Rzeszów)
Saturday 6 August (6 special stages; 106.14 kms):
08:05 – Service D – 15 mins (Rzeszów)
09:35 – SS 8 – Korczyna 1 (24.11 kms)
10:20 – SS 9 – Wysoka 1 (9.14 kms)
11:05 – SS 10 – Zagorzyce 1 (19.82 kms)
12:35 – Service E – 30 mins (Rzeszów)
14:20 – SS 11 – Korczyna 2 (24.11 kms)
15:05 – SS 12 – Wysoka 2 (9.14 kms)
15:50 – SS 13 – Zagorzyce 2 (19.82 kms)
17:20 – Service F – 10 mins (Rzeszów)
17:40 – Ceremonial Finish (Rzeszów)
The 2016 FIA ERC standings ahead of Rally Rzeszów:
1. Kajetan Kajetanowicz (Poland) 121 points
2. Alexey Lukyanuk (Russia) 84 points
3. Ralfs Sirmacis (Latvia) 79 points
4. Craig Breen (Ireland) 38 points
5. Freddy Loix (Belgium) 38 points
6. Ricardo Moura (Portugal) 37 points
7. Raul Jeets (Estonia) 36 points
8. Jaromir Tarabus (Czech Republic) 33 points
9. Jarosław Kołtun (Poland) 33 points
10. Kris Princen (Belgium) 28 points
The 2016 FIA ERC Teams standings ahead of Rally Rzeszów:
1. LOTOS Rally Team 101 points
2. Sports Racing Technologies 60 points
3. C-Rally 60 points
4. Tlustak Racing 42 points
5. Botka Rally Team 37 points
6. Tiger Energy Drink Rally Team 36 points
7. T&T Czech National Team 30 points
8. Peugeot Belgium Luxembourg 25 points
9. Lacaris Foundation Team Greece 18 points
10. Auto Laca Competition 18 points
Starts of Kajetan Kajetanowicz and Jarek Baran are supported by strategic partner of LOTOS Rally Team – LOTOS Group – as well as CUBE.ITG and Driving Experience. More info about Kajetan Kajetanowicz and the team available at: www.lotosrallyteam.pl, www.kajto.pl, www.facebook.com/EmocjeDoPelna, www.facebook.com/KajetanKajetanowicz and www.twitter.com/Kajto_pl